How to Choose the Right Winter Jacket or Coat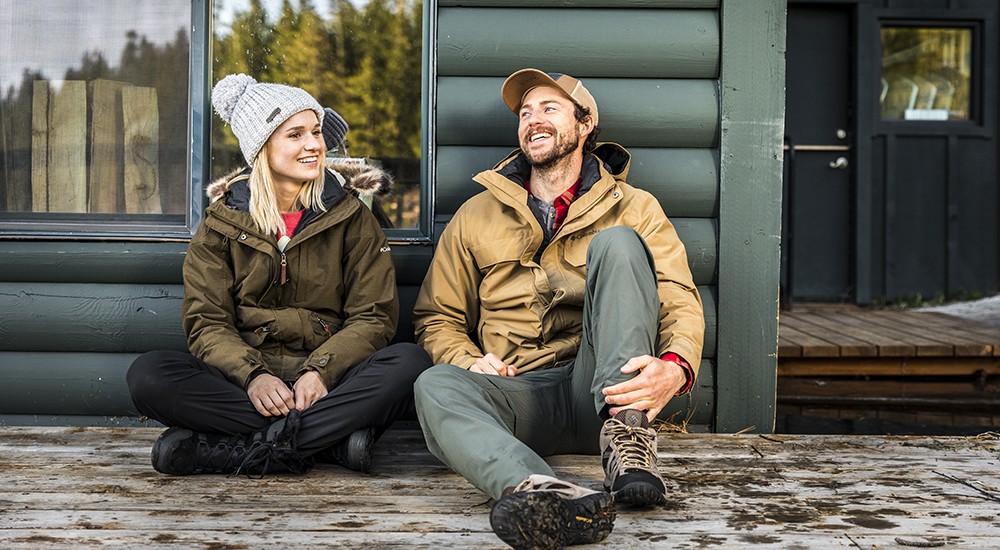 Whether you live in a climate with extreme winter weather or you're traveling to a cold location, it's essential that you're ready for frigid temperatures with the proper gear. Getting caught in the cold without protection isn't just unpleasant, it can be dangerous. No matter if you're looking for a versatile cold weather jacket or a warm and waterproof winter parka, our guide breaks down just what to look for so you're ready for any cold-weather adventure.
Which Winter Jacket or Coat is Right for You?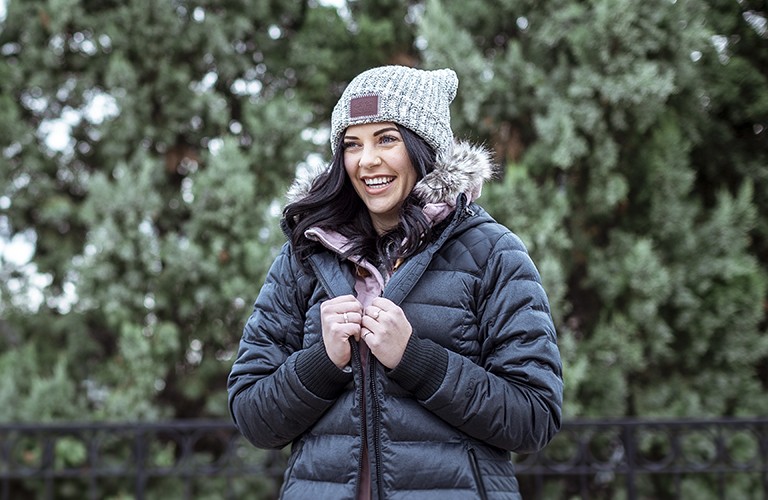 When shopping for a new coat or jacket, you'll likely come across a lot of different types. Knowing the difference between the types can ensure you don't end up with an ill-fitting coat or a jacket that doesn't provide appropriate protection for your climate. It's important to consider your activity level, location, and needs when choosing a winter coat, and if you live in a cold climate, it's a good idea to have a variety of winter jackets and coats in your closet.
Puffer Jackets
Puffer jackets, also called quilted jackets, have a quilted design that creates puffy-looking sections. These "puffs" house the jacket's insulation. Typically insulated with genuine down or synthetic fibers, a well-made puffer jacket offers plenty of warmth with none of the bulky weight. For this reason, puffer jackets make a great cold-weather jacket for traveling in colder climates as they pack down and can fit into compact bags and suitcases.
Puffer jackets are great for light activity and casual wear in cold weather, but there are a few considerations to understand when deciding if a puffer jacket is the best winter jacket for you. To maintain their incredibly lightweight feel, puffer jackets are typically made with a thinner shell material that isn't as resistant to abrasions and tears as more heavy-duty winter coats. Additionally, down loses some of its insulating properties when wet so choosing a down puffer jacket with a waterproof or DWR (durable water repellent) finish is essential for staying warm in winter conditions. If you live life on the go or are looking for a lightweight yet warm jacket for running errands, a puffer jacket is a must-have for winter.
Ski & Snowboard Jackets
Ski and snowboard jackets are specifically designed for convenience and warmth while staying active outdoors. These types of winter jackets are designed to provide insulation and water-resistance while remaining breathable and streamlined to accommodate athletic movements and give the least resistance while riding downhill. In order to remain aerodynamic and comfortable, snowboard and ski jackets are typically hip-length and should fit snugly. Their lightweight construction is built for layering so you can add base layers as needed or wear the jacket on its own when the winter weather is mild. Many ski jackets are also used for snowboarding so casual skiers and snowboarders typically only need one winter jacket for all their winter sports. If you plan to hit the slopes this winter, make sure you have a high-quality ski jacket for snow and cold to keep yourself warm, dry, and free to move.
Parkas
Parkas are built for coverage and warmth, making them one of the warmest winter coat options. Parkas offer a long coat style that hits just above or at the thigh, and most parkas feature hoods that are often lined with faux or genuine fur. By covering you from your head to your knees, these winter coats trap more body heat and can keep more of your body warm.
Beyond the length and coverage parkas provide, they typically are very well-insulated. Like with puffer coats, the insulation in parkas is either down or synthetic. In a quality parka, both types of insulation will provide incredible warmth in cold weather by trapping body heat and keeping out the cold. Another key factor that makes parkas ideal for extreme winter weather is the durable shell material. Parkas are generally constructed with a durable, water-resistant polyester or nylon shell material that keeps out moisture and holds up to everyday wear and tear. Because of their warmth, coverage, and durability, parkas make a great staple winter coat you can rely on anywhere you go.
3-in-1 Jackets
3-in-1 jackets hold true to their namesake. With this type of winter jacket, you get two jacket layers that can be worn alone or together, giving you three jacket options to choose from. The outer shell of a 3-in-1 jacket features a hood and is made of waterproof, breathable material. This shell can be worn alone when temperatures are mild or weather conditions are wet. The inner jacket provides insulation and is made with some type of insulating material, often fleece, polyester, or down. The inner jacket can be worn alone as a cozy layer when the weather is chilly, but not too cold. The third jacket option comes when the two layers are zipped or snapped together for a warm, waterproof winter jacket. 3-in-1 jackets provide protection in extreme cold, and they offer plenty of versatility to transition through fall, winter, and spring, making them a great winter jacket option if you experience cold, volatile weather during three seasons of the year.
Choosing the Best Insulation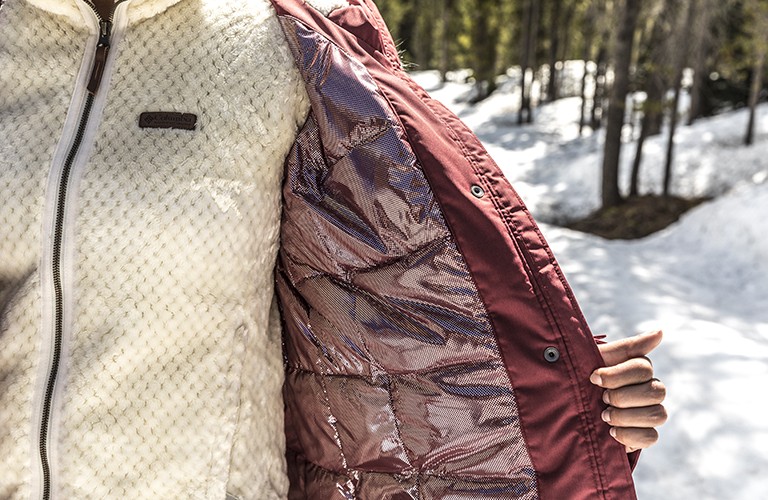 Down Insulation
Down insulation comes from goose or duck plumage. Plumage is the fluffy, natural midlayer between the feathers and the skin. Duck and goose down is insulating by nature as the high-loft plumage traps body heat to retain warmth. Even while providing incredible warmth, down remains very breathable so it won't make you sweaty and uncomfortable. Another reason down is one of the most popular types of insulation is because of its compressibility. High-loft down makes puffer jackets easy to pack, making it great for storage and travel. Plus, natural down is incredibly resistant so a compressed down jacket will return to its original shape in seconds.The quality and effectiveness of down insulation is measured by the "fill power" or "fill weight." This measurement typically ranges from 450- to 900-fill and indicates the number of cubic inches one ounce of down will fill. The higher the fill, the warmer and lighter the insulation. As mentioned above, one issue with down is that it loses its insulating properties when it gets wet, so it's essential your jacket has a DWR (durable water repellent) or waterproof finish. While most people prefer genuine down insulation, its quality and lightweight warmth comes at a higher price than synthetic alternatives.
Synthetic Insulation
Synthetic insulation is made from polyester and designed to imitate down. One of the most defining features of synthetic insulation is that its insulating properties are resistant to moisture so it can get wet and still keep you warm. Synthetic insulation is typically heavier than down as more weight is required to achieve the same amount of warmth. While you may have to sacrifice the lightweight feel, choosing a synthetically-insulated winter jacket is usually more affordable. Even though synthetic fibers don't provide the same lightweight warmth as down, modern innovation and technology improved so much that you may not notice a marked difference between a winter jacket insulated with down and one insulated with synthetic.
Once you decide which winter jacket is right for you, it's important to make sure the fit is comfortable. Before you leave the store (or take the tags off), you can follow our easy steps for testing the fit.
Reach your arms out in front you to check the length of the sleeves. When your arms are outstretched, the sleeves of your jacket should stop near the wrist bone, touching the top of the palm. If the sleeves stop above your wrist, the sleeves are too short.

Stretch your hands above your head to determine the length of the winter coat and your mobility. Pay attention to any tight spots or restricted movements. If you feel uncomfortable or restrained, the jacket is too small (remember you may want to wear layers underneath the coat). If the jacket rises above your waist or exposes skin, the jacket is too short.

Check the shoulder seams to determine if they align with your shoulders. If the shoulder seams drop below the shoulder or halfway down your bicep, the coat is too large (this doesn't apply if dropped shoulder seams are part of the design).
Note: When checking the fit, always zip or snap your winter jacket closed for accurate results.
With the right winter jacket or coat, you can take on the cold season with confidence knowing you'll be comfortable and protected in the best coat for cold weather. If you still have questions about which winter jacket or coat is right for you, stop into your local SCHEELS or contact us to speak with an expert.