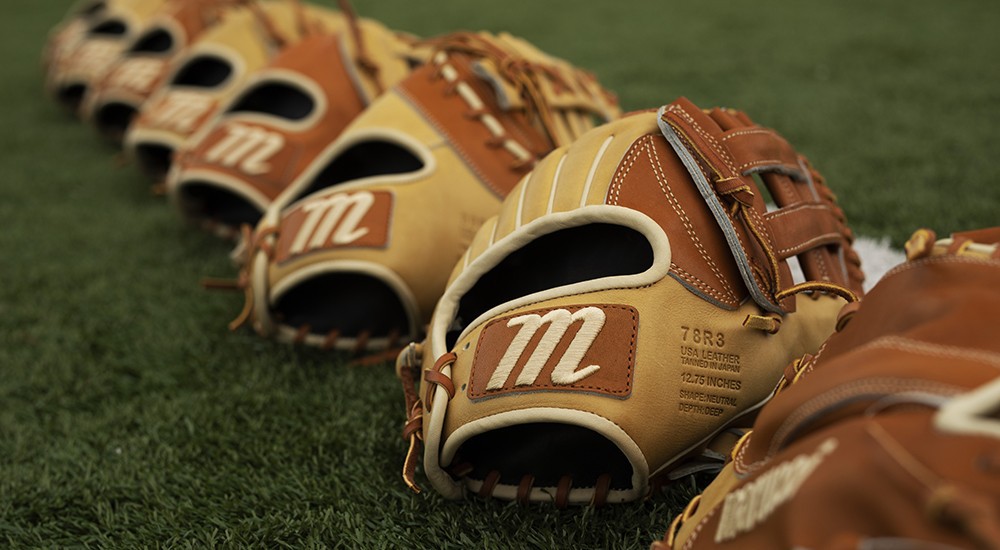 Confidence is key when stepping onto the baseball field and knowing you have the right style of glove for your position gives you that. It's no secret buying a new glove is one of the biggest thrills baseball players have when getting ready for the next season but sometimes it can be tricky deciding on the perfect one.
We breakdown some of the commonly used web styles and sizes along with some of our newly released gloves! With many different styles and sizes to choose from, we want to help you narrow down your selection so you can flash the leather out on the diamond!

When searching for a new glove, it is important to identify what position(s) you play. The image above shows the most used glove size by position.
MIDDLE INFIELD: 11.50" - 11.75" gloves are the most popular due to the smaller size and the quick hands needed to play second base and shortstop.
OUTFIELD: 12.25" - 12.75" gloves include a longer and deeper pocket than an infield glove to increase the catch radius of a fly ball.
PITCHER/THIRD BASE: 11.75" - 12.25" gloves utilize a bigger glove compared to middle infield to help with the limited reaction time at third base and concealing the baseball on the mound.
FIRST BASE: 12.5" - 13" depending on your age or hand size. First base mitts also include a unique pocket design.
CATCHER: 32.5" - 34" with the biggest difference being the weight of the glove. Smaller catchers mitts will have a reduced pocket but will be significantly quicker when getting the ball out.
It is important to note these are just the most commonly utilized sizes at each position. If you are a utility player or have not solidified your perfect fit, the most important factor in choosing glove size is your personal preference. Once you have narrowed down the size of glove, the next step is to pick out the web style of the pocket.

There are a handful of glove webs used across all of the top baseball vendors. Each are utilized by different positions and sizes to ensure efficiency in catching and transferring the ball. Some of the common glove webs are:
I-WEB: Primarily used by infielders due to size and the ability to sift dirt when scooping up the baseball.
MODIFIED TRAPEZE: The mod trap web style is used by pitchers and infields. Similar to the trapeze web but has an added leather strip across the top of the pocket for added stability.
TWO-PIECE: A closed web most popularly used by pitchers and is designed to conceal the ball.
H-WEB: Similar to the I-WEB but more often used by outfielders with a larger pocket size.
In addition to these four, there are a few other web styles such as single and double post webs, trapeze web and basket web. All are unique and look sharp in their own right.
Now that you have picked out the style and size of glove you want, the next step is to check out the different brands and make your final choice. We carry top industry brands like Rawlings, Wilson, Marucci, Easton and more so you have all of the best options available when you're ready to make the choice. Remember, choosing your favorite glove comes down to personal preference and once you have yours picked out, it's time to hit the practice field!
If you have any questions on baseball gloves, stop by your local SCHEELS and talk to a Baseball Expert.