Ice Fishing Tips from SCHEELS Expert Ben Olson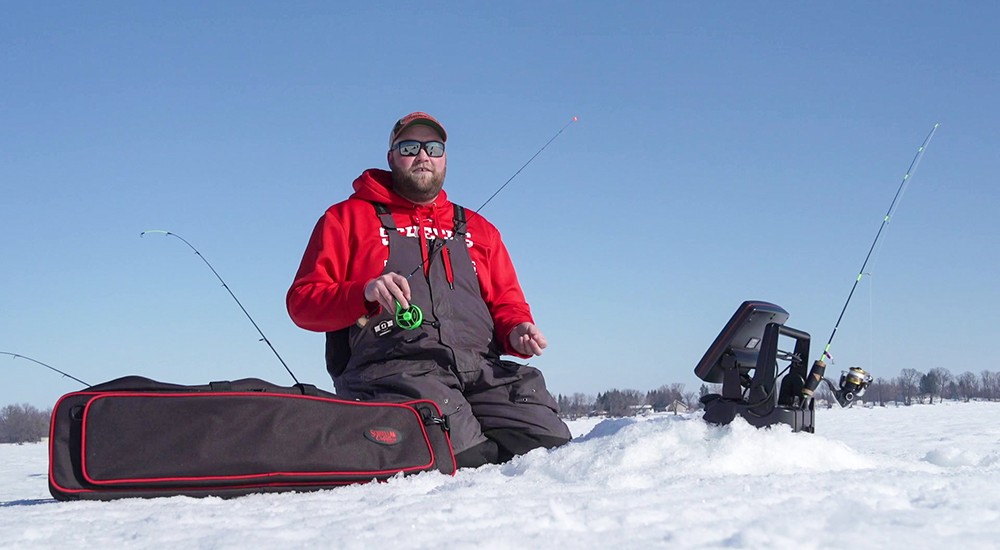 Looking to improve your success this ice fishing season? SCHEELS ice fishing expert Ben Olson is here to give you some helpful tips so you can put more fish on the ice. Whether you want to learn how to find fish on a new lake, how to set up your ice fishing rig, or how to choose an ice fishing line, check out Ben's advice for ice anglers of all experience levels!
Finding Fish on an Unfamiliar Lake
If you're ice fishing on a new lake, Ben recommends you take a look at the lake on a fish finder before heading out. Use the GPS and charts to find potential spots, like holes or flats during early season ice fishing or potential spawn points (like holes near shallower areas) in the late season. When you find a spot you want to try, mark them with the waypoint feature available on most fish finder systems. Then, simply hold the locator in your lap or use a mount while you hit the lake on your snowmobile or ATV. This will help you get to where the fish are more quickly so you can maximize your time on the ice.
Using AutoChart Live by Humminbird
If you ice fish on the same lakes you open water fish, you can use the AutoChart Live feature on your Humminbird fish finder to find fish more easily. AutoChart Live lets you map the exact location of contours in one foot increments, giving you a more detailed view of the lake bottom. To make use of this feature for ice fishing, just chart the lake on your boat during the summer. Then, you'll have accurate contour data for both the open water and ice fishing seasons!
When using a horizontal ice fishing jig, your knot will tend to move towards the eye of the jig as you catch fish, causing it to present vertically. To combat this, make sure to check that your knot is in the correct place every time you catch a fish. This will ensure your bait hangs correctly and has the most enticing action possible.
Choosing Ice Fishing Line
When ice fishing, choosing the right line is essential. Ben recommends using monofilament ice line when targeting panfish or fishing with small micro jigs. Mono line comes off the reel smoother and provides better hook sets on panfish, plus is invisible in clear water. If you're fishing with aggressive baits in deeper water, choose braided ice line. Since braided line doesn't stretch, it will give more solid hook sets on larger fish species like walleye.
To prevent line twists when fishing with more aggressive baits, Ben likes to use fluorocarbon leaders and swivels. Since larger bait tends to move in a circle as you jig, the line often twists and causes unnatural action or makes it difficult to reel in a catch. When you add a barrel swivel to your line, the line won't twist around itself as your bait moves, ensuring your lure stays effective and enticing as well as providing smooth reeling.
Ben sometimes uses two lines when ice fishing to target multiple fish. One is his "active rod," the one he holds in his hand and actively jigs to target more aggressive fish. The other is a dead stick in a rod holder. Dead stick rods virtually set the hook without any manual effort, making them a great choice for less aggressive fish. Choosing a dead stick rod with a bright tip also makes it easier to see any bites, allowing you to focus on jigging with the active rod while keeping an eye on your dead stick!
If you're ice fishing for panfish like crappies or bluegills, you'll sometimes catch a lot of small fish rather than keepers. To improve your success, Ben recommends starting with a larger spoon lure to target more aggressive fish, then downsizing to a tungsten jig with a wax worm if the fish don't react to the spoon lure.
If you want some more tips and tricks to improve your ice fishing season, stop by your local SCHEELS and talk to one of our ice fishing experts! They'll set you up with the latest gear and get you ready to catch more fish, as well as give you personalized advice based on your target species or your preferred setup.