Best Customer Service 2020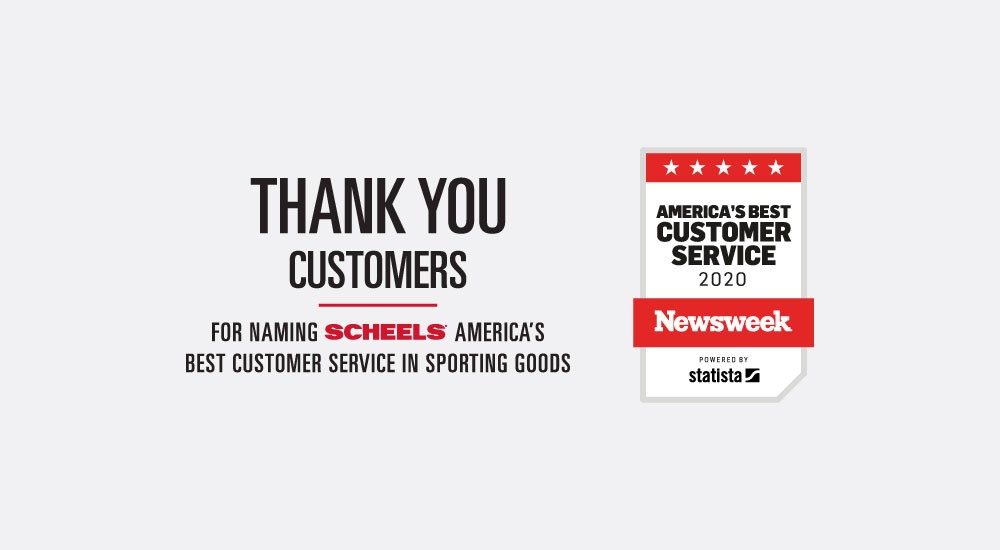 In 2020, Newsweek released an article listing retailers who offer the best customer service in the industry. Customers identified SCHEELS as the #1 Brick and Mortar Retailer in the Sporting Goods category.
Steve M. Scheel, CEO, states, "We are incredibly grateful our customers have recognized SCHEELS as the top Sporting Goods Retailer for Customer Service in the nation. While being recognized by this award is an incredible honor, we are much prouder of the work our associates do each day to provide the best service for our customers and communities. Our teams truly enjoy serving the people in our communities and without their support, SCHEELS would not be what it is today. Thank you, customers, for continuing to choose SCHEELS."
At SCHEELS, our mission is to be the best retailer in the eyes of our customers, associates, and business partners. With the combination of valuable business partners and our knowledgeable associates, SCHEELS works to offer quality service to our customers. Our associates are eager to learn and willing to work together to make our customers' experiences positive.
Aside from our goal-oriented associates, our customers' enthusiasm for sports and outdoor recreation continues to push SCHEELS associates to not only make improvements but offer an opportunity to build a relationship. When our customers and associates share a common passion, that's when the retail magic happens. Within the aisles of SCHEELS, you'll hear customers and associates share their experiences about a fishing or hunting trip or about their favorite pair of running shoes. Whether it's a customer's first time or 100th time visiting the store, they are the reason SCHEELS has been successful with quality customer service.
Newsweek and Statista Inc. Research
For accurate data, Newsweek partnered with Statista Inc. to collect information from 20,000 Americans. Each company was scored based on the quality of communication, professional competence, range of services, customer focus, and accessibility. Spanning 160 different retail categories and recognizing 480 companies, SCHEELS was one retailer identified for offering the best customer service.
SCHEELS is honored to receive this award and extends a thank you to our business partners, associates, and customers.