Best Football Cleats for 2021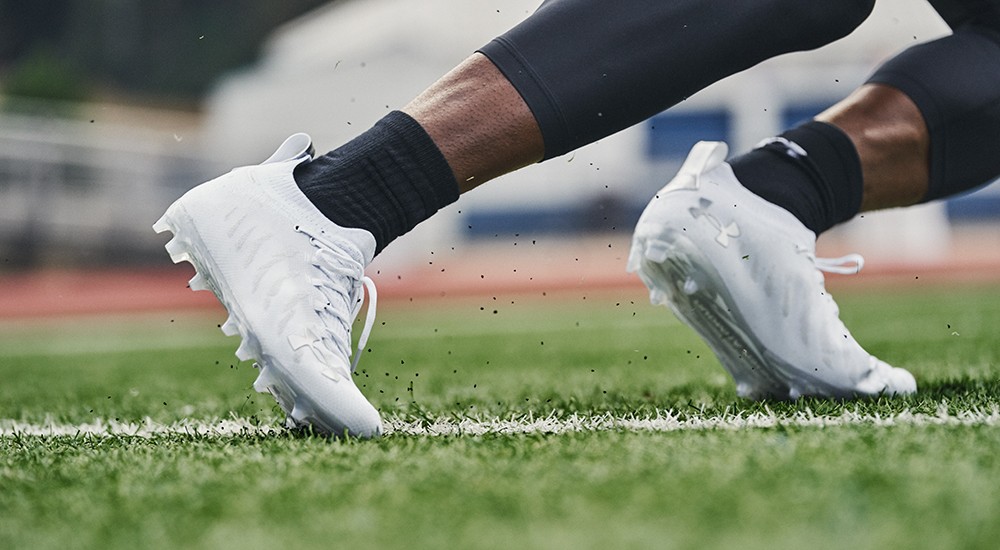 With football camps starting and the season just on the horizon, it's time to find new football cleats! Top football brands like Nike, adidas, and Under Armour offer quality football cleats for protection and comfort during practice and games. It's important to wear football cleats that fit correctly and match your position, so our SCHEELS experts pulled together a list of the best football cleats for 2021 to help you.
If you're shopping for new football cleats this year and unsure exactly where to start, our How to Choose Football Cleats blog breaks down what to look for in a new football cleat.
Best Football Cleats for Skill Position Players
adidas Adizero 11.0 Football Cleats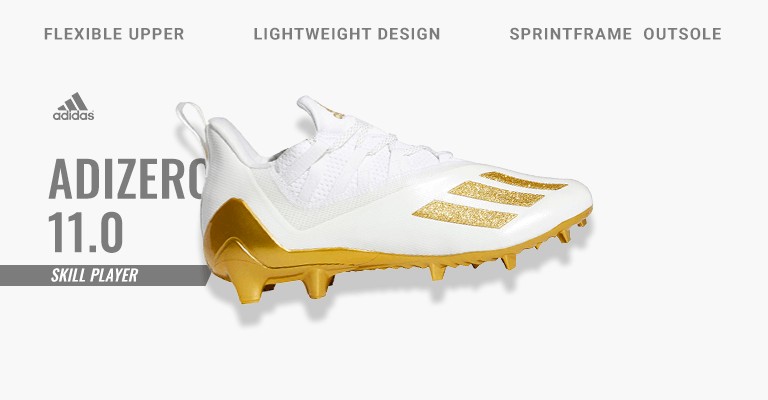 The adidas Adizero 11.0 football cleats are well-known for their lightweight design, which translates into speed and acceleration for skill position players. These football cleats feature an improved cleat shape to help with quick cuts and overall comfort. With the Sprintframe outsole featuring Sprintstuds, these football cleats grip the turf for added traction while making directional changes. The combination between a lightweight feel and Sprintframe outsole will make skill position football players dynamite on the gridiron this season.
Top Reasons to Buy: Extremely lightweight, Sprintframe outsole
adidas Adizero 11.0 Primeknit Football Cleats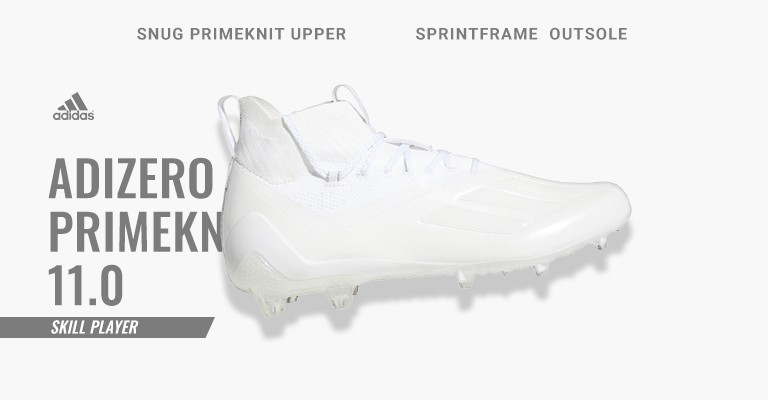 Looking to take your Adizero football cleats to the next level? If so, you'll want to make sure to check out the adidas Adizero 11.0 Primeknit football cleats. These football cleats have the same design and features of the Adizero 11.0 football cleats but with the improved Primeknit upper. Made from a single piece of material, the Primeknit upper provides skill position players with a supportive, sock-like fit and incredible breathability. Since the Primeknit upper allows for natural and flexible movements, many advanced football players prefer this version of the adidas Adizero 11.0. Pairing this upper with the Sprintframe outsole makes the adidas Adizero 11.0 Primeknit one of the best football cleats for speed on the market today.
Top Reasons to Buy: Extremely lightweight, Primeknit upper, Sprintframe outsole
Nike Vapor Edge Pro 360 Football Cleats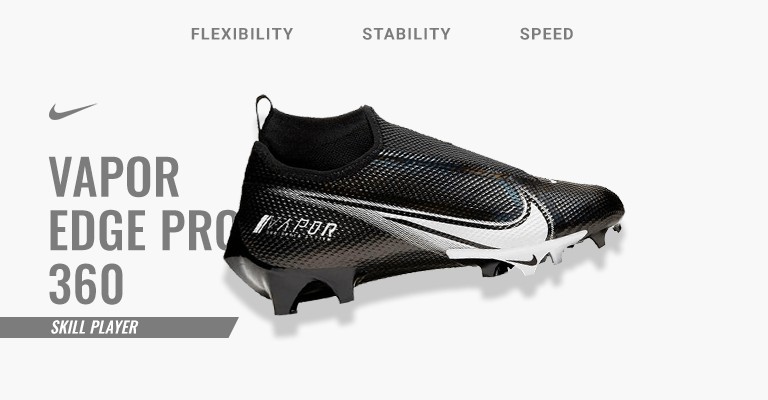 If you're looking for a balance of comfort, speed, and stability, the Nike Vapor Edge Pro 360 football cleats are a top choice. Featuring a mesh upper that conforms to your foot's shape, these Nike football cleats allow for maximum flexibility and comfort throughout each turn. To offer speed on the field, the cleats have an innovative outsole with two separate plates—one on the forefoot and one on the heel. Although the cleat plate doesn't run the full length of the outsole, skill position players will still enjoy a stiff yet springy feel off the toe for improved acceleration. Plus, the Nike Vapor Edge Pro 360 cleats have a thick heel for better stability while making quick cuts on the field.
Top Reasons to Buy: Flexible upper, thick heel for stability
Best Football Cleats for Linemen
Nike Force Savage Elite 2 Football Cleats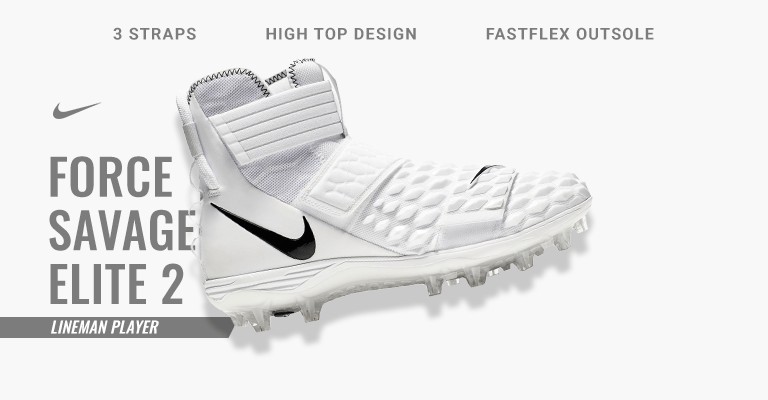 If you're looking for football cleats with ankle support, you'll love the Nike Force Savage Elite 2 football cleats. Featuring a high top upper with hook-and-loop strap, these football cleats are perfect for lineman because they stabilize and support the ankle while blocking. These lineman football cleats have Nike's FastFlex outsole to promote a more natural range of motion, while the Lunarlon midsole offers reactive cushioning for added power.
Top Reasons to Buy: Supportive high top upper, hook-and-loop straps, Nike FastFlex outsole
Under Armour Highlight MC Football Cleats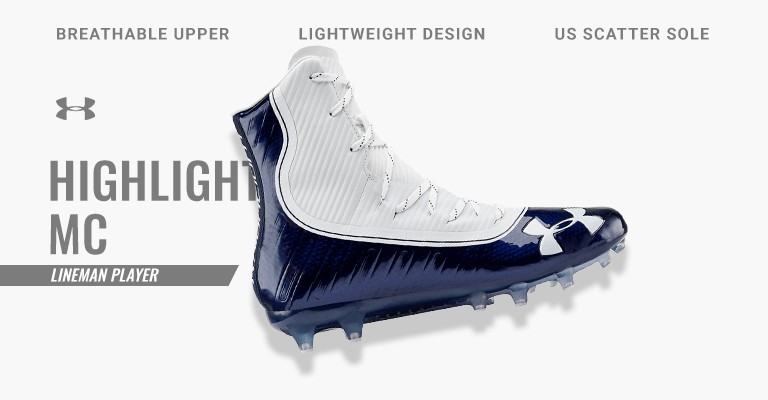 Featuring ankle support, incredible traction, and a lightweight design, the Under Armour Highlight MC football cleats are the ultimate choice of lineman football cleats. Although these Under Armour cleats feature a high top cut for maximum ankle support, they remain incredibly lightweight, reducing foot fatigue throughout the game. Aside from the ankle support and lightweight design, these lineman football cleats from Under Armour feature the UA Scatter outsole offering aggressive traction and grip for additional stability.
Top Reasons to Buy: Lightweight design, UA Scatter outsole
Best Football Cleats for Kids
Under Armour Spotlight Franchise Football Cleats
Since young players often play multiple positions when starting out, you'll want a versatile pair of cleats. The Under Armour Spotlight Franchise footballs cleats are one of the best options. These kids' football cleats feature a higher cut top for better ankle support, while the synthetic upper paired with the three-piece rear panel offers a lightweight yet stable fit. Plus, the full-length EVA foam midsole keeps your young player's feet comfortable throughout practice and the game. For a mix of stability and underfoot comfort, the Under Armour Spotlight Franchise football cleats offer the perfect balance.
For performance during football training camps and throughout the season, wear one of the best football cleats on the market for 2021 from trusted brands like Nike, Under Armour, and adidas. If you need additional help finding a pair of new football cleats, call or stop by your nearest SCHEELS to speak with one of our experts.