Best Hockey Skates of This Season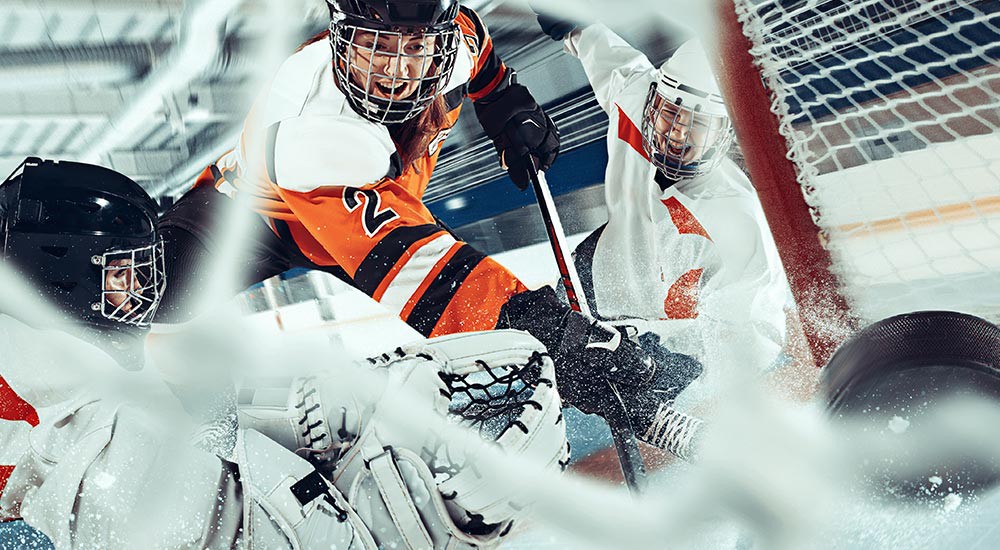 Get ready for hockey season with the best hockey skates of the year. Whether you play for a school team indoors or pickup games outside in your free time, it's important to choose hockey skates that offer the perfect fit and are designed for your play style. We've compiled a list of this year's best hockey skates to help guide your search and show you just what to look for. With CCM and Bauer leading the industry in producing high-quality hockey gear, it's no surprise our top 5 hockey skate lines of the year come from the two powerhouse brands.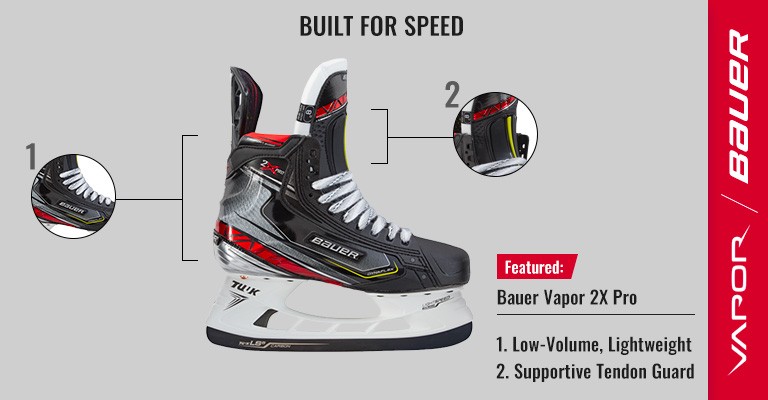 The Bauer Vapor is the go-to hockey skate for speed, agility, and lateral movements. Bauer's Vapor line is designed with a tapered fit that hugs the feet and reduces the overall volume of the skates, giving them a second-skin feel. The low volume and snug fit of Vapor skates allows for a more pure skating experience, making them one of the most popular choices for NHL players. The lightweight construction combines structural support with flexibility so you can adapt quickly on the ice, change directions on a dime, and make sure you have the advantage every time you take off. If you want complete freedom on the ice, try Bauer Vapor hockey skates this season.
Shop Bauer Vapor Hockey Skates | Shop All Bauer Hockey Skates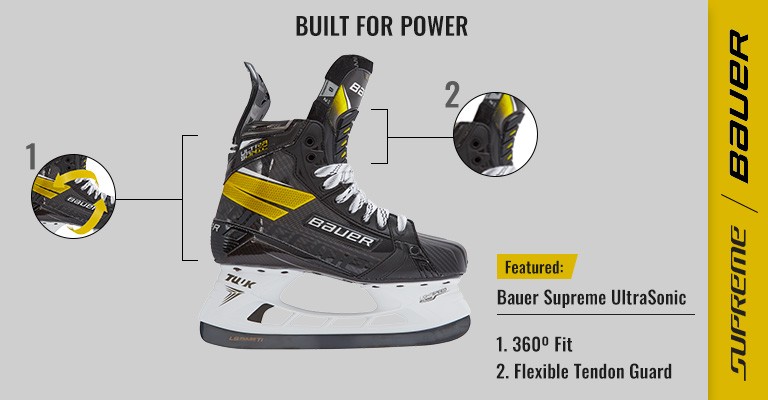 If you need powerful acceleration and straight-away speed on the ice, Bauer Supreme series will deliver. The Bauer Supreme is designed with a 360-degree fit that wraps your whole foot and lets you flex forward to load energy. Plus, a flexible tendon guard gives you full range of motion through your entire stride. When you wear Bauer Supreme hockey skates, you can achieve your maximum stride length and generate as much power as possible to make the most of every check and every shot. The Supreme series of skates offers a variety of styles made for players with mid-profile feet.
Shop Bauer Supreme Hockey Skates | Shop All Bauer Hockey Skates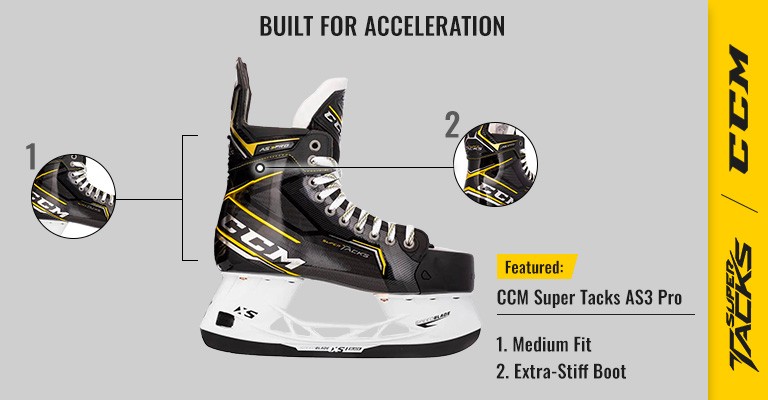 CCM created their Super Tacks skates to fit like a glove so players get complete foot-to-skate energy transfer for maximum acceleration and speed. Super Tacks skates offer a snug, contoured fit with a stiff boot, but one of the best comfort features are the bumps on each side of the ankles to accommodate ankle bones. Plus, the full-composite construction makes the boot ultra-lightweight so you can reach faster speeds than ever before and have your fastest acceleration. All of these features and more combine to make CCM Super Tacks skates some of the best hockey skates on the market (and the best-looking too).
Shop CCM Super Tacks Hockey Skates | Shop All CCM Hockey Skates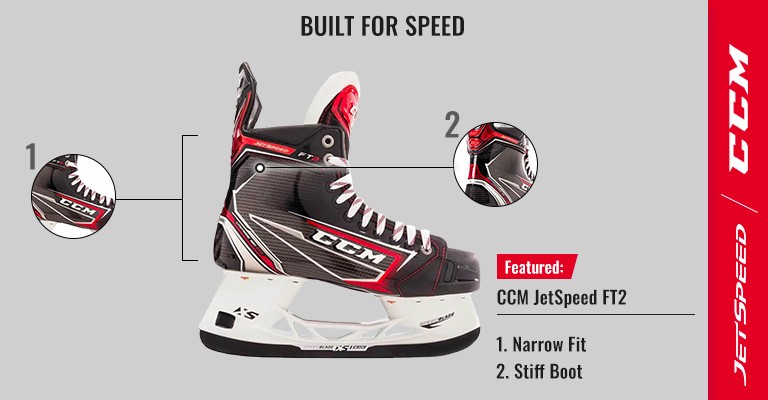 CCM JetSpeed skates solidified their place on our list thanks to their unparalleled fit. Skates in the JetSpeed line lockdown your ankle unlike any of their competitors. The narrow, anatomical fit accommodates the most common foot shape seen in hockey players—a narrower heel and a wider-volume forefoot and instep. Another great bonus of these hockey skates is that they are prepared for sweaty, hardworking feet. The quick-drying comfort liner and exhaust vents in the outsole combine to keep your feet cool, dry, and fresh longer so you can focus on the game.
Shop CCM JetSpeed Hockey Skates | Shop All CCM Hockey Skates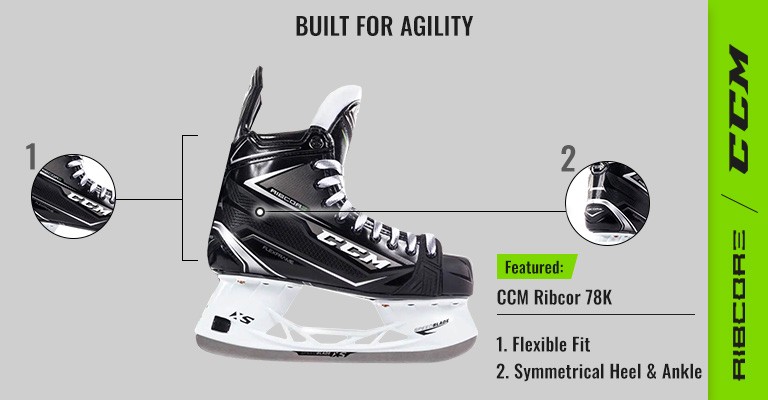 CCM Ribcor skates are all about flexibility. Hockey skates in the Ribcor line are designed with dimensions that fit lower-volume feet, yet they have innovative technologies that create a snug fit for all feet types. At the top end of the Ribcor line, the CCM Ribcor 80K and CCM Ribcor 70K in particular offer high-end comfort and performance with a more refined fit for all foot sizes. If you're an agile skater looking to increase your speed to match your fast-paced playing style, try the highly-adaptable CCM Ribcor hockey skates this season.
Shop CCM Ribcor Hockey Skates | Shop All CCM Hockey Skates
You can find a wide selection of hockey skates for men, women, and kids at SCHEELS. If you're interested in a Bauer hockey skate, check out our Bauer Hockey Skates Style & Fit Guide to learn about the new Bauer fit system and how to choose the perfect pair of skates for you. If you have additional questions about which hockey skates are best for you or you'd like to check out our selection of hockey gear for yourself, contact one of our SCHEELS hockey experts or visit your local store.