Percussion Massager Comparison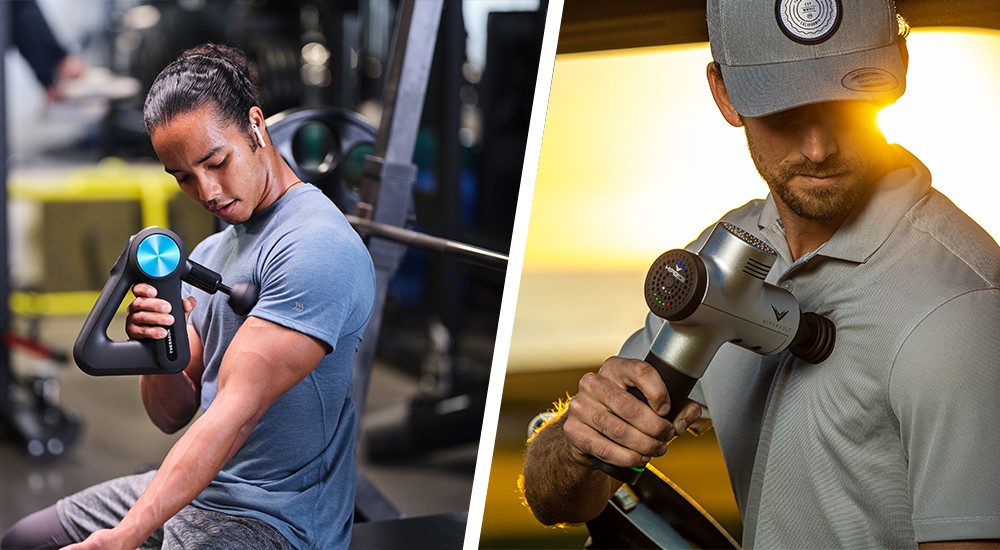 A percussion massager is one of the best ways to speed up recovery time and release muscle knots within the deep tissue; however, figuring out which percussion massager you should invest in can be a daunting task. With two leading percussion massager brands, Hypervolt by Hyperice and Theragun, you may be wondering the difference between the two and which style is the best percussion massager for your needs. Prior to investing in a percussion massager, learn more about what each brand offers to determine which one is best for you.
When selecting a percussion massager, you'll want to start by narrowing down which brand you're interested in. Both the Hypervolt and Theragun have made improvements to their original percussion massager, but there are three key differences—the handle design, Bluetooth® connection, and noise output. The Theragun handle design allows you to hold the massage device at different angles so you can massage those hard-to-reach muscles, while the Hypervolt handle is a little bit more cumbersome and awkward to hold. Both brands offer devices that can operate via Bluetooth®, but with the Hypervolt massagers, you need to upgrade to a more expensive version, while Bluetooth® compatibility is a standard feature on all Theragun models. As for noise level, Theragun has made significant improvements to their most recent design, but the Hypervolt is still quieter compared to any Theragun model.
Hypervolt & Theragun Comparison Chart


Hypervolt Models


Theragun Models
Pros

- Super quiet
- More affordable
- More speed settings
- Comfortable handle design
- All models come with Bluetooth®
- Comes with carrying pouch or case

Cons

- Protective case sold separately
- Must upgrade for Bluetooth® compatibility

- Louder
Hypervolt vs. Hypervolt Plus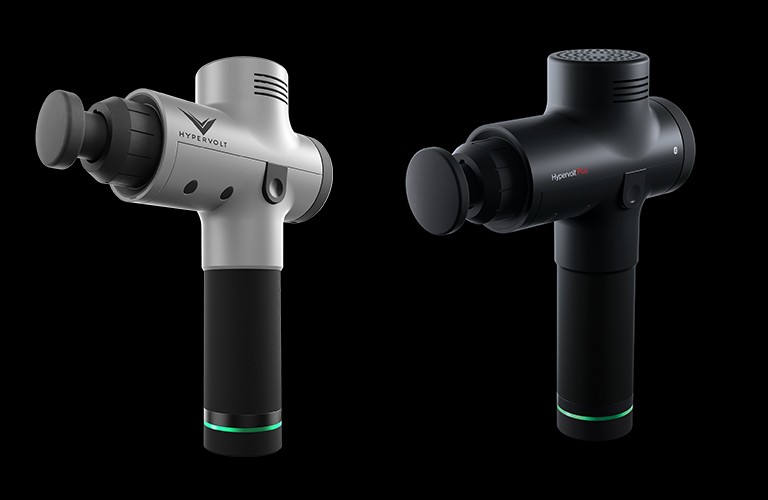 The main difference between the Hypervolt and the Hypervolt Plus is the amount of power output. The Hypervolt Plus is 30% more powerful than the original Hypervolt making for a deeper, more powerful percussion massager. Both Hypervolt and the Hypervolt Plus are incredibly quiet thanks to the patented Quiet Glide™ technology and come with interchangeable heads for a more comprehensive and customizable massage experience. Both models offer upgraded versions that will connect via Bluetooth® for an automated massage. It's important to know that the protective carrying case is sold separately with both Hypervolt models.
Hypervolt Comparison Chart
| | Hypervolt | Hypervolt Plus |
| --- | --- | --- |
| Weight | 2.5 lbs. | 2.5 lbs. |
| Head Attachments | 5 | 5 |
| Speed Settings | 3 | 3 |
| Battery Life | 3 hrs. | 2 hrs. |
| Motor | 60 watts | 90 watts |
Theragun Prime, Theragun Elite vs. Theragun Pro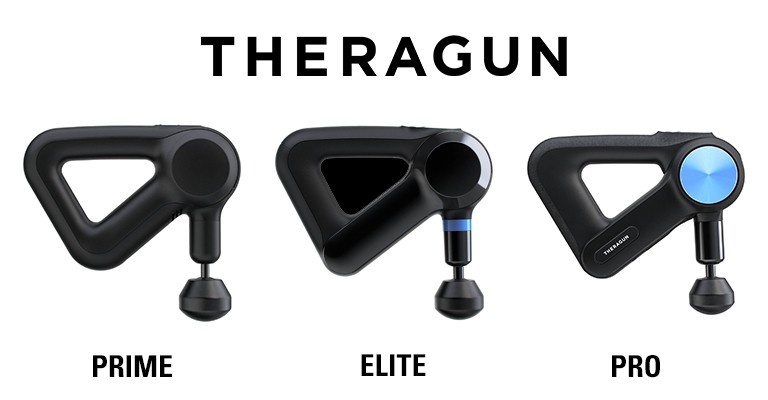 With three different models of the Theragun, you're able to find the option that best suits your muscle needs and price-point. The Theragun Prime is considered the basic model with four attachment heads, a carrying pouch, and LED light indicators. With the next model up, the Theragun Elite, you'll get five attachment heads, a full protective case, and an OLED screen that displays both speed and force. The premium model, the Theragun Pro, offers everything the Theragun Elite offers and more. With an adjustable arm that locks into four different positions, you're able to adjust the angle to suit your needs, providing the ultimate massage experience. This premium percussion massager also comes with two interchangeable rechargeable batteries to provide up to five hours of use and a full protective case. Also, all Theragun models are able to connect to the app via Bluetooth® for a custom speed, so you don't have to worry about buying an upgraded version like Hypervolt.
Theragun Comparison Chart
| | Theragun Prime | Theragun Elite | Theragun Pro |
| --- | --- | --- | --- |
| Weight | 2.2 lbs. | 2.2 lbs. | 2.9 lbs. |
| Head Attachments | 4 | 5 | 6 |
| Speed Settings | 5 | 5 | 5 |
| Battery Life | 2 hrs. | 2 hrs. | 5 hrs. |
| Pounds of Force | 30 lbs. | 40 lbs. | 60 lbs. |
| Adjustable Arm | | | ✔ |
Whether you decide to buy a Hypervolt or a Theragun, your sore legs, back, and arms will thank you! If you're still wanting to know more about percussion massagers, check out our blog explaining how to use a percussion massager.