At SCHEELS, we offer a wide variety of binoculars for every outdoor pursuit by leading-industry brands, including Vortex, Swarovski, Bushnell, Leupold, and many more. Our Binocular Buyer's Guide will help you narrow down the options while taking a look at key features and specifications. The following binocular basics will cover all you need to know to select the best pair of binoculars with confidence.
SCHEELS Precision Shooting Expert, Cory Rigby's advice, "For most users, an 8-10 power binocular will provide the magnification power needed, give a large field of view, and display a bright image."

With a variety of binocular sizes available, you'll need a clear and precise close-up to focus in on your outdoor pursuit. To help you find just the right pair of binoculars, we've narrowed down the most common binocular specs, including size, magnification power, lens diameter, and outdoor pursuits.
MAGNIFICATION POWER & OBJECTIVE LENS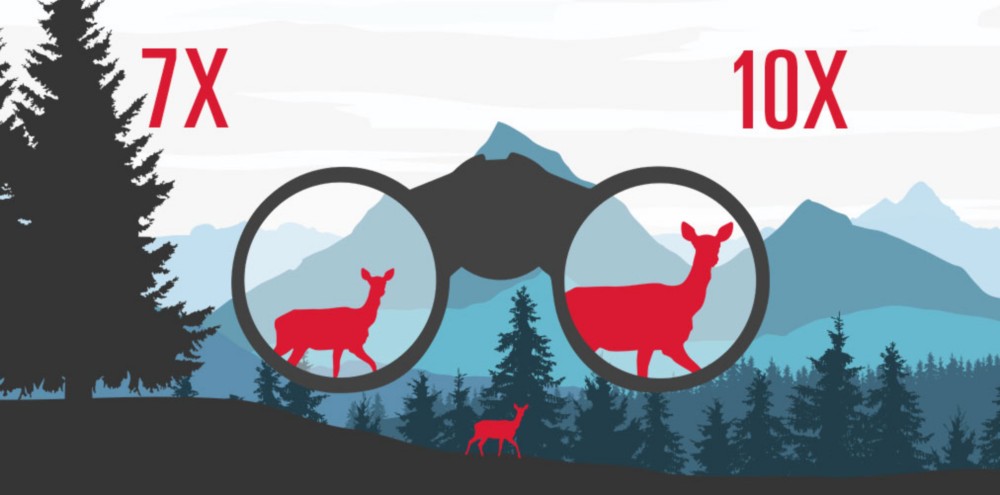 All binoculars have a set of two numbers that represent the magnification power and objective lens diameter. The first number indicates the magnification power and the second number indicates the objective lens diameter.
Magnification power indicates how close your viewing area will appear. For a 10x42 binocular, your viewing area will appear 10 times closer to the naked eye. Furthermore, if your outdoor pursuit is 100 yards away and you're using a 10x binocular, it will appear as if it were 10 yards away.
Objective lens diameter indicates the size of the front lens, closest to the viewing area, in millimeters — directly affecting how much light will pass through the lens. For a 10x42 binocular, the objective lens is 42mm. The larger the diameter, the more light your binoculars are able to capture to create clear and precise images.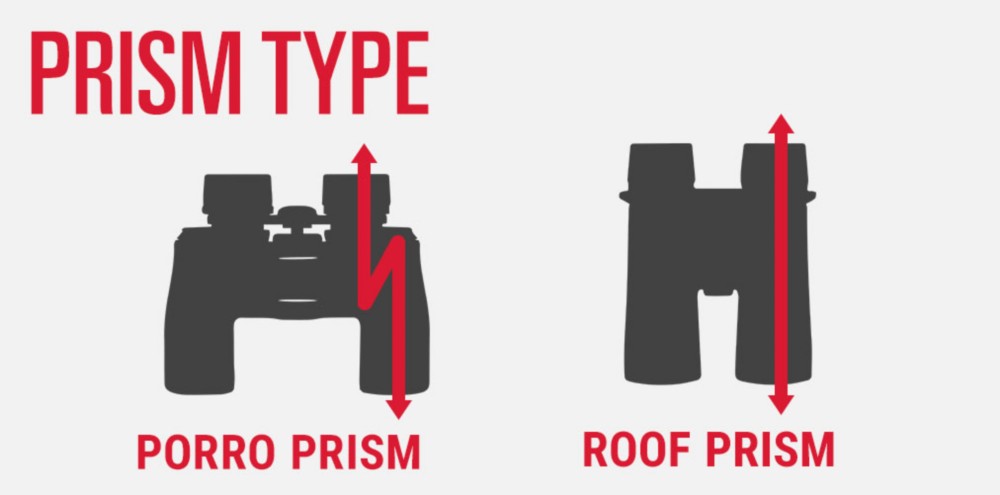 Two types of prisms are used in binoculars, including roof and Porro, to reflect the light from the objective lens and to correct the orientation of the image to create a clear and precise view. This complex process is what makes it possible for binoculars to create imagery.
Porro prism is a system with internal glass elements offset from one another to create a wide field of view. Binoculars that are created with this more complex process, have a rugged design, tend to be less expensive, and creates a greater depth of field than its counterparts with the roof prism system.
Roof prism is a system with internal glass elements perfectly parallel with one another to create a streamlined view. Binoculars created with this simple, yet complex process, have a slimmer design, tend to be more expensive, and less rugged than its counterparts with the Porro prism system.
Lens coatings are films applied to the lens surface to reduce glare and reflection, in return, to increase light transmission and contrast to create a vivid and clear image.
Single-coated lenses have a single layer applied to at least one lens surface, resulting in a low illumination image.
Fully-coated lenses have a single layer applied to all lens surfaces, resulting in a low-to-mid illumination image.
Multi-coated lenses have multiple layers applied to at least one lens surface, resulting in a mid-to-high illumination image.
Fully multi-coated lenses have multiple layers applied to all lens surface, resulting in a high illumination image.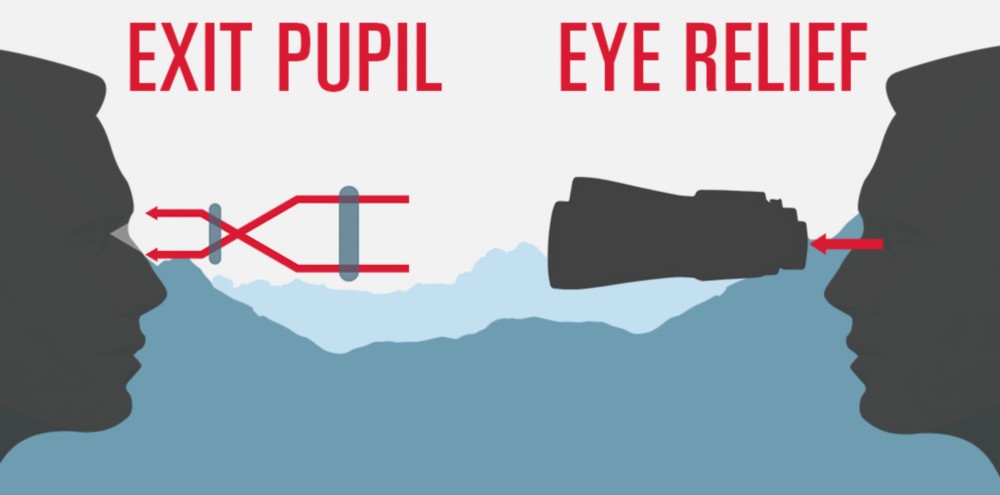 Exit pupil is the bright circle in the center of each eyepiece. This bright light will determine how bright an object will appear when it hits the eye. The exit pupil is determined by simply dividing the objective lens diameter by the magnification power. For example, if a binocular is 10x42 (42 divided by 10), the exit pupil size is 4.2mm.
Eye relief indicates the distance between the binocular eyepieces and your eyes. The eyepiece makes it easier to use for prolonged use without straining your eyes, and most binocular eyepieces can be adjusted to personal preference. If you wear glasses, it's recommended that you roll down the rubber collar on the eyepiece for a more comfortable fit and wider field of view.
The field of view indicates the visible width of the area, normally in feet, that can be viewed at a diameter of 1,000 yards. If the magnification power is high and the objective lens diameter is low, your field of view will be narrow. A wide field of view is best for a clear perspective of your outdoor pursuit.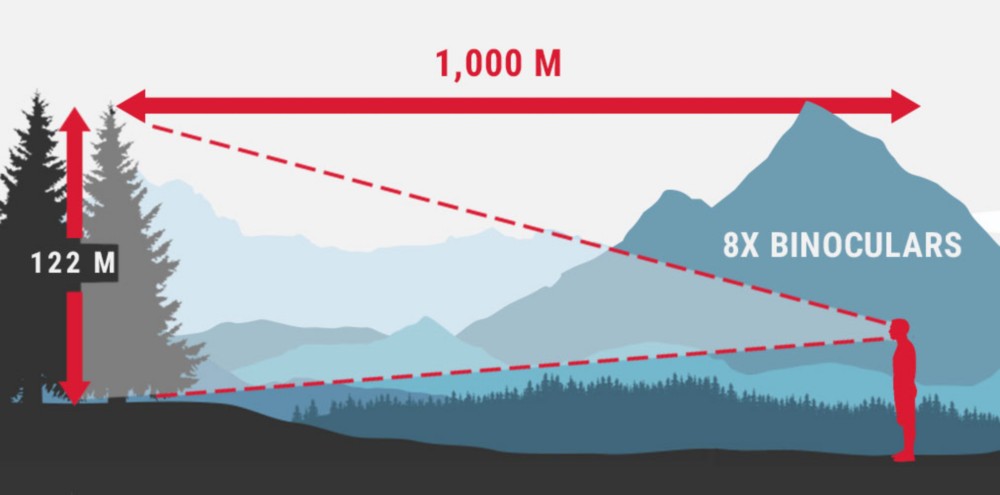 To adjust the quality of imagery, binoculars have a central focus wheel between the two barrels to adjust each of the barrels simultaneously. Or, use the diopter adjustment on the left or right side of each barrel to adjust one barrel at a time in order to reflect your vision.
To keep your binoculars protected from the elements, SCHEELS has a variety of binoculars designed with protective features, including waterproof, fogproof, and weather-resistant.
Waterproof binoculars are completely protected from the rain, dust and other debris with the help of O-rings to create a seal, but these can fog up at times.
Fogproof binoculars eliminate damage and prevent your lenses from fogging in various temperatures due to the nitrogen or argon gas filling for zero moisture content.
Weather-resistant binoculars are designed to withstand light rain showers, however, they are not completely waterproof or protected from other weather damage.
You can find our full selection of binoculars HERE.