Browning Wicked Wing Shotguns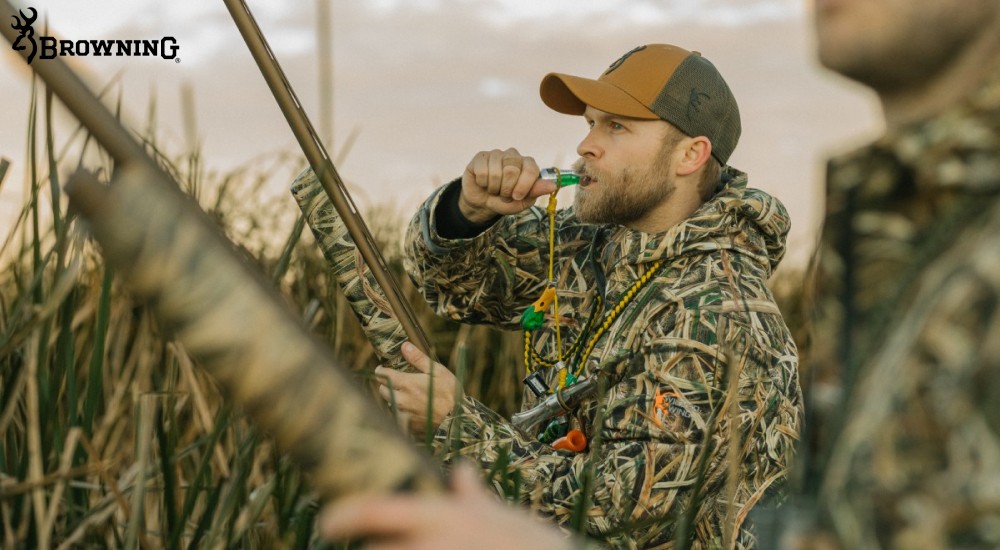 Since its founding in 1878, Browning has been committed to providing hunters reliable gear for more success in the field, and the Wicked Wing line of shotguns is no different. Built specifically for waterfowl hunters, Wicked Wing shotguns blend a sleek, lightweight design with custom touches and high-quality components. The Wicked Wing series includes models based on Browning's popular Maxus and A5 shotguns and will help every waterfowl hunter find more success in the field. Learn more about these shotguns built for hunting ducks and geese, including their exclusive design features and innovative technology.
Browning Maxus Wicked Wing Shotgun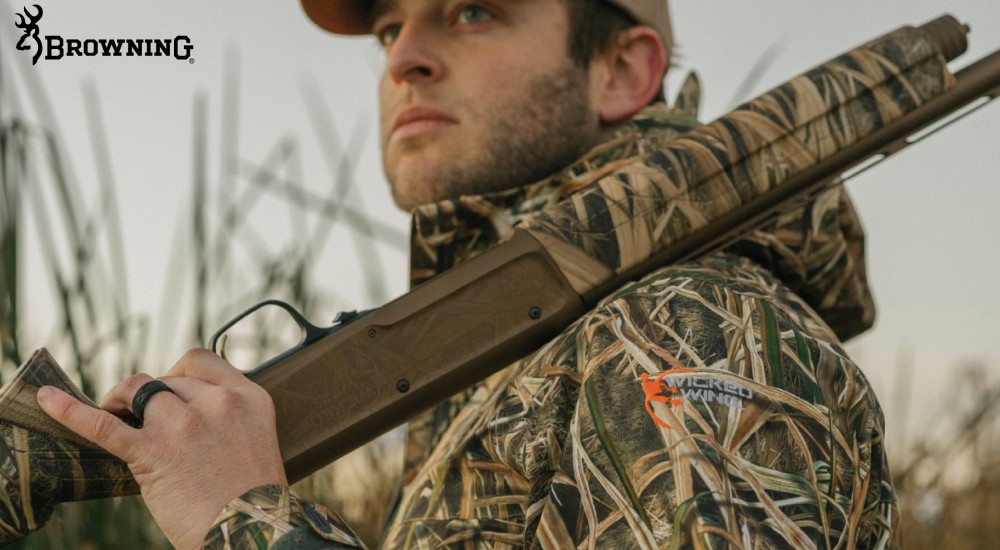 The Maxus II Wicked Wing Shotgun offers wicked looks and wicked performance. As with all of Browning's Wicked Wing products, this shotgun features Mossy Oak Shadow Grass Blades camo designed for waterfowl habitats. The sleek design is rounded out with a fully-chromed bore for a little extra visual flair.
The leading innovation of the Maxus Wicked Wing is its unique engineering. Waterfowl hunters will appreciate the advanced PowerDrive Gas System. Designed through years of research and testing, this gas system features a new piston designed to fit more loads. Larger exhaust ports more efficiently dump gas to improve the power and precision of heavy loads. For light loads, the piston has a 20% longer stroke that ensures consistent patterning and reliability. Aside from delivering reliability with a wide variety of shot loads, the PowerDrive Gas System reduces recoil, taking the sting out of heavy magnum goose loads.
The advanced Lightning Trigger system has a 24% faster lock time than the closest competitor, delivering smooth, crisp pulls with minimal travel. This solid trigger system allows for slightly faster shots, giving waterfowl hunters the edge when shooting rapidly moving flocks. The Lightning Trigger is only available on the Maxus series, including the Maxus Wicked Wing.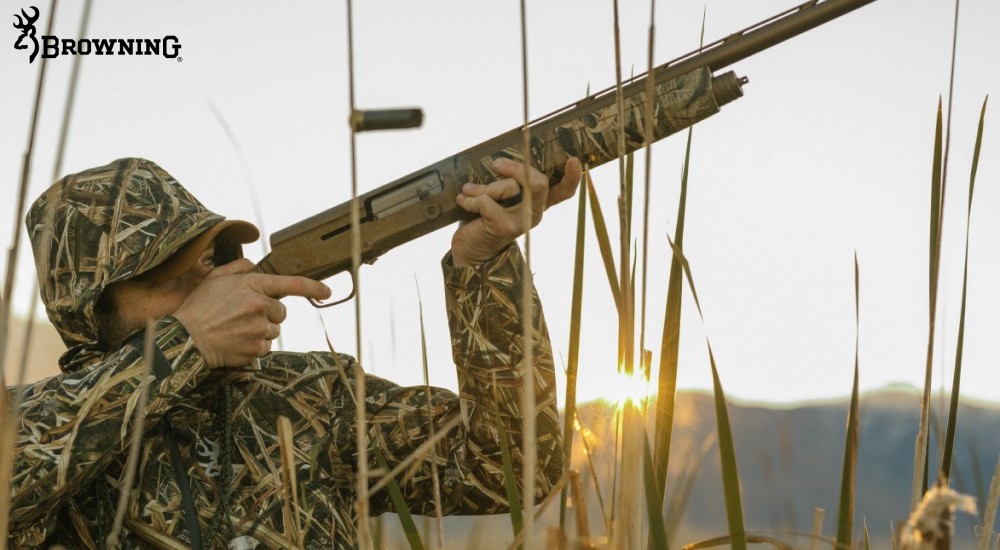 Just like the Maxus Wicked Wing, the Browning A5 Wicked Wing is finished with Mossy Oak Shadow Grass Blades and has a fully-chromed bore. Where the A5 stands apart is its unique humpback receiver. Based on Browning's classic shotgun design, the humpback receiver extends the sight plane to allow faster target acquisition, a must-have when hunting fast-flying ducks and geese.
For a smoother action, the A5 Wicked Wing features the innovative Kinematic Drive System that uses inertia to cycle shells. This system uses a redesigned internal spring to accumulate and store the natural kinetic energy produced when the gun is fired. The stored energy causes the spring to bounce back with enough force to unlock and cycle the action. Because this drive system uses recoil energy to cycle shells, it ensures proper autoloading with virtually every load size. Plus, gases are sent out the barrel and away from the action instead of cycled through the gun, resulting in a clean operation with a 100,000-round guarantee.
In addition to its advanced semi-auto action, the A5 is Ergo Balanced. Ergo Balancing, as its name suggests, better balances the gun for improved ergonomics. Because of the more balanced feel, the shotgun feels incredibly lightweight and swings fast. The compact narrow forearm allows you to place your front hand closer to the bore line for improved hand-eye coordination, resulting in simple point-and-shoot accuracy. This enhanced pointability provides waterfowl hunters the ability to effortlessly aim at ducks and geese as they fly overhead and make the perfect shot every time.
The Wicked Wing Maxus and A5 shotguns pair time-tested designs with innovative technology to improve the experience of waterfowl hunters everywhere. For more information about the latest Browning shotguns, talk to one of our hunting experts at your local SCHEELS or shop our online selection of Browning shotguns available for pick up in store.