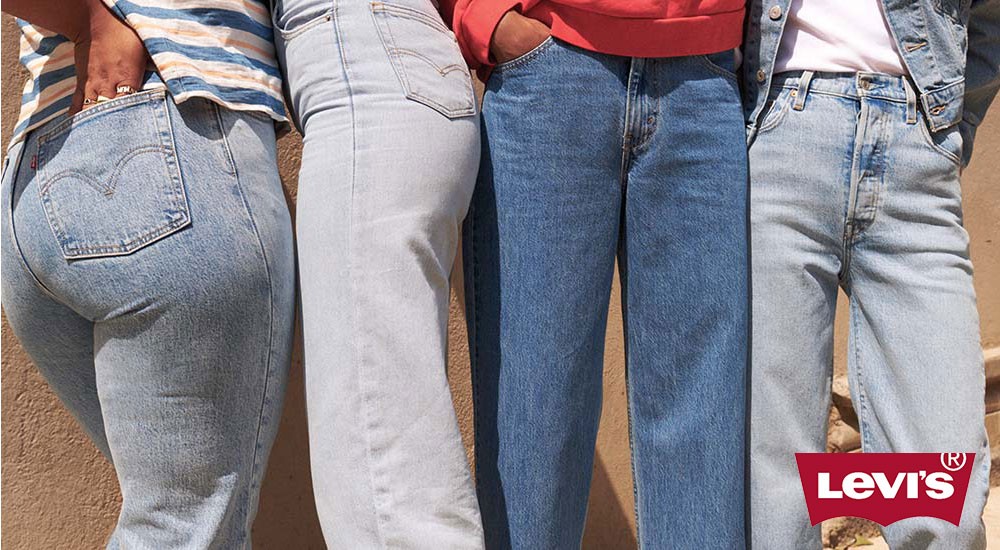 Denim jeans have been a staple in the wardrobe of men and women for decades. Over time, thousands of different fits, rises, and washes have come in and out of style. With so many options, it can be hard to know where to start when shopping for jeans. Whether you're looking for men's or women's jeans, it's important to know how each style differs so you can find the perfect fit for your body type, personal preference, and style. Knowing the difference between jean styles can make shopping for jeans more fun and more efficient, and this guide will help you start narrowing down your search.
Whether you already own dozens of pairs or just a few, finding new jeans you love can be daunting, but it doesn't have to be. Once you know the most common denim jean styles, you can find your favorites, and you'll know just what you're looking for the next time you shop.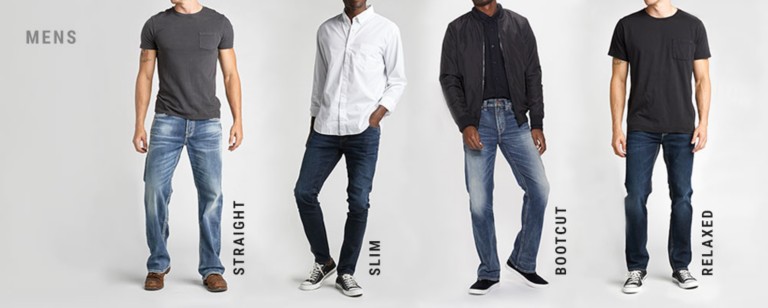 Men's Straight Jeans
Straight jeans—also referred to as regular fit jeans— are a flattering style for men with a variety of body types. Straight jeans offer a classic, straight fit from hip to hem with a semi-relaxed look. With a slightly wider leg opening than skinny or slim jeans, the straight jean style flatters the natural shape of men's legs without being uncomfortably snug or hugging problem areas.
Men's Slim Jeans
Slim fit jeans have a snug fit (but not too tight) and a tapered leg opening. This jean fit is often a preferred style of slimmer guys as it gives a flattering shape to slim legs. More space around the thigh makes slim fit jeans a more comfortable option than skin-tight jeans, and slim jeans pair well with slim-fit tees and shirts to highlight your natural body shape without being too tight or feeling restrictive.
Men's Bootcut Jeans
Over a century ago, bootcut jeans were popularized by cowboys needing jeans that fit over their boots. While the fit remains relatively the same today, bootcut jeans are styled in more ways than ever. Bootcut jeans feature a regular fit through the waist and thigh and widen from the knee to ankle. While bootcut is often considered a jean style of the past, there are plenty of ways to style these jeans for both fashion and function in a modern way. Whether you need work jeans to fit over your boots or you're styling an outfit with throwback flair, bootcut jeans may be a good option for you.
Men's Relaxed Jeans
A flattering style on wider legs, relaxed jeans provide extra room from the waist to the knee and typically feature a straight fit through the calf. This is a roomy and forgiving jean for men looking for comfort and style without hugging any problem areas. Relaxed jeans can be styled in a variety of ways and are most commonly paired with casual tops.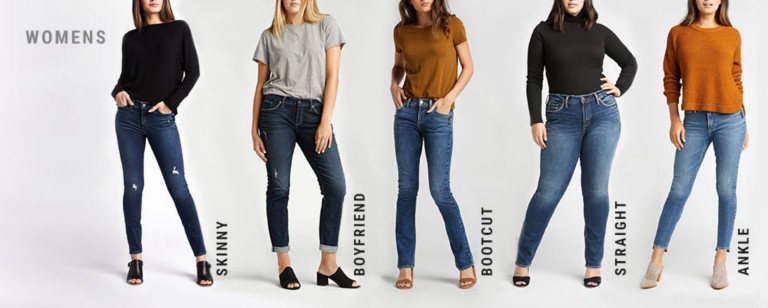 Women's Skinny Jeans
Skinny jeans provide a feminine contour with a tight fit through the entire leg. This style particularly hugs and highlights the shape of your legs with a snug fit. This style is typically made with stretch denim material that makes them a comfortable option when you want to show off your legs. Skinny jeans can be worn with fitted tops, but they also make a great complement to oversized shirts and sweaters.
Women's Boyfriend Jeans
Loose and comfortable, boyfriend jeans are the perfect style to relax in. Style isn't the priority with this jean fit, but there are plenty of ways to get creative and make them your own. Boyfriend jeans are designed to be relaxed and slouchy, but you can size up or down for your desired fit. Depending on your personal preference, the loose-fitting boyfriend jean can flatter nearly every body type.
Women's Bootcut Jeans
Bootcut jeans are a practical option for women needing to accommodate boots or those who prefer a slightly forgiving fit that still provides a complementary shape. The cut is more fitted through the hips and thighs with a wider bottom opening. The bootcut style features a leg opening that lands somewhere between straight and flare. Fitted shirts are the best match for bootcut jeans.
Women's Straight Jeans
The straight jean is a classic cut that flatters women of all shapes and sizes. This jean fit is conservative yet stylish which makes it versatile enough to be dressed up or down. Straight jeans feature a relatively consistent cut from hip to ankle that tightens slightly around the thigh and hangs looser on the calf and ankle.
Women's Ankle Jeans
Ankle jeans are surging in popularity. This jean style can be worn all year, but they make a particularly great complement to summer outfits. Ankle jeans fall between the length of a capri and regular jeans. They are a great option for showing off a pair of shoes or rocking a destroyed hem.
Both men's and women's jeans come in a variety of rises—most commonly categorized as low-, mid-, and high-rise. Depending on your body shape, style, and preference, each rise offers its own benefits and drawbacks. Some wearers prefer the more casual and relaxed look of the lower rises while others prefer the visual elongation and tummy control of the higher rises. When choosing your ideal jean rise, it's important to consider what areas of your body you want to draw attention to, or away from, as well as whether you want to wear your shirts tucked or untucked. So what do the jean rises mean?
Low-rise jeans rest on the hips, well below the natural waist. Low-rise jeans were popular in the 2000s, but there are more and more modern jean styles featuring a low-rise waist. This rise can be less forgiving than higher rises, but it can also be a flattering choice for women looking to widen the appearance of their backside while elongating their torso. This is typically the most casual rise for both men and women because of the easy, relaxed style.
Mid-rise jeans, also called regular-rise jeans, sit between the hips and belly button, just below the natural waist. This jean rise gives some tummy control without feeling restrictive. Mid-rise jeans give you the freedom to bend and move with confidence, and this rise is generally considered universally-flattering. Mid-rise jeans are the most versatile option for alternating tucked and untucked tops.
High-rise jeans sit above the hips, typically at the natural waist. Initially popular in the 20th century, high-waisted jeans have recently seen a resurgence. This rise flatters natural curves and highlights the slimmest point of your figure. For both men and women, high-waisted jeans can provide some tummy control and concealment. This rise can visually elongate the lower body and flatter both thinner and heavier wearers.
Choosing the length of your jeans can make or break your look. If you're handy with a sewing machine, you can usually hem a pair of jeans that are too long, but there isn't much you can do about a pair that comes up short. Luckily, there are a few ways you can measure to find your perfect inseam.
Method 1: One of the easiest ways to measure your inseam is to measure the inseam of a pair of jeans that you know fit you well. Before measuring, double-check the label on the inside of your jeans to see if the inseam is already listed. If you don't see it on the label, you can follow these quick steps to find it on your own.
Step 1: Fold your jeans in half lengthwise and lay them flat.

Step 2: Use a measuring tape to measure the length from the crotch to the hem.

Step 3: Record the measurement exactly. You can use that measurement while jean shopping and round up or down as necessary.
Method 2: Have someone measure your inseam for you. When using this method to find your inseam, it's important to take off your shoes and wear pants that have a tight or slim fit—tights or leggings are a great option.
Step 1: Stand up as straight as possible with your hands at your side.

Step 2: Have your partner use a measuring tape to measure the length from your crotch to the floor (For some women's jean styles, you may need to tell your partner the spot on your ankle you want your jean hem to land so they can adjust their measurement.)

Step 3: Record the measurement exactly. You can use that measurement while jean shopping and round up or down as necessary.
Now that you understand the different jean styles, rises, and lengths, you're well-equipped to shop for your perfect pair of jeans. It's important to remember that you'll probably be wearing these jeans while sitting, standing, and moving around so trying them on is an important final step. When you've reached this stage, there is some good advice to keep in mind.
Sit or squat before you buy (or before you take the tags off). This will help you gauge how comfortable you feel moving around in the jeans. It will also help you determine if the rise is too high and cuts off circulation in the front or if it's too low and exposes too much of your backside.
Be adaptive with sizing. Many brands vary on sizing, and many styles fit differently even if they're the same size. If you find a pair of jeans you love, don't assume that will be the best size in every brand or cut.
Buy two pairs if you love them. Finding the perfect pair of jeans can be like finding a needle in a haystack. If you find a pair you love, buy two pairs or buy them in multiple washes. You never know if they will sell out or be discontinued, and you'll thank yourself later if one pair gets worn out or lost.
If you have any questions, you can visit your local SCHEELS and one of our expert denim stylists can help you find the perfect jean fit. With brands like Silver Jeans, Levi's, KUT from the Kloth, and more, you're sure to find a pair you love. Plus, learn more about jean fit from our denim expert, Kayla, by watching the video below.