How to Find the Perfect Jean Fit & Style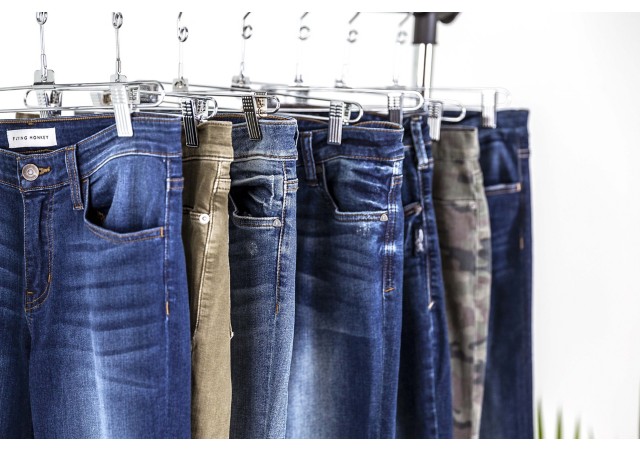 Denim jeans have been a staple for hundreds of years, and it's no secret that nearly everyone has at least a few pairs of jeans in their closet. Whether that selection features a skinny, classic fit or a relaxed style jean, this guide can help you choose the perfect pair of jeans for your fit and style.
With an industry-leading selection of jeans from Levi's, Flying Monkey, KUT from the Kloth, Silver Jeans, Mavi, and many more, SCHEELS has a flattering pair of jeans just for your signature style. With an overview of qualities and features to add to your denim selection, this guide will help you narrow down the options to find a new pair of denim jeans to add to your wardrobe — let's get started.
With a wide variety of denim styles, it can be overwhelming when you're shopping for the perfect fit that's flattering to your shape. But, it doesn't have to be. Once you know the most common denim jean styles, you'll find an ideal pair of denim jeans.
Below are the most common denim styles on the market for men and women: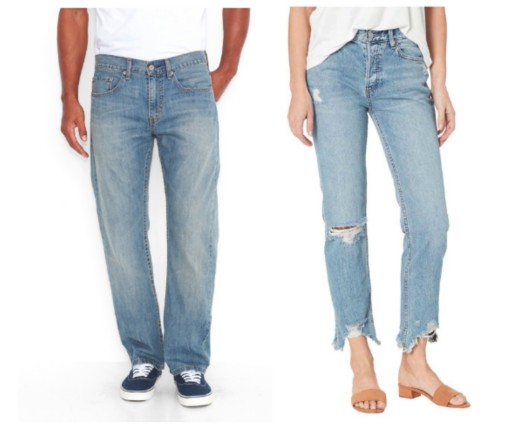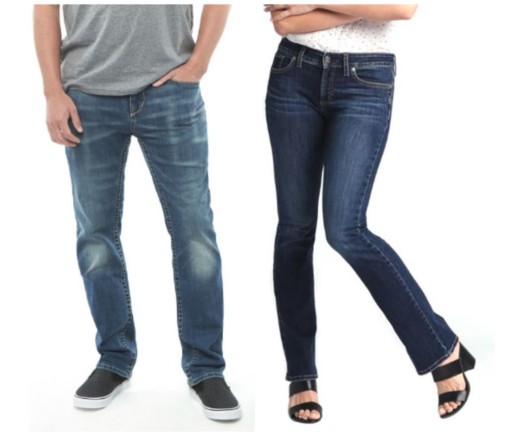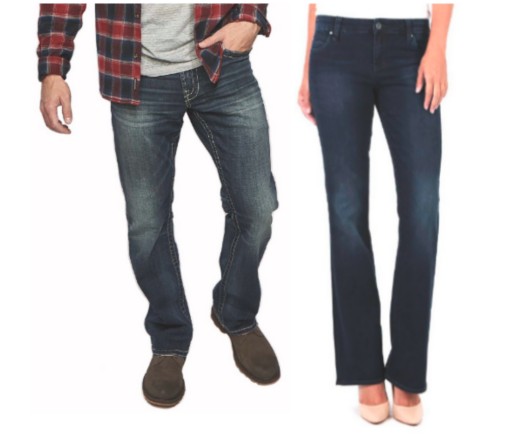 There are a few additional styles tailored to women, including the following: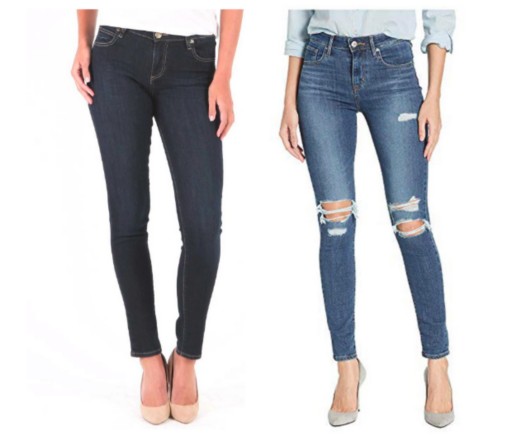 Skinny jeans have become an industry staple with a snug, narrow fit that fits close to the leg and typically hemmed just above or at the ankle. With such a tailored fit, skinny jeans offer a sleek, modern style for medium to slim legs.
Shop Women's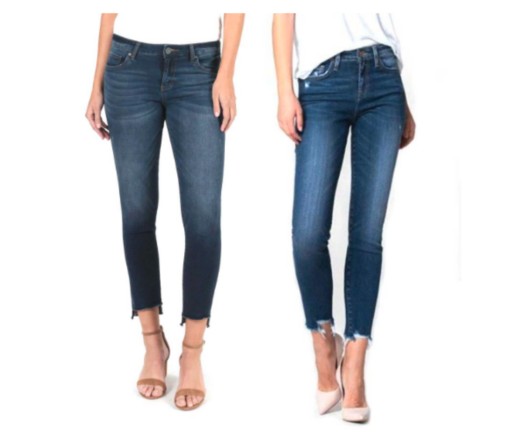 Ankle jeans are a staple for modern-day trends. With a style that's similar to the fit of a capri, ankle jeans feature a length that stops right above your ankle. These jeans are ideal for long, slim to medium legs.
Shop Women's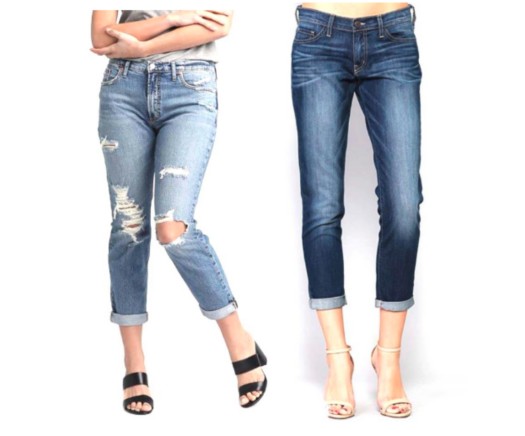 Boyfriend jeans are slightly oversized, for a loose fit in the thighs and legs. Typically, boyfriend jeans will feature a distressed look with a variety of lengths. If you prefer a loose fitting pants, the boyfriend jean is a great choice.
Shop Women's
For men, you can find even more trending styles below: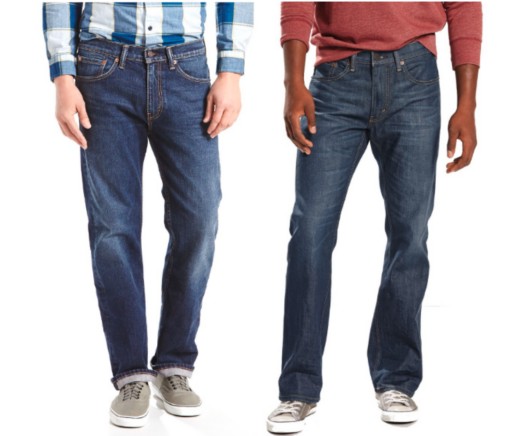 Relaxed jeans offer a roomier fit from the waist to the bottom hem of the leg opening. Without compromising comfort, these jeans have more room through the thigh and leg making these an ideal pair of jeans for all body types.
Shop Men's
After you've selected an ideal jean style for your body shape, then it's time to consider the jean waist rise. Waist rise refers to the position of where the waistband of the jean sits around the midsection.
Below, we've narrowed down the three most common types of waist rise:
A Low-rise waistband sits just below the abdomen, sitting low on the hips, making this waist rise an ideal choice for a slim midsection to give the appearance of a longer torso. Most commonly designed for women's jeans, this type of waist rise sits 2-inches below the navel.
A Mid-rise waistband is the most common waist position for men and women, as the mid-rise style is flattering for all body shapes and sizes. With a waist position that sits just below the navel, a mid-rise jean offers more shape to the midsection.
A High-rise waistband is a modern classic ideal for athletic body types with a slim waist. With a waist position that sits at or above the navel, a high-rise jean offers a flattering fit that helps lengthen and balance your shape.
Now it's time to make sure the right measurements for an ideal fit. Depending on the style of jeans and your height (short, average, tall), the inseam can vary by one to two inches.
To measure the inseam of your jeans, use a measuring tape, then follow the quick steps below:
Choose a pair of pants that fit you well, and place them on a flat surface.
Then, carefully place the measuring tape from the bottom of the zipper to the leg opening.
This number is your ideal inseam to help you choose a pair of flattering jeans.
Note for Men: Make sure to measure your waist from left to right on the upper edge. For example, if your waist was 28 inches and your inseam was 30 inches, then your jean size is 28x30.
You've made it to the last step of the process — finding your ideal fit. When you're trying on a pair of jeans, it's essential to remember that you'll probably be moving around, sitting, and standing.
With that in mind, we've put together a few tips to keep in mind when you're trying on jeans:
Sit or squat to gauge your comfort level. By sitting down, you'll get a better idea of how the jeans shift or stay in place. When you're sitting or squatting, jeans will either rise too high in the front or fall too low in the back.
Be adaptive to size as many brands do vary on sizing. Without a standard jean sizing guide, jeans will fit differently depending on the brand. One jean brand may cut the style of their jeans with more stretch or thigh room, while another brand of jeans offers a more slimming style.
Buy two pairs of identical jeans. When you find a great-fitting pair of jeans, you'll always have the confidence to complement your signature style in a flattering pair of jeans. Plus, with duplicate pairs of jeans, one pair can be hemmed to go with a specific shoe style.
Plus, don't forget to watch the video above for further tips on how to find just the right pair of jeans and fit.
Have any questions? Visit your local SCHEELS and one of our expert denim stylists can help you find just the right jean fit.