Electric Assist Bikes - A Growing Trend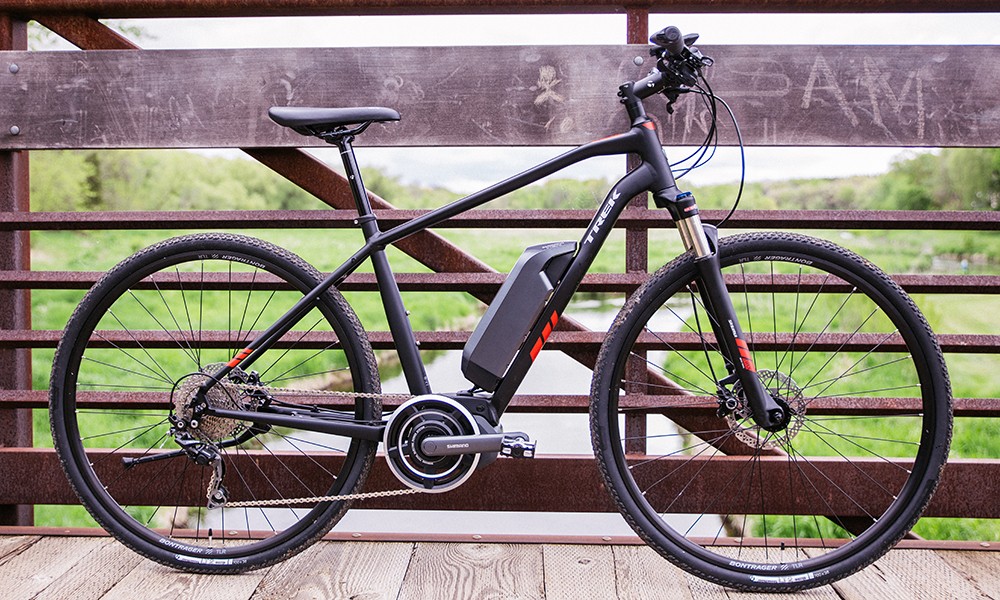 By Matt Phippen | SCHEELS Sales Leader & Bike Expert
There has been a lot of buzz in the bicycle industry in the last year around the growing popularity of electric assist bikes (e-bikes). Actually, e-bikes have been around for many years but the technology and battery options have finally caught up with what riders want. In Europe, for example, one in every 6 adult bikes is an e-bike and that number is growing every year.
E-bikes are regular bicycles with a battery-powered "pedal assist motor." When riding the bike, a push on the pedals engages a small motor giving you a boost. This pedal assist "evens out" most any terrain or windy day where you may be riding. You control your speed with your feet just like with a regular bike. The harder you pedal, the bigger the boost you'll get and the faster you'll ride. The motor is governed to stop propelling you further when you hit 20 to 28 mph (depending on the bike). You also can control how much pedal assist you get. Most e-bikes come equipped with a handlebar-mounted +/- power switch, which allows the cyclist to adjust the power. There are two major suppliers of the e-bike components. The huge German based firm named Bosch and an OEM bike component Japanese company called Shimano. Currently Bosch equipped bikes come with 4 levels of assist (Eco, Tour, Sport and Turbo). Shimano models come equipped with 3 levels of assist (Eco, Norm and High).
Soon there will even be on board computers that sense the tension in the pedals and automatically adjust the levels of assist. There are also e-bikes made with a throttle just like a motorcycle/scooter but most of these bikes are not allow on bike trails. Riding an e-bike is still exercise and you are doing the majority of the work, the electric motor is just assisting you to your next destination.
Getting an e-bike can dramatically increase how often and how far you ride. For people who are not frequent riders, it opens up a whole new world of cycling. Regardless of the type of riding you like, there is an e-bike for just for you. E-bikes are available in fat bike, commuter, recreational, hardtail, road and full-suspension mountain bikes.
We have sold e-bikes to every type of cyclist for any reason imaginable; the everyday commuter that wants to make that morning and evening commute a little faster, The older cyclist that just needs a little extra assist throughout the ride, the wife whose husband is a strong road cyclist and wants to do group rides with him but fears getting dropped.
*New e-bike customer, Ashley, shares her story on how an electric bike changed her family!
"I LOVE biking. My kids do too. But my husband has had significant health issues his entire life (open-heart surgeries, collapsed lungs, etc). By doctors' orders, his physical exertion is quite limited. We have a 9-year-old daughter and an 8-year-old son who LOVE playing with Dad; however, there are just some activities Dad shouldn't do and that's hard for everyone.
A little over a year ago, SCHEELS had a deal on a Trek E-bike I could't pass up...the perfect Christmas gift. Matt Phippen covertly drove it 50 miles to my house in a snow storm 3 days before Christmas. That was one of the best Christmas mornings ever - the kids and I were so giddy at the thought of Dad riding with us! It was a long wait for spring that year but so very worth it! That first family bike ride.... There just aren't words.
This bike is a game changer; a good, low-impact workout for him. It gets our whole family active together and out with some of our biker friends. It has put my husband back into a world that he couldn't be physically active in before.
We went for a family ride last night. My husband and son even opted to take an extra lap around our neighborhood before coming home. After, he walked in, he sat down his helmet, and grinned, "That was fun."
– Ashley H | Iowa City SCHEELS Customer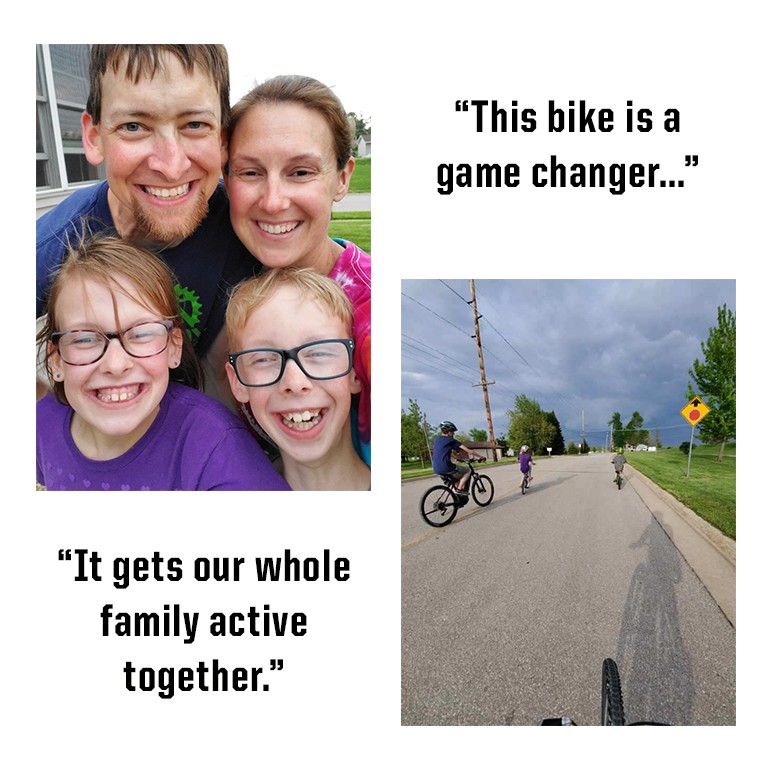 Still a bit skeptical about e-bikes. Riding one will tell you the true story....So how about a free test ride? I challenge you to stop by your local Scheels store and take one for a test ride. Unlocking a whole new world of Fun on a bike starts with that first adventure.