Family Camping Essentials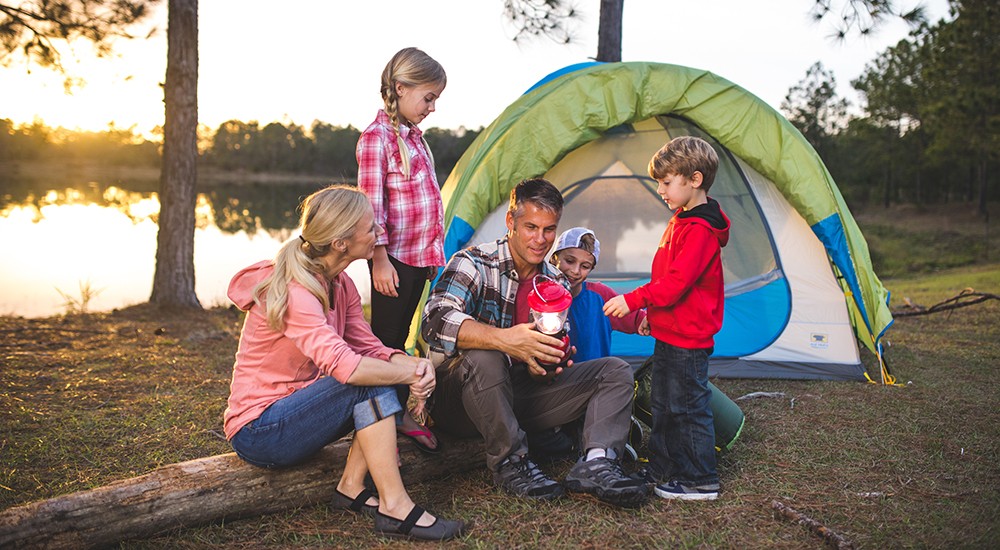 Looking for a fun family vacation idea? Camping as a family is a great way to make lasting memories and start a new tradition. Family camping allows you to spend some time together away from the hustle and bustle of everyday life. Even if you can't travel, you can set up camp in your backyard and have some electronics-free fun together as a family. Whether you're camping in the backyard or heading to a campground, make sure you have everything you need with our guide to family camping. We'll help you find all the essential items for some outdoor fun with your kids!
Here's a quick list of what you'll need to bring on your family camping trip:
For more tips on shopping for a family camping trip, check out our advice below!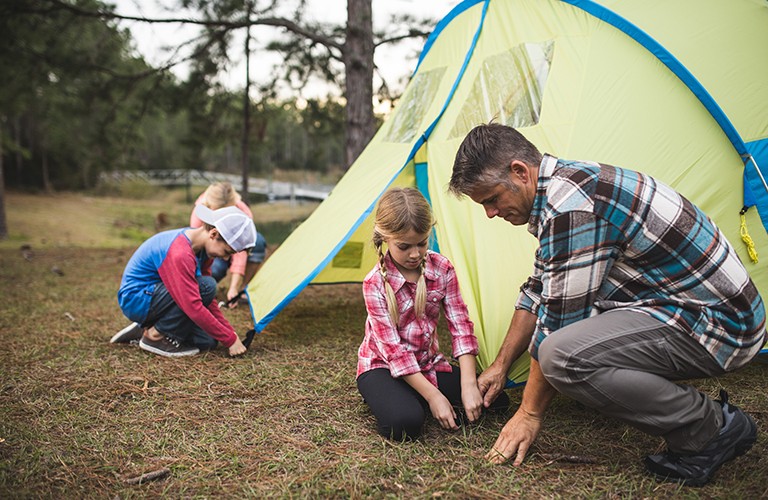 The first item you'll need to camp with your family is a durable camping tent or shelter. When choosing a tent, make sure it's the right size for your family. Choose a tent with enough floor space for everyone to sit and sleep comfortably plus some extra space for your backpacks and duffle bags.
Generally, you should buy a tent recommended for one more person than you plan to sleep: for example, a family of four should use a five-person tent. This will ensure you have enough room for the whole family and all your gear. You'll also need to consider the weather you may encounter on your family adventure, like rain or wind, and choose a tent built to stand up to the conditions. For more information on choosing the best tent for your family camping trip, check out our full tent buying guide.
Sleeping Bags for Everyone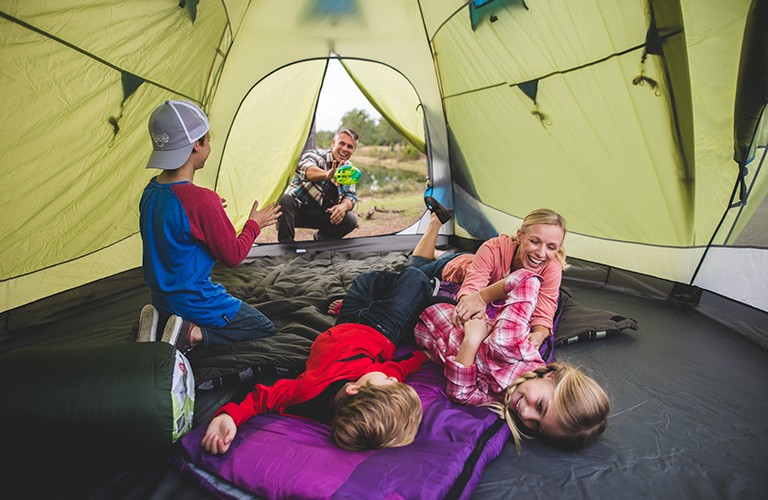 Next, everyone will need their own sleeping bag. You'll want to choose a sleeping bag appropriate for the weather, like an insulated sleeping bag for colder nights or a more breathable option for summer camping. You might also want to pack some extra blankets and pillows just in case you need a little more warmth or comfort! For help picking out the perfect sleeping bag for everyone in your family, check out our guide to the best sleeping bags!
Just like any trip, you'll need to pack enough clothes for everyone (including a couple extras just in case!) Since the weather can sometimes change unexpectedly, it's also a good idea to pack some rain jackets or other light kids' jackets in case the weather doesn't cooperate.
You'll also want to make sure everyone has a good pair of shoes. Kids can wear a pair of athletic shoes, but it may be a good idea to pack some hiking boots if you plan on any long treks. Another must-have is a few pairs of comfortable socks. Since there's so many different types of hiking socks, like warm wool socks to lightweight, breathable socks, they're a great choice to wear while camping.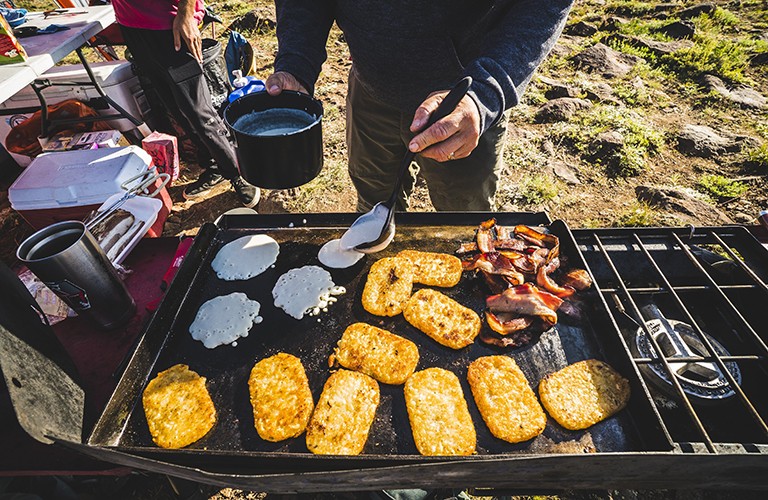 You'll also want to make sure you have enough food, drinks, and snacks for you and your little campers. A cooler for camping is a must-have for your outdoor adventure to keep your food and drinks cool. While a large cooler will fit everything you need, bringing smaller coolers is a great way to pack and carry lunch on short excursions like a hike or a day of fishing.
While a cooler with some pre-made food may be all you need on a short trip, for longer trips you'll want to make sure you have a way to cook hot meals. Whether it's over the campfire or on a portable grill or cooktop, you'll want outdoor cookware you feel comfortable using. To get the whole family in on the fun, pick up a couple of roasting forks and cook some hot dogs over the fire. Don't forget the marshmallows!
It can get pretty dark at night, especially if you're at a campground. To find your way in the dark, you'll need a lantern, headlamp, or flashlight. Besides lighting the way, flashlights can also provide some family fun at night! For example, you can "pass the torch" and take turns telling stories and jokes around the campfire. Make sure to grab some extra batteries to power your flashlights!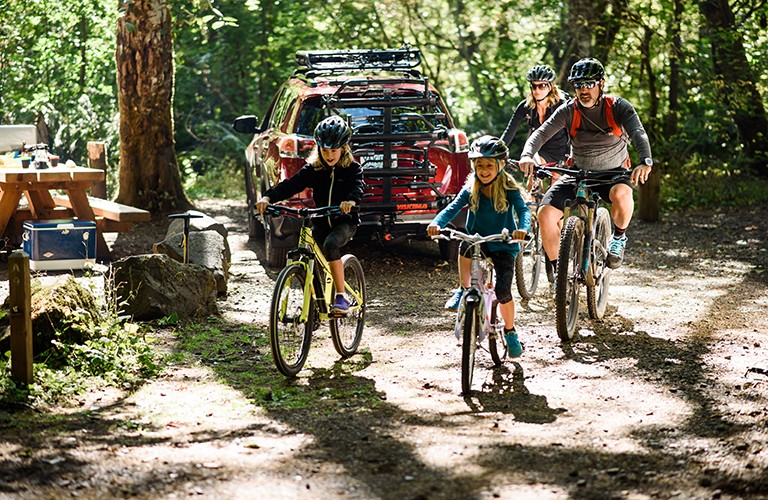 Make sure you plan for some fun family activities! Whether it's playing cards, catching some fish, or going on a family hike, there's plenty of ways to stay entertained. Make sure you have the proper gear for whatever activities you plan, like hiking boots, fishing gear, or a board game. You can even bring a favorite outdoor game for some fresh-air fun!
There are just a couple more things you'll need, especially if you're heading to a campground. To keep everyone safe, make sure to pick up some sunscreen. Even if it's going to be cloudy, being outdoors for a long period of time will still expose you to the sun's rays. You'll also want to buy some bug repellent. Whether you prefer bug spray, wearable repellent wristbands, or citronella candles, bringing along insect repellent will keep those pesky mosquitoes at bay. It's also a good idea to have a first aid kit and camp soap to keep everyone happy, healthy, and clean!
With the right gear and essentials, camping with your kids and family can be a great way to make some fun memories. Whether you're able to travel to a campsite or want to experience the thrill of the outdoors in your own backyard, SCHEELS has everything you need for outdoor family fun. If you have any questions about how to start camping or want some more recommendations on the best gear for your family camping adventure, stop by your nearest SCHEELS and speak with one of our Camping Experts.