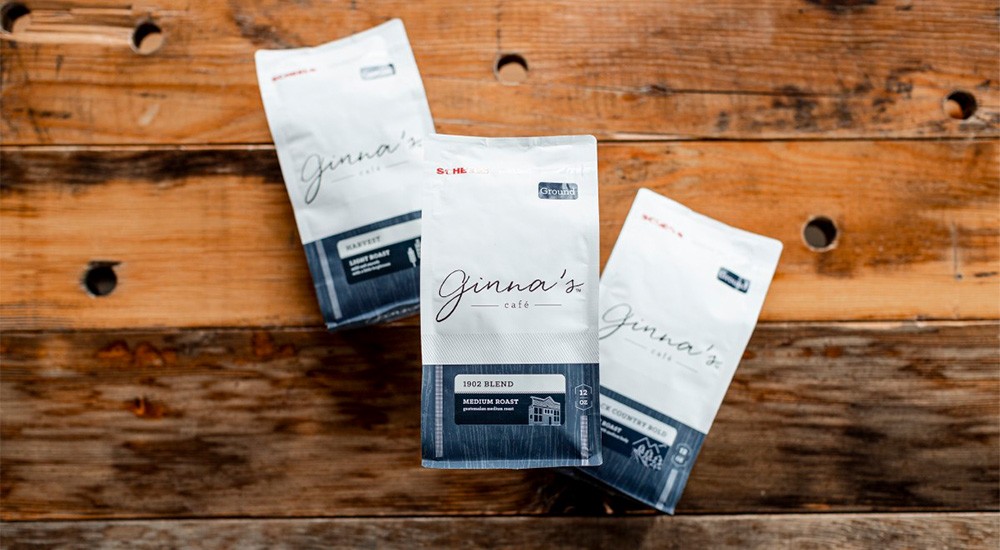 Did you know that several of our SCHEELS stores feature a Ginna's Café as part of your shopping experience? Ginna's Café is named after the grandmother of SCHEELS CEO, Steve M. Scheel, and offers a wide variety of different meals, fudge, coffee drinks, and more to suit everyone's taste buds. Many shoppers enjoy stopping by Ginna's Café to grab a cup of coffee to sip on while shopping.
That's why in the fall of 2019 SCHEELS partnered with Driven Coffee Roasters to create an exclusive coffee to sell at Ginna's Café and within SCHEELS stores. Driven Coffee Roasters is a premium coffee company from Minneapolis, MN that shares the same core values as SCHEELS, making them a great partner to help us provide a better experience to our customers. Ginna's Café now roasts and brews a wide variety of different craft roast coffees to share with customers. Read on to learn more about what makes Ginna's Café coffee such a favorite to enjoy within the store or at home!
What Makes Our Coffee Different?
Coffee Beans:

We partner with a local-to-us green coffee importer to ensure that we source coffee beans from farmers whose growing and ethical standards meet our needs.

Small Batch, Craft Roasted:

We roast our coffees in 18 to 22-pound batches. Roasting in small batches allows us to offer a more consistent taste without the need to over-roast the coffee beans. The result is a smooth, balanced, and "drinkable" cup of coffee.

Freshly Roasted:

At Ginna's Café, we use coffee that is roasted within just days so that each cup served offers the full flavor potential. If you choose to buy a package of Ginna's Café coffee, you'll notice a "roasted on" stamped date so you can be confident the coffee is fresh.

Premium Ingredients:

When making blended coffee drinks or specialty drinks, we use quality sauces, syrups, powders, purees, concentrates, teas, and more so your special treat tastes delicious.

Balanced Taste:

Our espresso, the building block for many coffee drinks on the menu, tastes great! Since we start with the best coffee beans that are craft roasted in small batches, our espresso doesn't need to be masked by overly sweet ingredients to taste delicious. By balancing the ingredients, we strive to offer you the best coffee drink.
What Is Craft Roasted Coffee?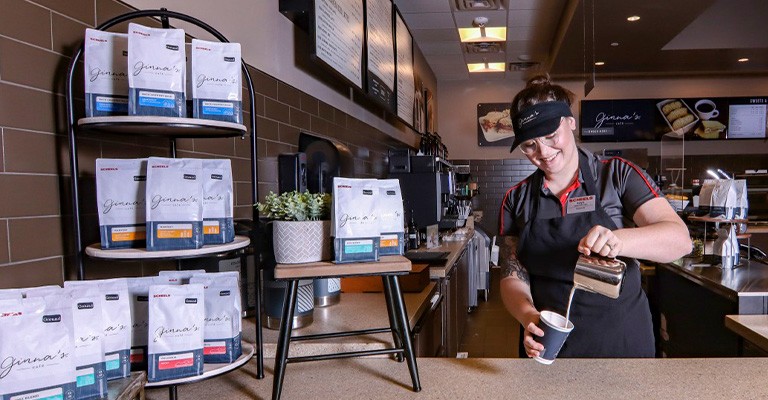 Craft roasted coffee means that each batch is prepared with quality and high standards in mind. We roast our coffee beans on a small batch Probat Roaster to give us the freedom to control all stages of the roasting process. Using a Probat Roaster allows us to develop repeatable roast and flavor profiles by using software to digitally store our roasting data. By using and maintaining a strict quality control process, we can ensure our customers receive a consistent cup of coffee that highlights the flavor of each different type of bean.
Ginna's Café Coffee Blends
Ginna's Café craft roasted coffee is available in three signature blends: Harvest, 1902, and Back Country Bold. Each of these blends are available fresh at our Ginna's Café locations, or you can purchase them by a 12-ounce bag, either ground or whole bean, at the store or online.
Whatever your taste buds enjoy, you'll find a favorite coffee or specialty drink at your local Ginna's Café. If you're looking for the Ginna's Café menu and hours, be sure to get in touch with your local SCHEELS store as each restaurant offers a different selection that is ever-changing: