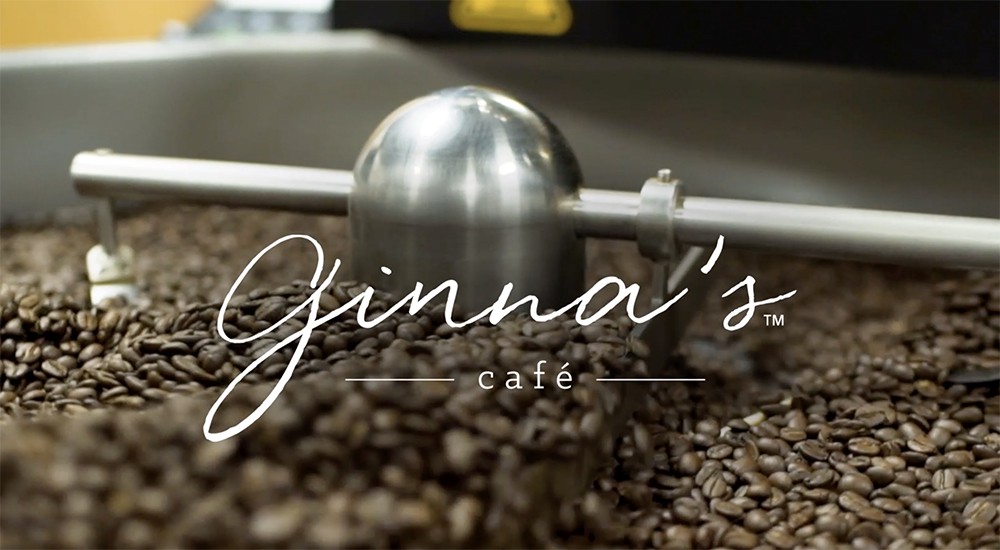 In the fall of 2019, SCHEELS made the change to partner with Driven Coffee Roasters, a premium coffee company from Minneapolis, MN, to create Ginna's craft roasted coffee at SCHEELS. Ginna's Cafe will now be a craft roaster focused on roasting, brewing and delivering the best choices possible for coffees. Driven and SCHEELS hold the same core values which allow us to provide a better Ginna's Cafe experience along with consistent, quality craft coffee in each and every cup!
Small Batch, Craft Roasted – We roast our coffees in 18-22 lb. batches allowing us to pull out the best potential from each coffee. This practice ensures that we don't need to over-roast the coffees to obtain consistency. We strive for a delicious, very smooth, balanced and "drinkable" cup.
Fresh Roasted Coffee – Roasted to Order - All of our coffees arrive within days of being roasted to ensure that each cup achieves its full flavor potential. Each bulk package will be stamped with a "roasted on" date giving you the confidence that the freshness of the product is excellent.
Balanced Drinks – Our espresso tastes great! It is the building block for many drinks on the menu and it doesn't need to be masked by overly sweet ingredients. We strive to build drinks that balance all ingredients to make the best cup possible.
Premium Ingredients – Sauces, syrups, powders, purees, concentrates, teas... Each ingredient you use has been selected for its quality from leading companies in the industry.
Sourcing the Best Coffee Beans – We have a wonderful partnership with our local-to-us green coffee importer. They have boots on the ground in all of the countries that we source beans from to ensure we have access to the highest quality coffees from farmers whose growing and ethical standards meet ours.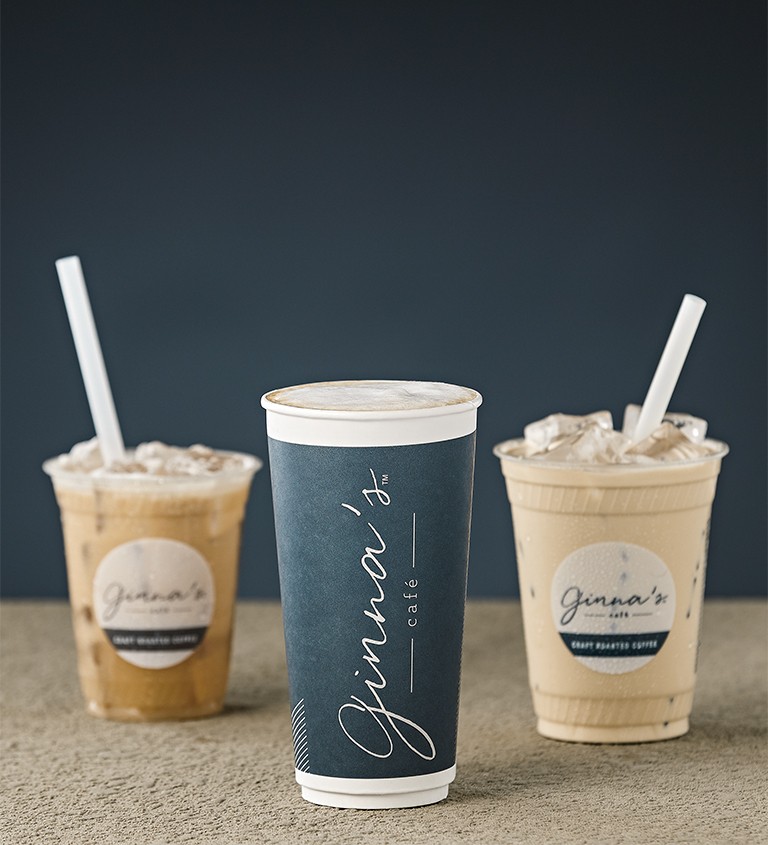 Ginna's craft roasted coffee is available in three signature blends, Harvest, 1902 Blend, and Back Country Bold. All three coffees are roasted fresh to order and are really great, smooth and drinkable cups. In additional to being made fresh to order at each Ginna's Cafe, all three roasts are available for purchase in bags to brew at home!
Harvest (Light Roast) – Mild and smooth with little brightness.
1902 Blend (Medium Roast) – Guatemalan medium roast.
Back Country Bold (Dark Roast) – Dark roast with medium body.
Along with the signature blends, Ginna's Cafe will be able to serve a wide variety of hot and cold coffee drinks from iced teas and hot espressos, to hand shaken iced lattes and frozen cold press frappes.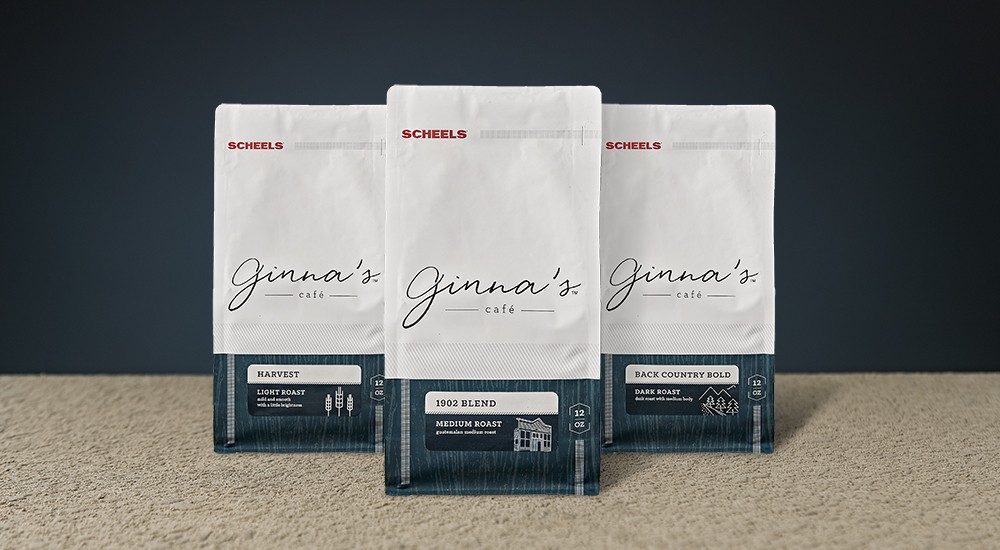 We roast our coffees on a small batch Probat Roaster that gives us the freedom to manually control all stages of the roasting process to further develop our unique blends and single origins. We're also able to develop repeatable roast and flavor profiles by utilizing software to digitally store our roast data. By maintaining a strict quality control, we can ensure our customers receive a consistent product that highlights the delicate nuances of each and every bean. The bottom line... we roast to order, ensuring that you will have the freshest coffee possible when you drink Ginna's craft roasted coffee.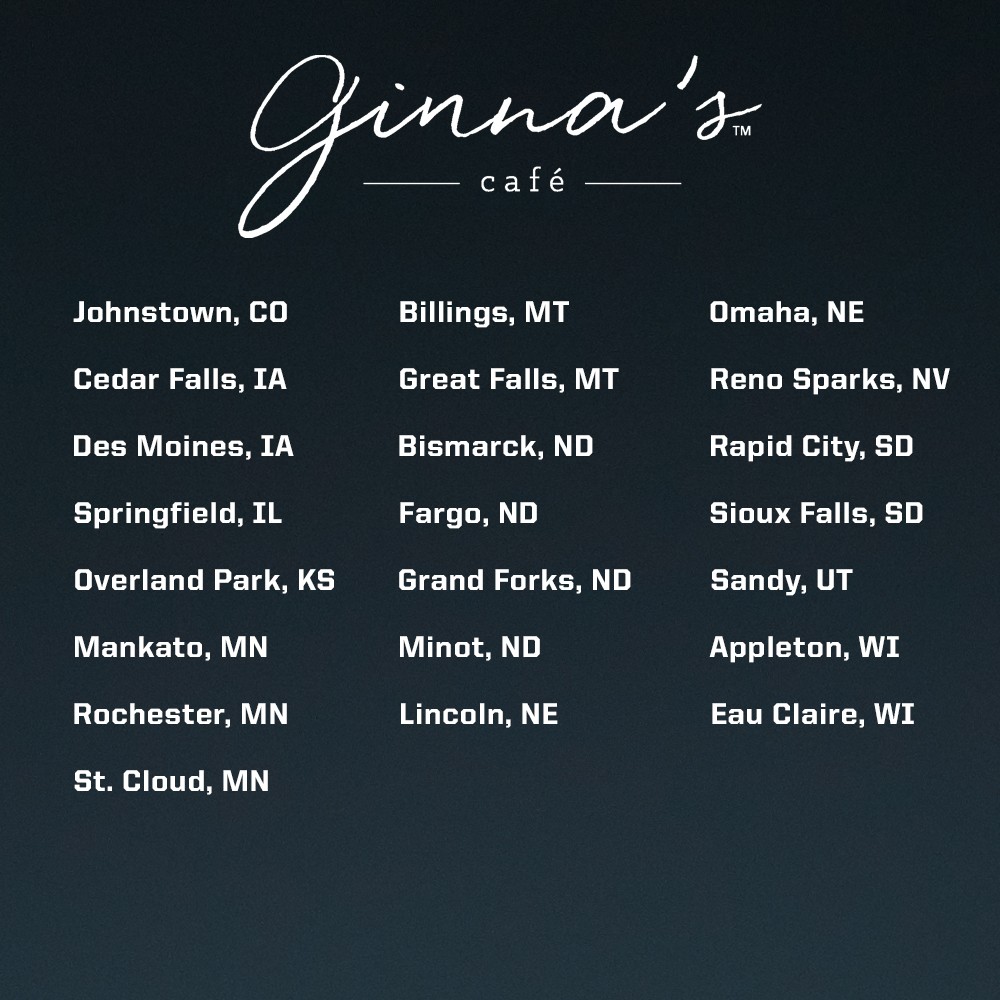 If you have any questions on the new Ginna's craft roasted coffee, stop by your local SCHEELS and talk to one of the baristas. And while you're there, try a free sample of fudge!