Custom Golf Club Fittings
From tee to green, golfers know that the details of the game are what make or break your round. Whether you're new to golf or have been golfing for years, you may be wondering if a golf club fitting will really help improve your overall performance on the course. The short answer—having your golf clubs fitted for your swing, spin rates, and launch angle will help shave strokes off your golf game no matter your skill level. Our SCHEELS experts explain the benefits of golf club fittings as well as how the golf fitting process works.
Benefits of Golf Club Fittings
When you purchase a new set of golf clubs straight off the rack, most clubs don't offer customization features that allow you to adjust the golf clubs' length, lie, loft, or shaft material. The inability to customize your golf clubs to your natural swing will mean that you're not maximizing your club's potential and ultimately means not putting yourself in a position to score as well as you could. Here are the main reasons to get fitted for golf clubs:
Distance

is the first reason to look into getting a set of custom golf clubs. When you use a club that's fitted to your swing, the golf club's lie, loft, and shaft will be used to your advantage. Collin Olson, SCHEELS golf buyer, explains that if you're using a driver that's custom fitted, you could add anywhere from 10 to 50 yards of distance. With the right combination of club specifications, you'll be able to hit your driver, fairway woods, hybrids, and irons even farther than before.

A second benefit for getting a custom golf club fitting is that your

accuracy

will improve. Similar to distance, when you're using a golf club that's tailored to your swing you'll find fairways more frequently. During a golf fitting, our experts will work with you to get a complete picture of your swing and utilize every metric available to us in the fitting bay. From that information, our team will recommend the best club to make sure you spend more of your game in the fairway, on greens, and in the best position to score well.

Since golf is both a physical and mental sport, having properly fitted golf clubs will boost your

confidence

. Those last minute hesitations to compensate for your slice or choking up on the grip for the proper length will melt away when addressing the ball with clubs you trust.

The last main benefit for a golf club fitting is that you'll

learn

something new. Our experts will walk you through how small changes to your golf clubs will influence and improve your game.
Golf Club Fitting Process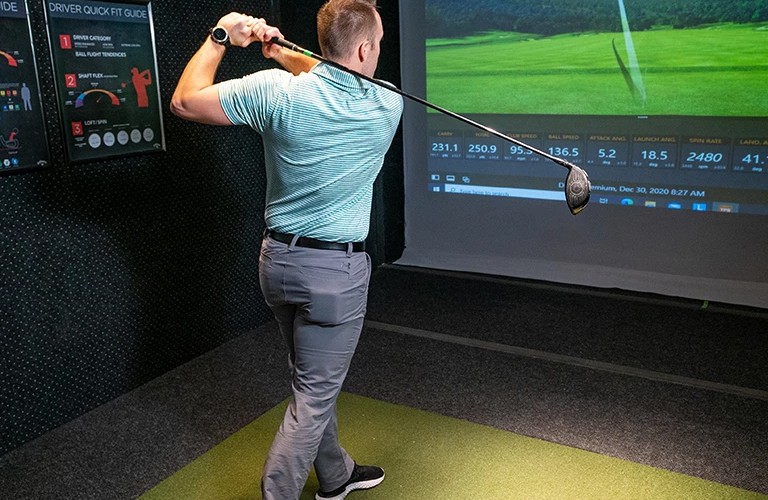 Whether you're looking to get fitted for a driver, fairway wood, hybrid, or iron set, you'll experience the same process. First, our experts will ask you a few questions to better understand your golf game and club history. Then, you'll step into the golf simulator and start swinging a variety of different clubs depending on the type of club you're getting fitted for. With the simulator, our golf fitting experts receive accurate data to analyze and determine which loft, lie, and shaft material will work best for your swing. Once our experts have all the necessary information, they will work on assembling your custom golf club right in the store, or ordering if necessary.
Most customers start by getting fitted for their driver. Having a driver that's tailored to your swing will give you more confidence on the tee box. If you're getting fitted for a driver, fairway wood, or hybrid, it will take about 30 minutes to complete. A golf fitting for a full iron set will take a little longer as there are more club specifications to determine.
Golf Club Fittings Location & Cost
We offer golf club fittings at many of our stores during store hours. To be sure your SCHEELS store offers this service, call your local store to speak with a golf expert. A driver, fairway wood, or hybrid fitting costs $20.00 and an iron set fitting costs $50.00 and will be deducted from your order if you choose to order with us at the end of your fitting.
Did you know we also offer golf club trade-ins? This can be a great way to get some additional savings on your new clubs. To learn more, talk to one of our in-store golf experts!
PING Golf Clubs at SCHEELS
If you're serious about improving your golf game, make sure to ask one of our golf experts about our selection of PING golf clubs. Over the years, PING has proven to improve many golfers' games because of their commitment to offering only the highest quality clubs that are tailored to your swing. SCHEELS is proud to offer a wide selection of PING clubs at several locations. For more information about the PING selection, call your local store to speak with a golf expert today!
Don't wait until your golf fitting to get ready for the course. Browse our wide selection of leading golf gear online today!