Golf Essentials for the Course
Golfing is a great recreational sport to enjoy alone or with your friends and family. However, if you're just starting to learn golf or heading to the golf course for the first time, you may be wondering which golf essentials you'll need for the course. We break down some of the main golf essentials you'll need as well as some tips to keep in mind on the golf course. With these golf essentials and course tips, you'll feel more than prepared for your next round.
Your Must-Have Golf Essentials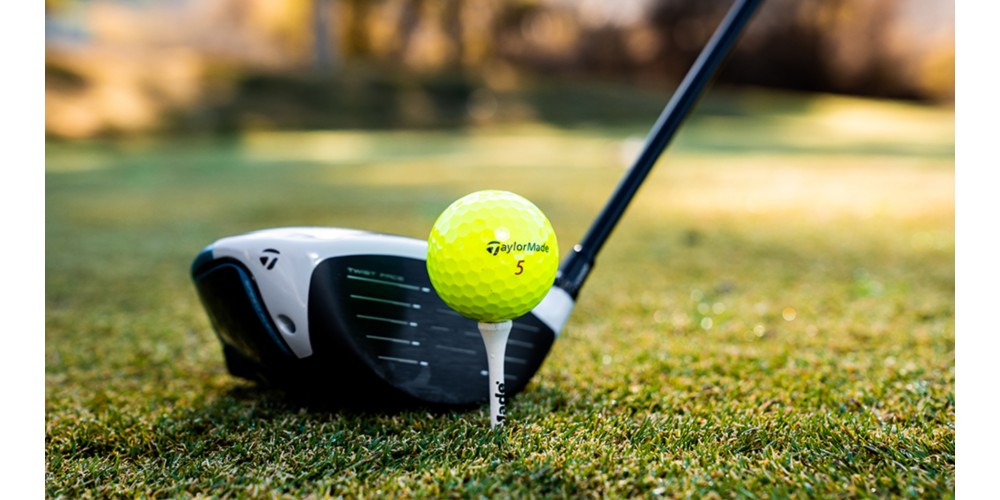 Golf Club Set for Beginners
When you're just learning how to golf or are looking for entry-level golf clubs, many beginner golfers start by purchasing a golf club set. Golf club sets include all the necessary golf clubs to make it from the tee box to the green. Many sets include a driver, a fairway wood, a hybrid club, a few irons, a pitching wedge, and a putter. When looking for a set of golf clubs for beginners, make sure the golf club head features perimeter weighting. If the golf club has perimeter weighting, you'll notice that the back of the club head is concave rather than flat. A golf club with perimeter weighting is more forgiving and stable even on off-center hits, reducing frustration for new golfers.
Most complete golf club sets do include a golf bag to carry your clubs and store your small golfing essentials for easy access during your round; however, if your golf set doesn't include a golf bag, it's important to pick the one that matches your playing style. You'll see golf bags classified as stand bags and cart bags. If you plan to use a push cart or drive a golf cart, you'll enjoy a cart golf bag. If you plan on walking the course without a push cart, you should opt for a stand golf bag as these feature more padding along your back, comfortable shoulder straps, and kick out legs to keep your bag upright.
Golf Course Tip: When you approach the putting green, place your golf bag to the side closest to the next set of tee boxes and bring only your putter and ball marker. You never want to place your golf bag on the green as this can cause damage.
Golf balls are some of the most important golfing essentials for the course. When you're just learning how to play golf, you'll want to load your golf bag up with plenty of golf balls. Although they do add weight to your bag, there's a good chance you'll be losing a few out on the course.
Golf Course Tip: Make note of the brand and type of golf ball you're using or mark it with your initials. If your golf ball lands out of sight, make sure to check that it's your ball before hitting. For more information about golf balls and finding the right one for you, read our blog What Golf Ball Should I Use?.
When you start your round from the tee box, you'll want to have plenty of golf tees tucked away in your bag. Golf tees are constructed from wood or plastic—either option works well for beginners. You'll also notice a variety of different tee lengths. It really comes down to personal preference for which length of tee you use. We recommend getting a variety of different tee lengths so you can find your favorite.
Golf Course Tip: If your tee breaks, simply pick it up and place it in your bag or next garbage can available.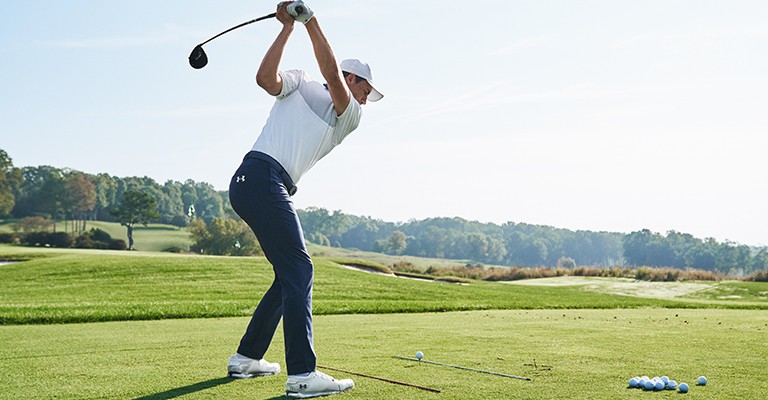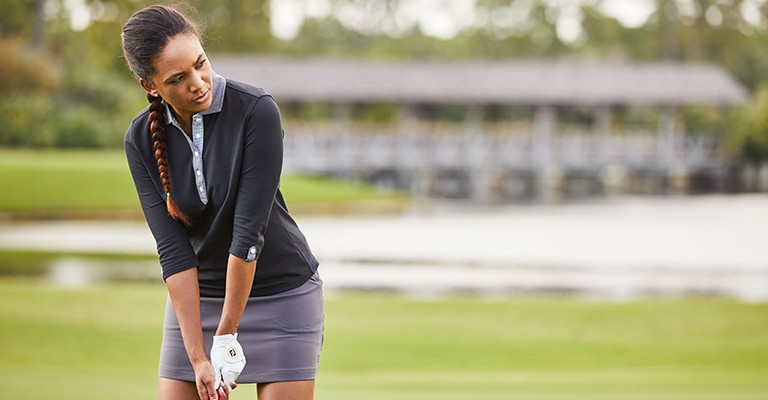 Many new golfers are often nervous about what to wear golfing. Although many golf courses don't have a particular dress code, it's a good idea to stick to your golf clothing basics—casual bottoms and a golf polo. Most golf-specific clothing is made with performance fabrics to wick away sweat, provide sun protection, and offer maximum breathability and mobility. Wearing the proper golf clothing to the course will keep you feeling comfortable and give you confidence.
Women's Golf Clothing: Depending on the weather, many female golfers wear golf skirts, shorts, or pants paired with a traditional golf polo or sleeveless polo. If your tee time is in the morning, it may be a good idea to wear a quarter zip pullover to keep you warm until the sun comes out.
Men's Golf Clothing: Male golfers wear either golf pants or shorts paired with a golf polo or quarter zip long sleeve shirt, depending on the time of day and temperature. You'll see most male golfers tuck in their polo shirt and wear a belt for a polished look.
Your Optional Golf Essentials
When going to the golf course for the first time, you don't need to worry about purchasing a pair of golf shoes. You'll just want to make sure to wear a pair of clean, comfortable tennis shoes or sandals. It's important to avoid wearing any shoes with cleats or aggressive tread on the outsole as this will damage the greens for other players. If you've been out golfing a few times and notice your feet slip throughout your swing, you can look into getting a pair of golf shoes to provide the traction and grip you need.
Wearing a golf glove isn't a must-have golfing essential, but many beginner golfers enjoy wearing one to prevent blisters and improve their grip, especially in hot and humid conditions. Normally, golfers wear only one golf glove. Often new golfers wonder, What hand do you wear a golf glove on? You'll wear your golf glove on your weaker (non-dominant) hand.
Golf Course Tip: Golfers usually take their glove off when using their putter.
If you plan on golfing frequently, a golf towel is the last golf essential you'll want to add to your bag. A golf towel is a great way to keep your golf balls and clubs clean to help optimize each shot.
Being equipped with the right golfing essentials when you go to the golf course will ensure you have a more enjoyable golfing experience! If you still have questions about what golfing essentials you need or if you need more golf tips, feel free to call or stop into your nearest SCHEELS location to speak with one of our golfing experts.