How to Buy the Right Bike Helmet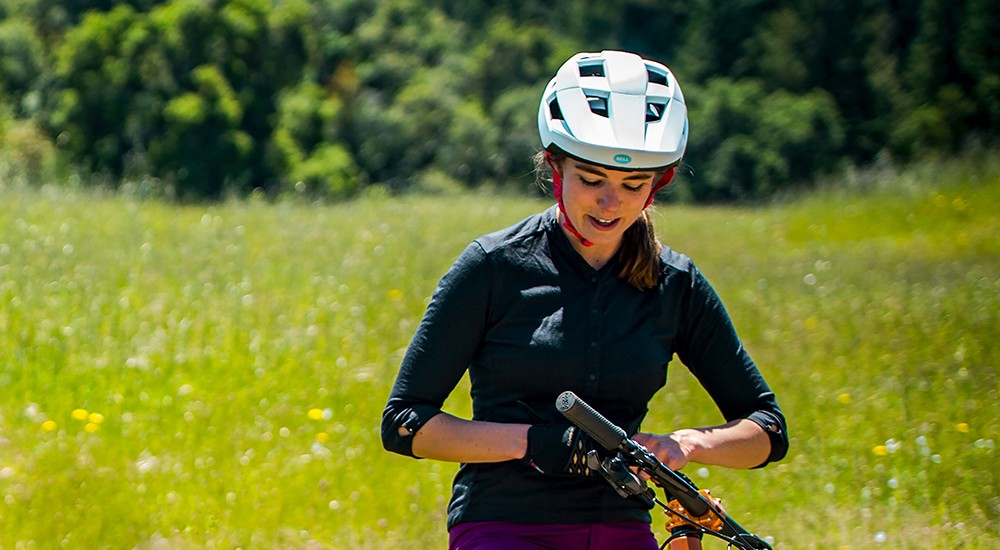 No matter your age, biking outdoors is a great way to stay active, view nature's scenery, and enjoy some fresh air. With any outdoor adventure, it's best to think of safety first. Aside from keeping up with routine bike maintenance, it's important to wear the right bike helmet for your outdoor ride. When selecting a bike helmet, pay special attention to the helmet's fit, style, and features. Once you're able to find the perfect bike helmet, you'll be ready to hit the bike paths, trails, or gravel roads for your next outdoor adventure.
It's important to make sure you have a bike helmet that fits properly because a poorly-fitting helmet won't offer the necessary protection should you take a tumble. Many people ask, How do I know if my bike helmet fits correctly? There are a few simple steps to follow so you're able to buy the best-fitting bike helmet.
Measure: Measure the circumference of your head by using a flexible tape measure. You'll want to be sure to measure the largest part of your head, which is slightly above your eyebrows. If you don't have a flexible tape measure, you can always use a string or thread to wrap around your head. Then, use a tape measure, ruler, or yardstick to measure the string's length.
Size: Once you know the circumference of your head, you can use this information to find the right size of bike helmet. Use the bike helmet sizing chart below to find the right size for you. In addition to helmet sizes, there are "one size fits most" options available for men, women, and kids. These bike helmets feature a highly-adjustable sizing system for a more customized helmet fit.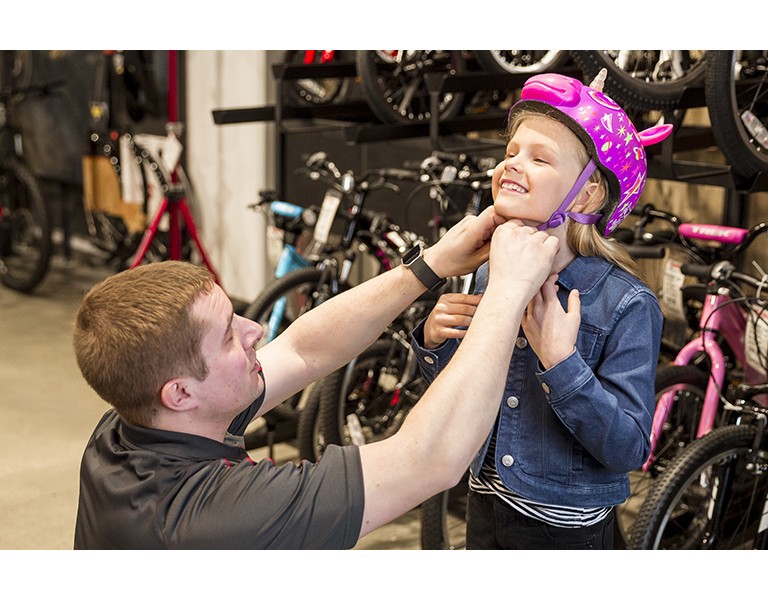 | Age | Circumference (in.) | Circumference (cm.) |
| --- | --- | --- |
| Infant (1 - 2) | 18.1 -19.7 | 46 - 50 |
| Toddler (2 -5) | 18.9 - 20.5 | 48 - 52 |
| Kids (5 -8) | 19.7 - 21.3 | 50 - 54 |
| Kids (8 -14) | 21.2 - 22.8 | 54 - 58 |
| Adult S | 20.1 - 22.4 | 51 - 57 |
| Adult S/M | 20.1 - 22.8 | 51 - 58 |
| Adult M | 21.25 - 23.6 | 54 - 60 |
| Adult M/L | 21.7 - 24 | 55 - 61 |
| Adult L | 22.8 - 24.8 | 58 - 63 |
| Adult XL | 23.6 - 26 | 60 - 66 |
| Universal Sizing | 21.25 - 24 | 54 - 61 |
Adjust: When you try on the helmet, pay attention to how it feels and fits. Today, most bike helmets feature a turn knob on the back in order to tighten or loosen the interior adjustment system. Make sure that your bike helmet is sitting level rather than tilted back so your forehead is protected. You'll also want to buckle the chin strap and make adjustments as needed. Each strap should form a V and rest just under the ear.
Test: Make sure everything is adjusted properly by opening your mouth wide. If your bike helmet fits correctly, your helmet will press against the top of your head while the chin strap stays snug yet comfortable. To ensure the helmet's strap doesn't bother you while riding, you'll want to be able to fit one finger between your chin and strap.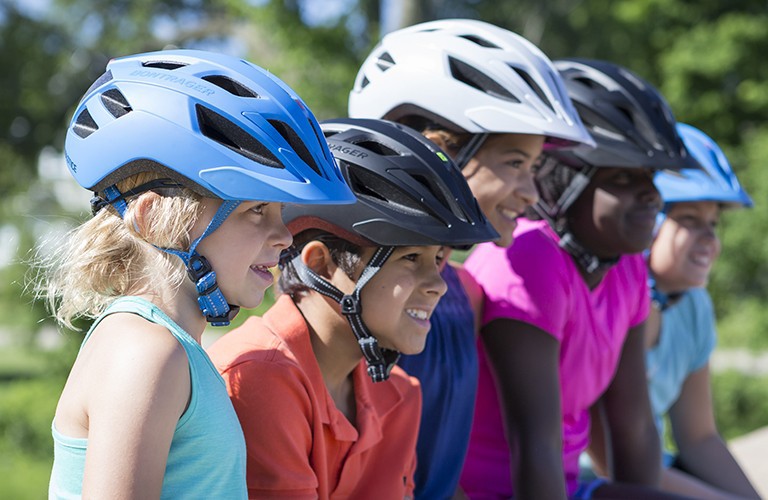 Between Sizes: If you're between helmet sizes, start with sizing up and making the necessary adjustments. It's important to push the helmet side to side and front to back. If you notice your helmet moving more than an inch in any direction, you'll want to try a size smaller.
Brand Sizing: Whether you're looking at a Bontrager helmet or GIRO helmet, bike helmet sizes are slightly different depending on the brand. Make sure to pay attention to the circumference and sizing information related to the helmet brand.
Bike Helmet Technology & Styles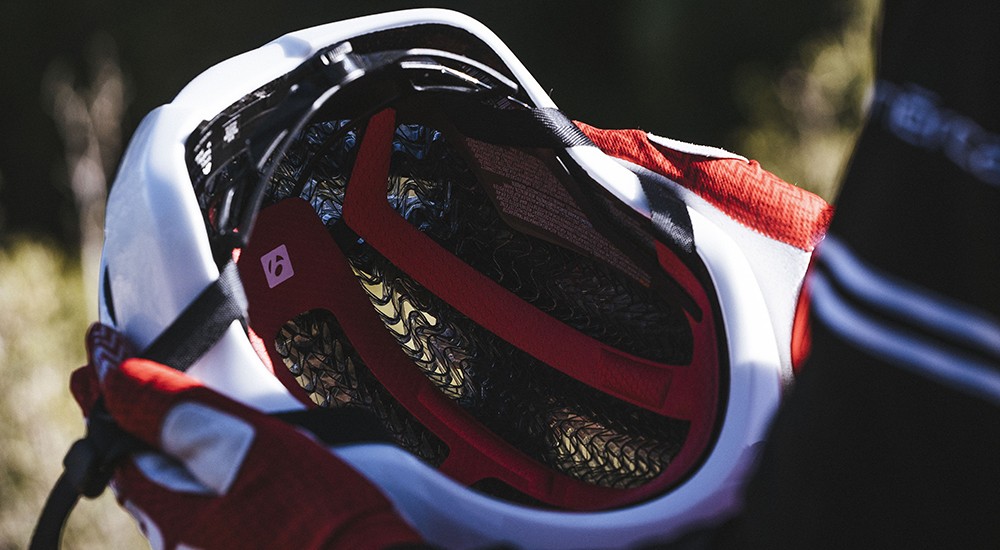 All helmets are built to protect your head, neck, and brain during a fall. Every bike helmet features an external plastic shell and helmet liner that work together to prevent punctures and reduce the impact of the crash. One of the most common forms of interior helmet protection is MIPS, Multi-directional Impact Protection System. With this protection system, the helmet reduces the rotational forces offering better protection against certain impacts. Another form of protection found exclusively in Bontrager helmets is the WaveCel technology. This innovative protective technology makes sure the helmet spins on itself to reduce rotational impact to the brain, making WaveCel technology the best in helmet protection.
Protecting the brain from injury is the purpose of all helmets; however, they're designed differently to offer maximum protection and performance based on your favorite biking style.
The type of riding you plan to do determines the helmet style you should buy. The three main bike helmet styles to choose from are commuter, road, and mountain.
Commuter Helmet:

A commuter helmet features the most basic design. These helmets are ideal for those who are not concerned about aerodynamics or ventilation while riding. Since commuter helmets are mainly worn for those who bike as a means of transportation, some of these helmets feature rear back lights for visibility at night and visors to block the morning sunrise.

Road Helmet:

A road helmet is the most common choice for those who enjoy biking. These bike helmets are designed to be lightweight and offer maximum protection to the front and sides of your head. To keep you cool on your longer rides, these helmets feature vents to release heat.

Mountain Bike Helmet:

When mountain biking, you want to make sure you have maximum protection as you'll be riding on more challenging terrain with a higher risk of falling. These types of helmets often feature a visor and more protection towards the back of your head. Another popular model is the full-face mountain bike helmet, which offers the highest level of protection.
Aside from knowing which style of bike helmet is best suited for your riding, it's also important to think about some different helmet features.
Visor:

A helmet visor helps to shield your eyes from the sun. Visors are most common in mountain bike helmets, but some commuter helmets include visors too.

Vents:

Helmet vents are openings throughout the helmet that allow the wind to pass through and heat to escape.
Chin Bar:

If you're downhill mountain biking, a chin bar on a mountain bike helmet ensures maximum protection for your head and neck.

Mount:

Some bike helmets include a mount for a camera, like a GoPro, or safety lights for visibility in low-light conditions.
Replacing Your Bike Helmet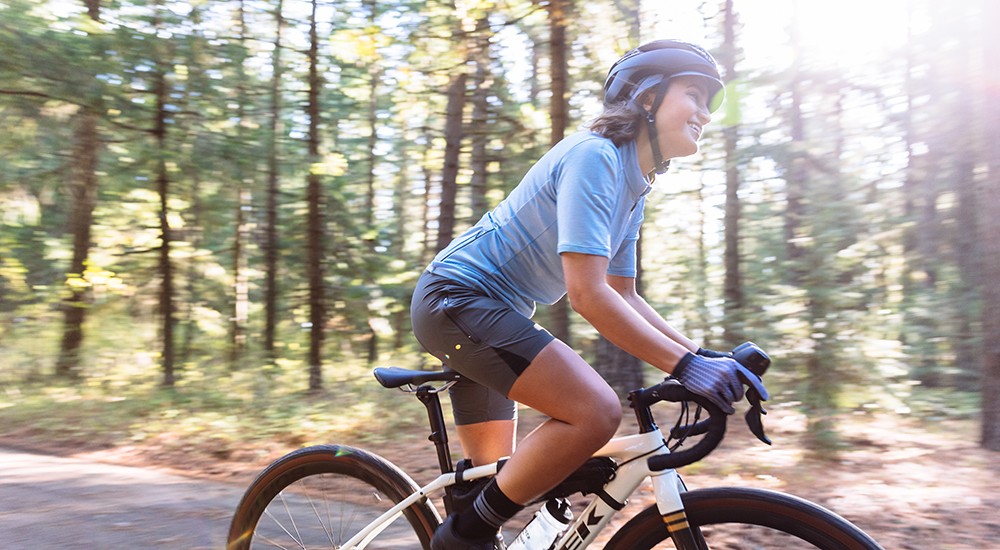 Once your bike helmet has absorbed impact from a fall, you'll want to make sure to get a new one. Even if you don't see any exterior damage, the plastic shell and helmet liner won't offer the right protection against a second fall. Also, if you've had your helmet for five years or don't remember the last time you bought a new helmet, it's time to invest in a new helmet for your outdoor bike rides.