How to Choose an Ice Shelter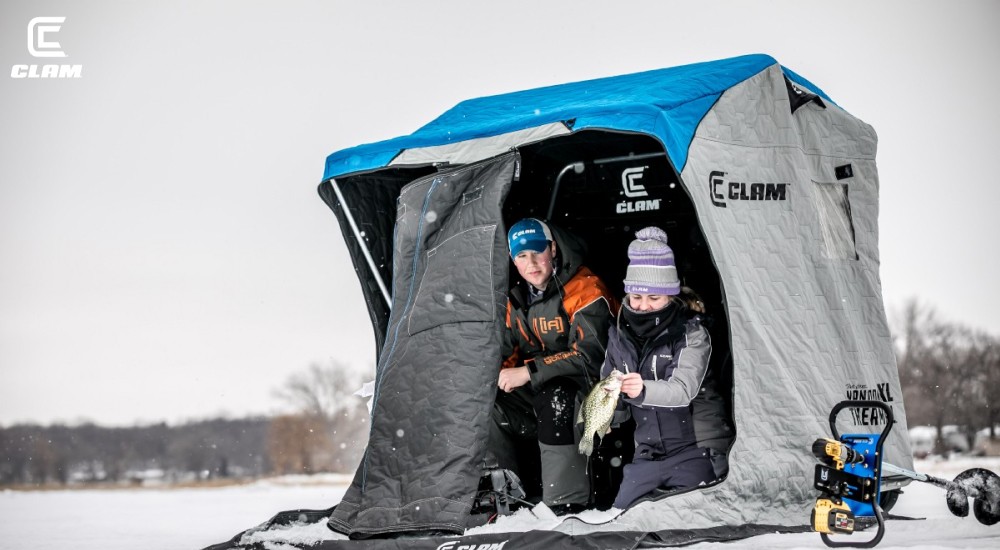 Don't let the weather and cold temperatures force you off the frozen lake right when the fish start biting—choose to use a portable ice shelter for warmth and protection this ice fishing season. With two main types of portable ice shelters, it's important to choose the best one for your ice fishing strategy. To help, our Ice Fishing Experts break down the basics of what to know when buying a portable ice shelter.
Hub vs. Flip-Over Shelters
You'll want to start by narrowing down which type of portable ice shelter—hub or flip-over—best matches your style of ice fishing.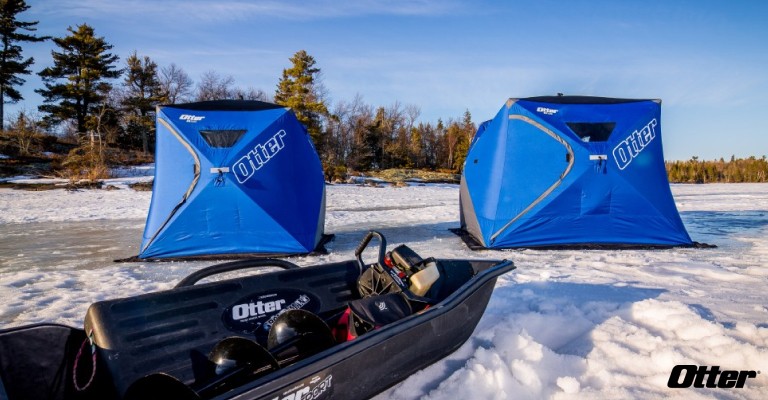 Hub shelters, also called pop-up shelters, use poles and a durable fabric to create a tent-like shelter. The hub design pushes the walls out at an angle to give anglers more room to move around and a larger fishing area. Although lightweight to carry to your location, the longer setup time makes hub shelters more convenient for anglers who plan to stay in the same fishing spot for the day.
Pros:
Lighter

More headroom

Plenty of room for groups
Cons:
Not ideal for hole hopping

Larger space may require a heater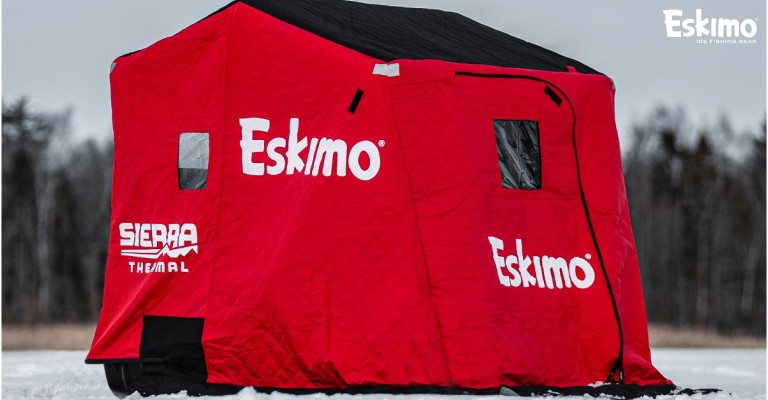 Flip-over ice shelters are attached to a tub sled and feature a frame designed to "flip" like the top of a convertible, making it easy and quick to set up. With this design, flip-over shelters are heavier but can be easily pulled behind a snowmobile or ATV, making them great for mobile anglers. Typically, flip-over shelters are designed for no more than two anglers, but there are models that can hold up to four—it just may feel very cozy.
Pros:
Includes seating

Quick, easy setup

Ideal for hole hopping

Attached sled to easily pull by snowmobile/ATV
Cons:
Heavier

Smaller design for 1 to 2 anglers
Now that you know the type of shelter that works best for you, you'll want to consider the size of ice shelter you need. There are two specifications to consider: the capacity (or "number of anglers") and the fishable area.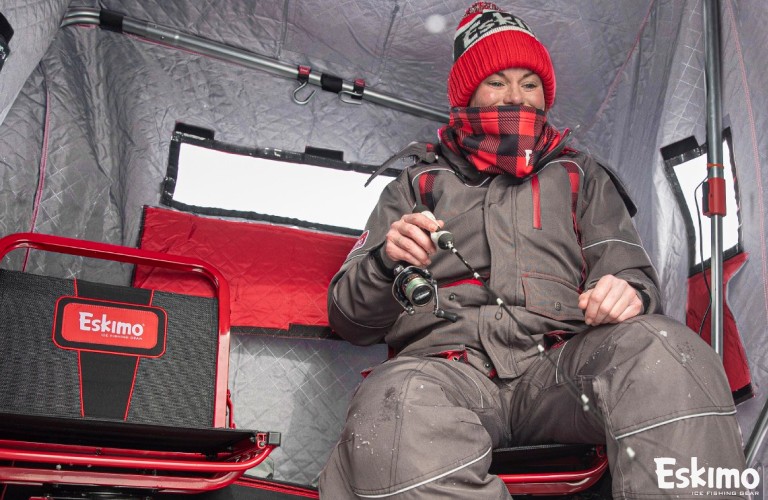 Capacity estimates the number of anglers that can comfortably fit in the shelter. For example, a 3-person shelter has room for about three anglers, while a 6-person shelter can fit up to six. It's often a good idea to choose a shelter rated for one or two more anglers than you plan to fish. This way, you'll have plenty of room for gear or any ice anglers who join you last minute! Just keep in mind the larger the shelter, the heavier it will be to carry out to your fishing spot.
Fishable area indicates the amount of interior space that has access to the ice. For example, if a shelter has 94 square feet of fishable area, there is approximately that much surface of ice inside the shelter where you can drill a hole. If you plan to drill multiple holes, choosing a portable shelter with a larger fishable area gives you enough room to fish and comfortably move around the shelter.
Portable ice shelters are most often made of polyester or nylon to provide a great blend of durability and warmth. There are two important material factors to consider when choosing an ice shelter: the thickness of the fabric and the thermal technology.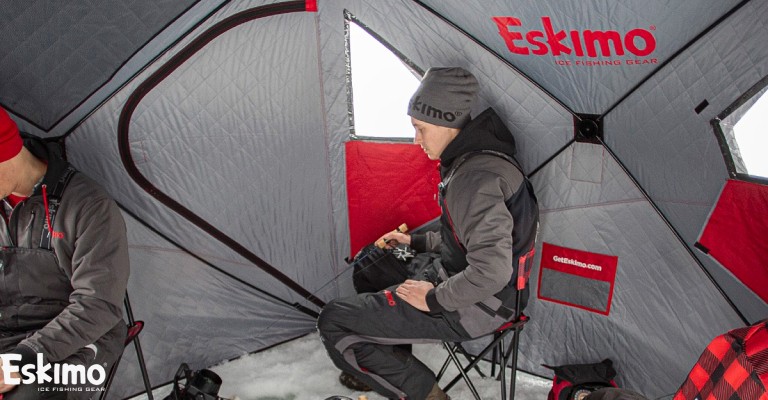 Fabric thickness translates into fabric durability and protection. Denier is the unit of measurement to describe how thick the fabric is—the higher the denier number (abbreviated "-D") the thicker and more durable the fabric is. For example, a 600-D fabric is twice as thick as a 300-D fabric. Meaning an ice shelter made with 600-D fabric will weigh and cost more yet offer greater durability and better wind protection than the shelter made with 300-D fabric.
Thermal fabric is designed to help trap and retain heat better without being bulky. Having an ice shelter made with thermal fabric will also reduce condensation for greater comfort. Some shelters also have insulation (expressed in grams per square meter) or quilted fabric to effectively trap heat. If you'll be fishing in areas with significant wind chill or very cold temperatures, shelters with insulation or thermal technology are a great option.
With the right portable ice shelter, you'll be ready to ice fish in comfort no matter the conditions. Want advice tailored to your favorite ice fishing spots or strategies? Stop by your local SCHEELS and talk with one of our Ice Fishing Experts. They know the latest about ice shelter technology so you can find the right portable ice shelter for your next outing!