How to Choose Cross-Country Skis
Whether you are a novice or an experienced cross-country skier, enjoying the outdoors when snow is on the ground can be enjoyable for anyone. Cross-country skiing is a fun recreational activity to do as a family to get some exercise during the winter. It also gives you the opportunity to explore the outdoors and get some fresh air. Our SCHEELS experts have compiled a variety of factors to help you decide how to choose cross-country skis.
Types of Cross-Country Skis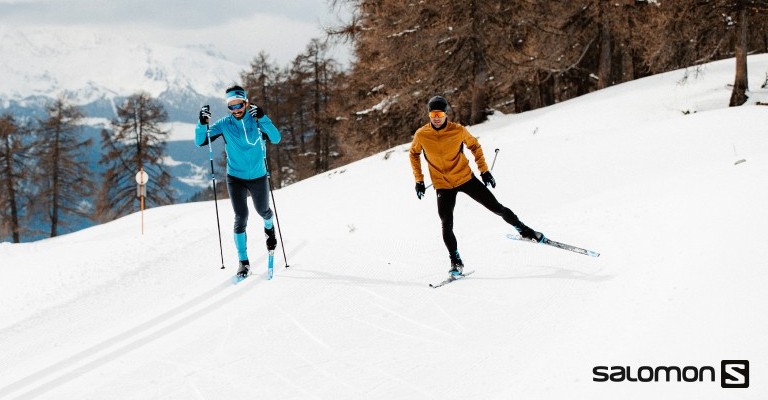 Our customers often ask, "What's the difference between cross-country, XC, and Nordic skiing?" In short, all of these are describing the same sport. "XC" is shorthand for "cross-country." "Nordic skiing," which was coined from the region where the sport began, is simply another word for cross-country skiing. However, there are actually two main styles of cross-country skiing. Knowing what style you prefer will help decide how to choose your cross-country skis!
Classic XC skiing is the most popular type of skiing because it is easier to learn in comparison to skate skiing. This is why the majority of people first learn how to classic style ski then move on to skate style. During classic style cross country skiing, the skier will lean forward and put their weight on one ski, push off that ski, and then glide on the other ski in a straight forward line. Classic skis are generally longer, narrow, and lightweight so you can smoothly glide on the groomed tracks.
Classic style skis are designed for people that want to get outside during the winter and get some low-intensity exercise but aren't looking to be noticeably tired by the time that they finish the trail.
Once you have some experience of cross-country skiing, you may want to switch up your style and try skate skiing. This type of cross-country skiing is done on groomed trails but without tracks. During skate skiing, the skier plants their skis laterally to propel themselves forward, resembling an ice skating motion. Similar to the classic style, skiers use their ski poles to continue their momentum forward by planting their poles in the ground in between each lateral push. The skate cross-country skiing style is performed in a slightly upright position.
Skate skis are generally stiff to help cruise through the snow and also light and skinny. Skate skis are great for people that want to focus on getting moderate to high-intensity exercise during winter.
What Size of XC Skis Do I Need?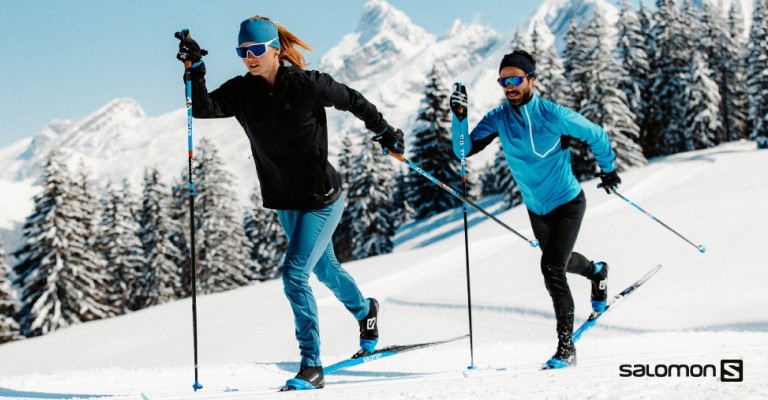 The skis that are best for classic skiing and skate skiing do have their unique characteristics, however, there is not a dramatic difference. The length is the main factor when choosing what cross-country ski to buy. If you are a beginner, then we recommend deciding to get a shorter ski size so that you have better control. More experienced skiers generally enjoy longer skis because they have the ability to perform longer strides.
Three factors to consider when deciding what cross-country skis to choose:
Skier's weight:

This is the most important factor when sizing a cross-country ski. The longer the ski is, the more weight it can support while still gliding on top of the snow.

Skier's ability level:

Longer skis move faster than shorter ones,

but they are more difficult to control.

If you are between sizes and are a beginner, we recommend choosing the shorter option.

Skier's height:

If you are still unsure of what ski length to go with, you can use the calculation below to supplement the chart. This can help reinforce your decision, however, it is important to note that weight and ability level are the most important factors.
Classic Ski length calculation: Height (cm) + 20 - 30 cm = Ski Length
Skating Ski length calculation: Height (cm) + 10 - 15 cm = Ski Length
Cross-Country Ski Size Chart
Below is a general cross-country ski size chart for the best ski length (cm) based on your weight (lbs).
Cross-Country Ski Size Chart

| Skier's Weight (lbs) | Classic Ski Length (cm) | Skate Ski Length (cm) |
| --- | --- | --- |
| 100 - 110 | 180 - 190 | 170 - 180 |
| 110 -120 | 182 - 192 | 172 - 182 |
| 120 - 130 | 185 - 198 | 175 - 185 |
| 130 - 140 | 187 - 200 | 177 - 190 |
| 140 - 150 | 190 - 205 | 180 - 195 |
| 150 - 160 | 195 - 210 | 185 - 195 |
| 160 - 180 | 200 - 210 | 190 - 195 |
| 180 + | 205 - 210 | 190 - 195 |
Now that you know the basics of the different types of cross-country skiing and how to size cross-country skis, it's time to get a pair of your own and a set of poles! Be sure to check out our How to Size Cross-Country Ski Poles article for more information. If you have any additional questions about how to size cross-country skis, stop by or call your local SCHEELS store to speak with an expert!