How to Choose Hiking Boots
Hiking at a state or national park is a perfect way to spend an hour, day, or even week, but this outdoor adventure can come to a screeching halt if you're not wearing the right hiking boots. Understanding the features of hiking boots as well as how hiking boots should fit all go into choosing the right pair for you. If you're new to hiking or need a refresher on how to choose hiking boots, our guide breaks down the basics.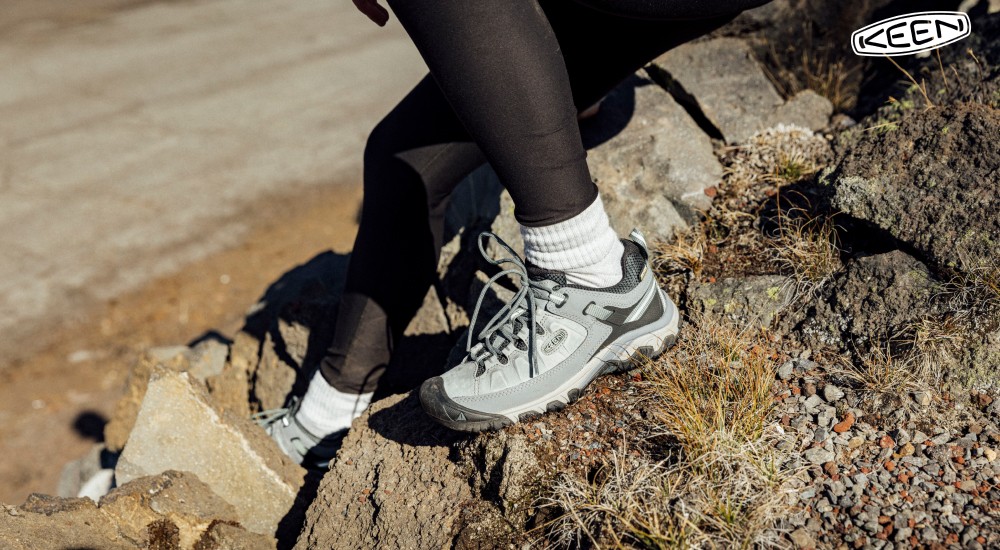 There are three different types of hiking boots to consider when shopping for a new pair: light hikers, backpacking boots, and hybrid hiking boots.
Light hikers are ideal for day hikes or short trips. They are very flexible for comfort and are great right out of the box. They do lack the support and durability that are required for longer, more rugged hikes.
Backpacking boots are ideal for multi-day hiking trips on rugged terrain. They offer a stiffer feel for incredible support and durability. They are comfortable on and off the trails, but you'll want to spend some time breaking in backpacking boots before you hit the trails.
Hybrid hiking boots really take the best from light hikers and backpacking boots to combine them into one comfortable boot for the trails.
Expert Picks for Hiking Boots
You want to make sure that your hiking boots have exactly what you need for your trail experience. Make sure to keep in mind these top features while selecting your next pair of hiking boots. Deciding which features to focus on will depend on the environment you will be hiking in. Because of this, you may need more or less of each feature. For example, hiking in the Midwest fall versus hiking in the Southwest summer heat will be different.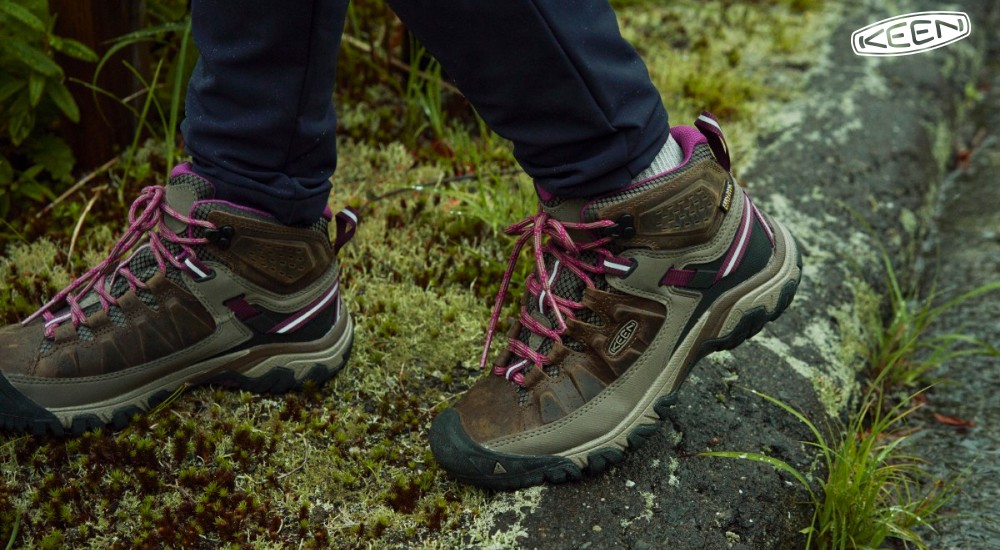 Waterproofness:

Wearing hiking boots that have a waterproof membrane keeps your feet dry on wet trails to prevent blisters from forming. Plus, if you are in cold weather, keeping your feet dry is even more important to protect yourself from frostbite. Many waterproof hiking boots feature a breathable membrane that won't allow for water to get in but will still allow your feet to breathe on a warmer day.

Upper Material:

If you prioritize protection and durability, you'll want to look for hiking boots featuring a leather upper. Hikers that prefer lightweight and breathable hiking boots will want to consider a synthetic upper. However, if you need more durability and abrasion resistance, then having full-grain leather or nubuck leather may be the right option.

Midsole Material:

The midsole is the portion that provides the majority of shock absorption and protection against sharp rocks. This is also the main factor that contributes to cushioning and comfort. Most midsoles are made out of EVA or polyurethane.

Outsole Material:

Most hiking boots feature a lugged outsole for better grip on muddy or uneven surfaces. A lugged outsole means that there are deep grooves or ridges on the bottom of your hiking boots to increase the traction. Most outsoles are made out of rubber. Vibram outsoles are very popular.

Insulation:

For those hiking in a cooler climate, you'll want to consider wearing hiking boots with synthetic insulation. Synthetic insulation will offer more warmth than the second pair of socks and dries quickly.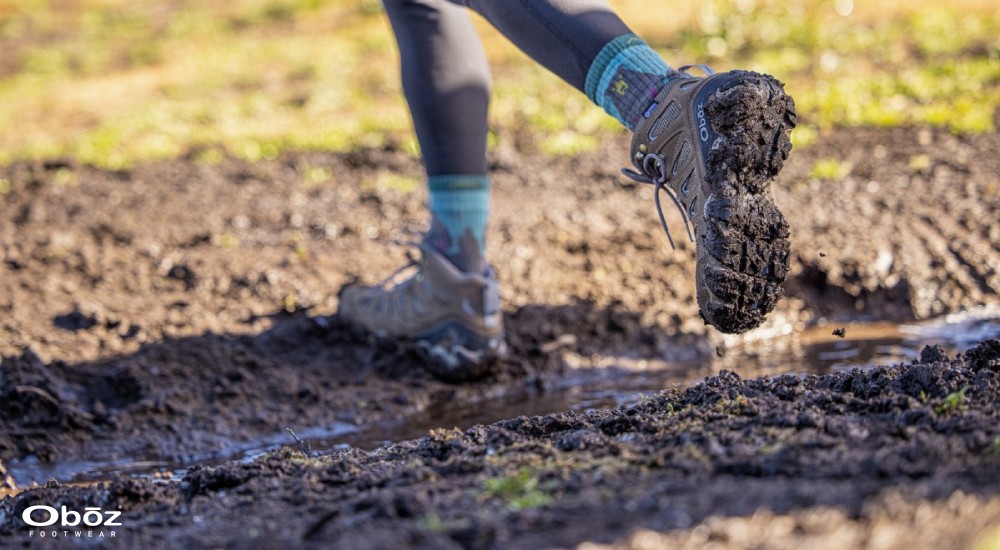 Before heading out on your hiking adventure, make sure that your hiking boots fit properly. Many new hikers wonder, how do I know if my hiking boots fit? In general, your hiking boots should hug the back of your heel while walking as well as offer enough room to wiggle your toes. When trying on hiking boots, follow these suggestions to make sure they fit properly.
Try your hiking boots on at the end of the day

Wear the

hiking socks

you plan on wearing

If you wear orthotics, place them in your hiking boots

You should be able to easily wiggle your toes

You should be able to place one finger between your heel and the back of the boot

Lace-up your boots and walk around paying attention to any sore spots
If you followed the suggestions above and your hiking boots feel comfortable, the last step is to break them in before your trip. Many new hikers skip breaking in their hiking boots and end up with sore feet and blisters partway into their hike. As you get ready to break in your hiking boots, it's important to consider the type of hiking boots you have and the materials they are made with to determine how long the break-in period should be. Hiking boots with leather uppers take longer to break in so they can mold to your foot. We suggest walking around your yard or block with the insoles and socks you plan on wearing when you hit the trail. It is a good idea to do this 2-3 times for 15-20 minutes to make sure the material of the boot is formed to your gate before heading out on a full day or weekend hike!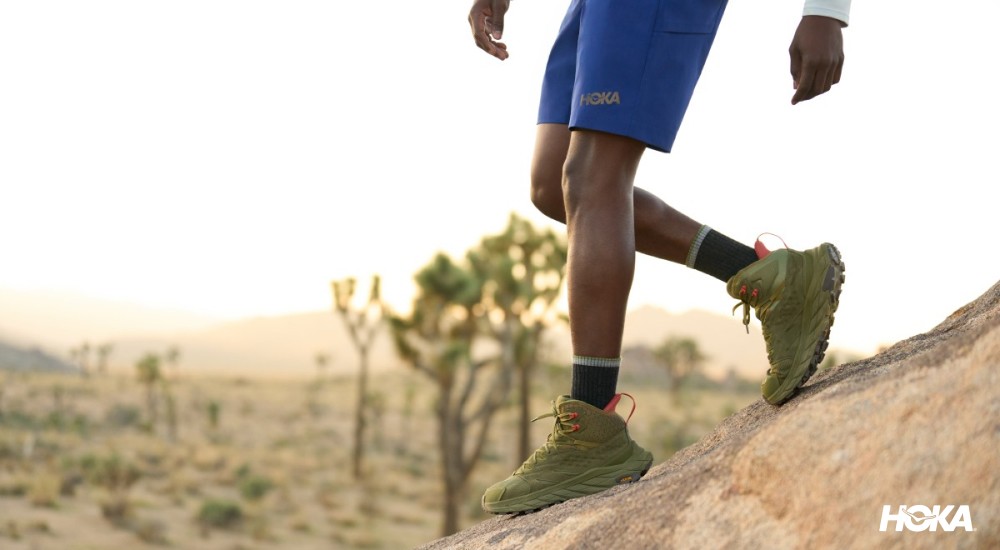 Top hiking boot brands take meticulous care when building their boots, every step of the way. At SCHEELS, providing high-quality options for hiking boots is important because we know that they will lead to a more positive and comfortable experience on the trail. Some hikers are loyal to a specific brand while others prefer to base their hiking boot selection on what fits their preferences and hiking environment best.
Our Leading Hiking Boot Brands Include:
With the right type of hiking boots, features, and fit, you'll have a much more enjoyable trail adventure! If you have additional questions about how to choose hiking boots, call or stop by your nearest SCHEELS to speak with a Footwear Expert today!