How to Choose Hiking Boots
Hiking at a state or national park is a perfect way to spend an hour, day, or even week, but this outdoor adventure can come to a screeching halt if you're not wearing the right hiking boots or hiking shoes. Understanding the types and features of hiking boots as well as how hiking boots should fit all go into choosing the right pair for you. If you're new to hiking or need a refresher on how to choose hiking boots, our guide breaks down the basics.
The type of hiking you're planning on doing will determine the type of hiking boots you should wear. A day hike or trail run requires very different hiking boots compared to someone going on a multi-day backpacking trip.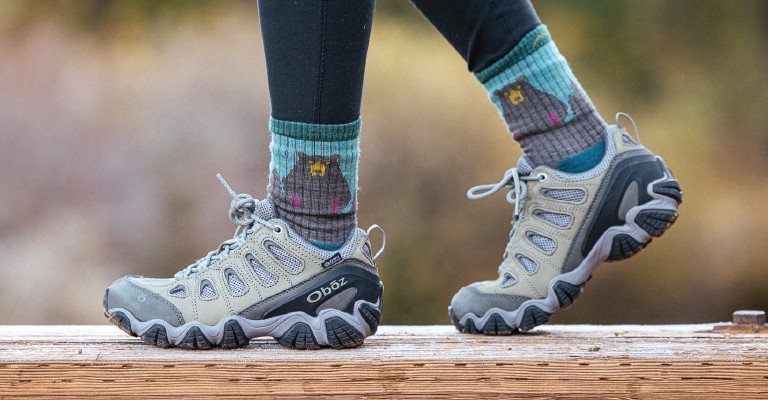 Hiking shoes are just the lower cut version of hiking boots. Since hiking shoes have a lightweight, flexible outsole, they don't take nearly as much time to break in as most traditional styles of hiking boots. Hiking shoes also feature a lightweight, low-cut upper for more ankle mobility and breathability. Hiking shoes provide the necessary support, comfort, and protection for those who spend anywhere from a couple hours to a full day hiking.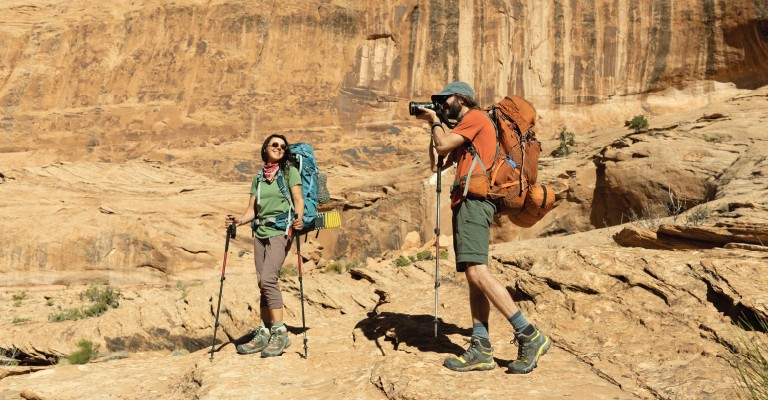 Hiking boots are ideal for those doing long day hikes from sunup to sun down or those going on a backpacking trip. A hiking boot features a mid- to high-cut upper to provide better ankle support. Plus, these hiking boots have a stiffer midsole providing the support and stability you need on uneven terrain.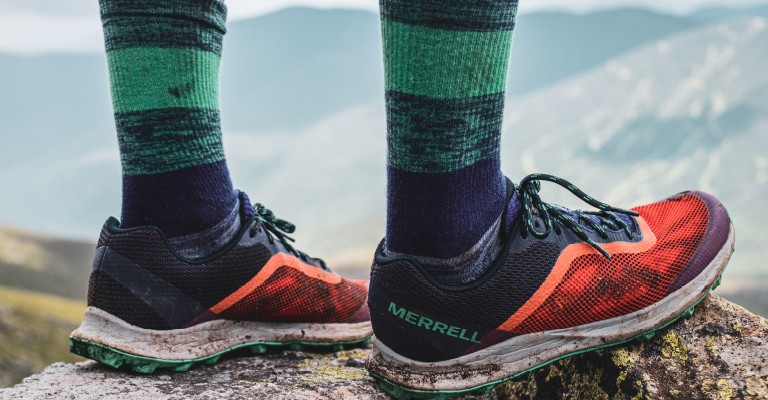 Trail running shoes, often called trail runners, are geared to those who plan to spend time running the trails rather than hiking. Trail running shoes combine the lightweight design and feel of traditional running shoes with the traction and stability of hiking shoes.
You want to make sure that your hiking boot, shoe, or trail runners have exactly what you need for your trail experience. Make sure to keep in mind these top four features to look for while selecting your next hiking boot, shoe, or trail runner.
Waterproofness:

Wearing waterproof hiking boots will keep your feet dry on wet trails which prevents blisters from forming. Many waterproof hiking boots feature a breathable membrane that still allows your feet to breathe on a warmer day.

Lugged Outsole:

Most hiking boots feature a lugged outsole for better grip on muddy or uneven surfaces. A lugged outsole means that there are deep grooves or ridges on the bottom of your hiking boot to increase the traction.

Upper Material:

If you prioritize protection and durability, you'll want to look for hiking boots featuring a leather upper. Hikers that prefer lightweight and breathable hiking boots will want to consider a synthetic upper.

Insulation:

For those hiking in a cooler climate, you'll want to consider wearing hiking boots with synthetic insulation. Synthetic insulation will offer more warmth than a second pair of socks and dries quickly.
How Should Hiking Boots Fit?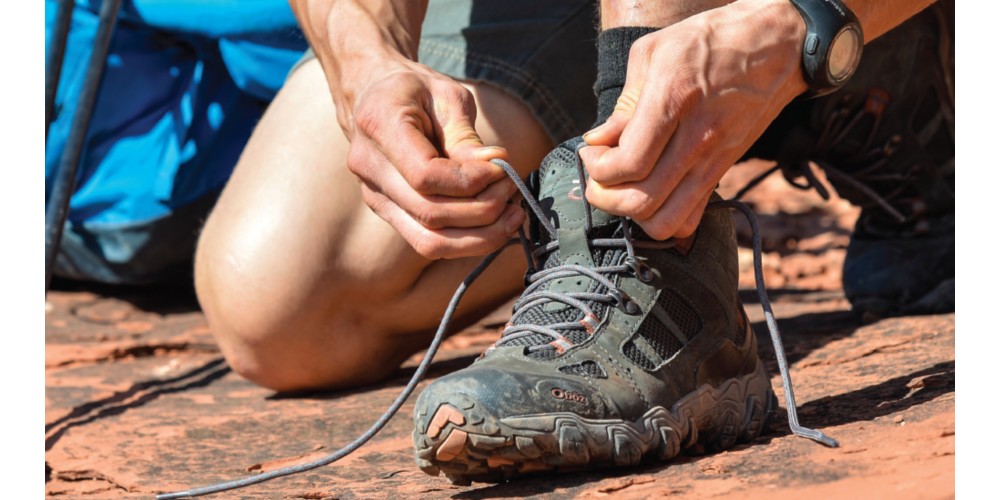 Before heading out on your hiking adventure, make sure that your hiking boots fit properly. Many new hikers wonder, how do I know if my hiking boots fit? In general, your hiking boots and hiking shoes should hug the back of your heel while walking as well as offer enough room to wiggle your toes. When trying on hiking boots, follow these suggestions to make sure your hiking boots fit properly.
Try your hiking boots on at the end of the day

Wear the

hiking socks

you plan on wearing

If you wear orthotics, place them in your hiking boots

You should be able to easily wiggle your toes

You should be able to place one finger between your heel and back of the boot

Lace up your boots and walk around paying attention to any sore spots
If you followed the suggestions above and your hiking boots feel comfortable, the last step to making sure your hiking boots fit properly is to break them in before your trip. Many new hikers skip breaking in their hiking boots and end up with sore feet and blisters partway into their hike. As you get ready to break in your hiking boots, it's important to consider the type of hiking boots you have and the materials they are made with to determine how long the break-in period should be. Hiking boots often take longer to break in than hiking shoes and trail runners because of their supportive design. Hiking boots and shoes with leather uppers will also take longer to break in so they can mold to your foot.
With the right type of hiking boot, features, and fit, you'll have a much more enjoyable trail adventure! If you have additional questions about how to choose hiking boots, call or stop by your nearest SCHEELS to speak with an expert today!