How to Choose Hunting Boots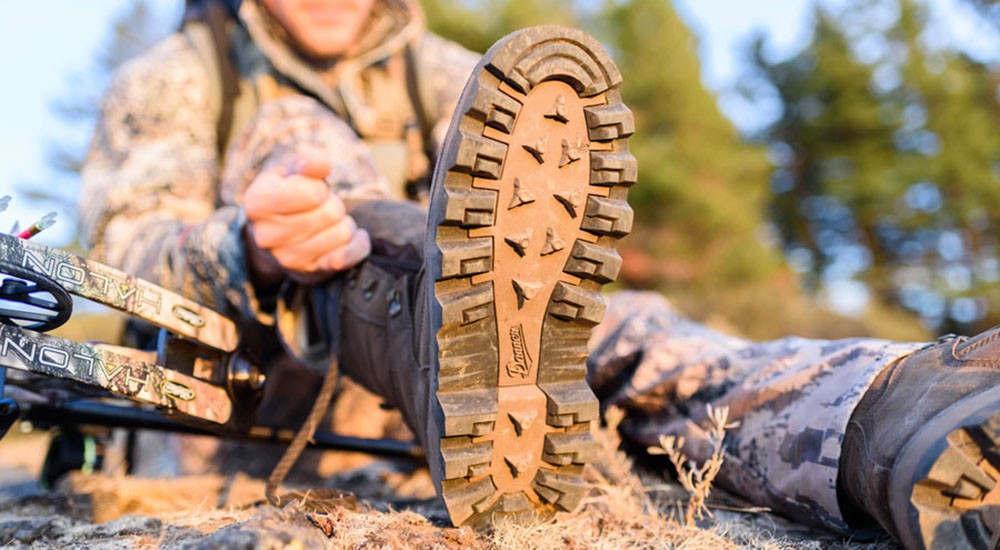 Most everyone agrees that when your feet are sore and tired the rest of your body will soon follow. Many hunters have experienced this first-hand in the mountains, field, or marsh, and some have had to end their hunt early making for a frustrating experience while trying to fill their tag. The best way to prevent sore, aching feet is to make sure you find hunting boots with the right features to match the terrain and weather conditions of your hunt as well as spending plenty of time breaking in your new hunting boots.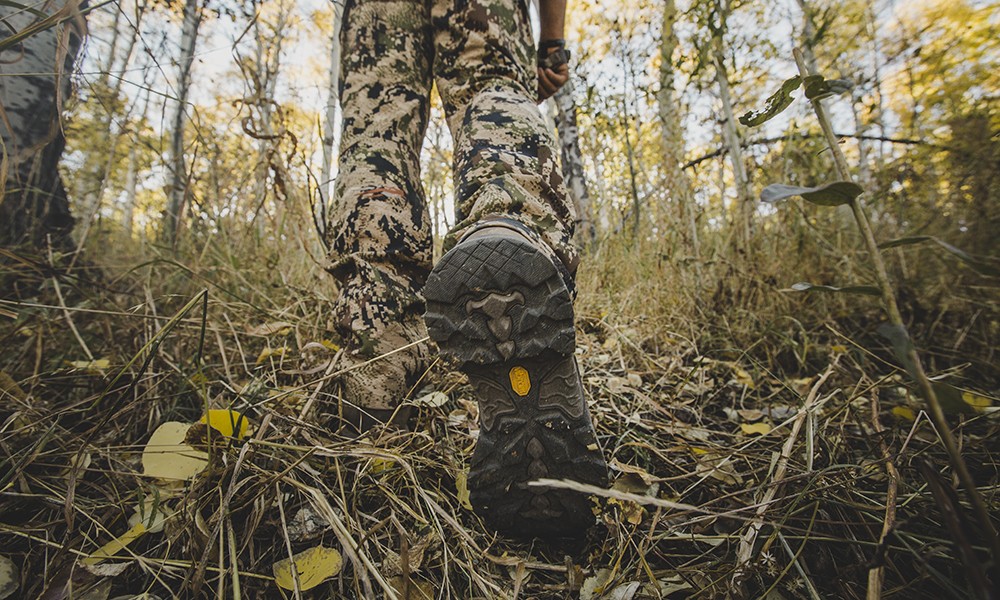 When looking for the best hunting boots, it's a good idea to start by dialing in the type of hunting boots that work best for the terrain you plan on hunting—mountainous, prairie, or marsh.
Mountainous Terrain: If your hunt takes you to an area with steep vertical climbs through the mountains, it's a good idea to start looking at hunting boots with stability support features to keep your ankle locked-in. Also, this technical terrain calls for a thicker shank within the hunting boots to create the right amount of stiffness for control on narrow ledges or while side hilling. Although shanks do add weight, today many hunting boots feature lightweight modern materials to help reduce the hunting boot's overall weight. Kenetrek and Crispi are the best brands to offer quality mountain hunting boots in a variety of models to fit any circumstance.
Prairie Terrain: Upland hunts through slightly rolling or flat terrain usually require a lot of mileage, so you'll want to look for hunting boots that are lightweight and flexible. It's best to look for a hunting boot with a mid-shaft height since an upland hunt requires some ankle support but not as much as when hunting mountainous terrain. Wearing lightweight and flexible hunting boots allow you to move quickly and quietly while on the hunt. Danner and Irish Setter offer a wide selection of solid hunting boots for mobile hunters.
Marsh Terrain / Treestand: For mucky, wet terrain or walking to a treestand, you'll want to look for rubber hunting boots. With a pair of rubber hunting boots, you'll enjoy waterproof protection and scent control. Many rubber hunting boots are insulated too so that you stay warm while sitting in a treestand.Popular brands like Muck Boots and LaCrosse Footwear offer quality rubber hunting boots. If you're hunting in very cold conditions, you'll want to consider wearing hunting boots known as pac hunting boots as these offer more warmth than traditional rubber boots.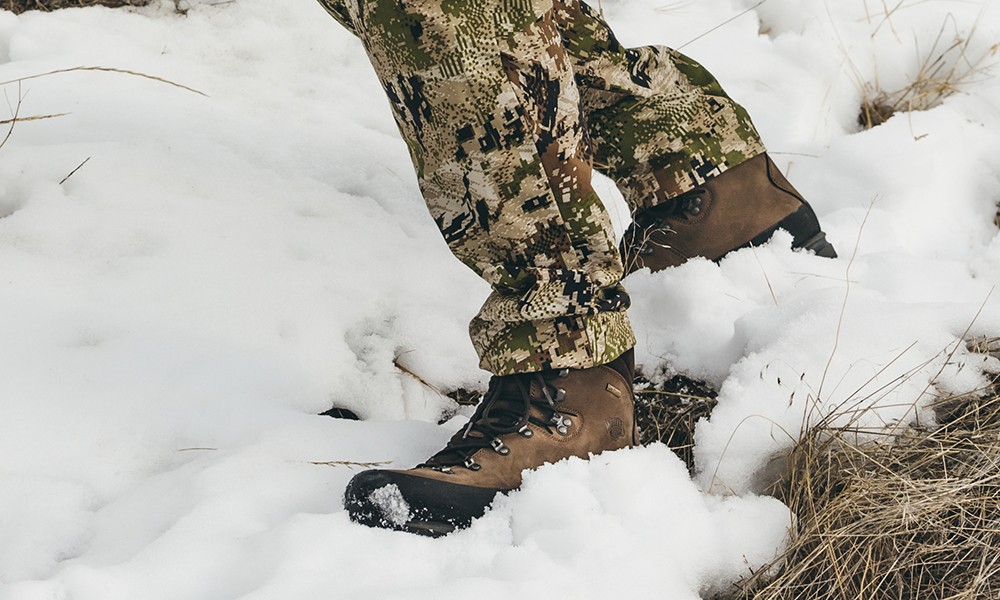 When buying a pair of hunting boots, another important factor is the typical weather conditions during the season of your hunt. An early season bow hunt requires a different amount of warmth than a winter deer hunt. There are two main technologies to look at when shopping for a new pair of hunting boots—insulation and waterproofness.
Insulation: Many hunting boots feature an insulation called Thinsulate, which offers plenty of warmth without adding extra bulk or weight to the hunting boots. The amount of insulation is noted in grams (g), and the higher the number the warmer the boots will be.
Uninsulated to 200g hunting boots are ideal for warm hunts during the early season or mobile hunts with lots of activity.

400-600g hunting boots are recommended for late season, high activity hunts like mountain hunting.

800g hunting boots are ideal to use during the winter season.

1000g + hunting boots are ideal for those who plan on hunting in extremely cold weather with little activity.
Waterproofness:
From morning dew and rainy weather to walking through creeks, it's important that your feet stay dry because once they get wet, your feet start to get cold and you're more likely to get blisters, both of which lead to a very uncomfortable hunt. Most hunting boots are either water-resistant or waterproof. Water-resistant hunting boots offer protection against wet conditions while still allowing your feet to breathe, especially in warm temperatures and high activity. In contrast, waterproof hunting boots prevent moisture from reaching the interior but don't allow your feet to breathe as well. If you choose to wear waterproof hunting boots, it's best to look for ones featuring a GORE-TEX liner or other reliable waterproofing technology, which offers incredible waterproof protection while still allowing moisture from sweat to escape.
Breaking in Your Hunting Boots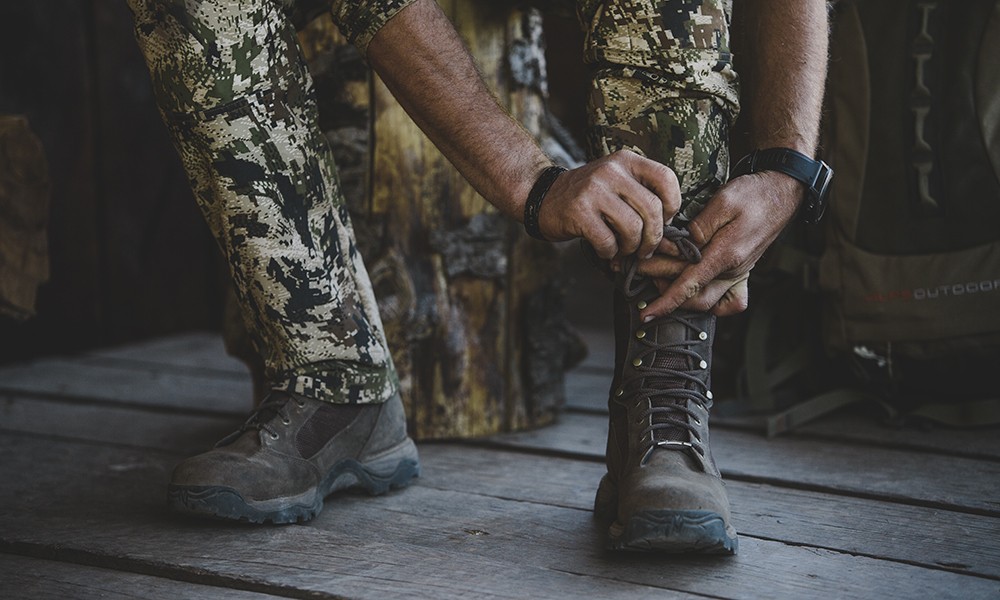 The type of shank you have in your hunting boot will determine how long it will take to break in your hunting boots—the stiffer the boot, the longer it will take for your feet to feel comfortable. If you have specific questions about breaking in a new pair of hunting boots, our SCHEELS hunting footwear experts are happy to answer your questions. Below are a few general tips for how to break in your new hunting boots.
Before you start breaking in your boots, you want to make sure that your hunting boots fit properly. To break in your hunting boots, wear them around the house or on walks around the neighborhood. Remember to start with a small amount of time and gradually work your way up to wearing the boots for extended periods of time. If you notice any sore spots on your foot, make sure to use a moleskin to keep that area protected from further damage. Once your hunting boots feel comfortable, it's time to start mimicking the terrain you'll be walking during your hunt. It's also a good idea to begin walking with your pack and gradually adding more weight so you're acclimated to the rigor of the hunt.
When you spend the time selecting the best hunting boots that match your terrain and weather conditions and take time to properly break in your hunting boots, you'll have a much more successful, comfortable, and enjoyable hunt. With the right hunting boots, you're able to focus on the hunt and not your sore, achy feet! If you have questions or are looking for more information about how to choose hunting boots, reach out to your local SCHEELS store to speak with an expert today!