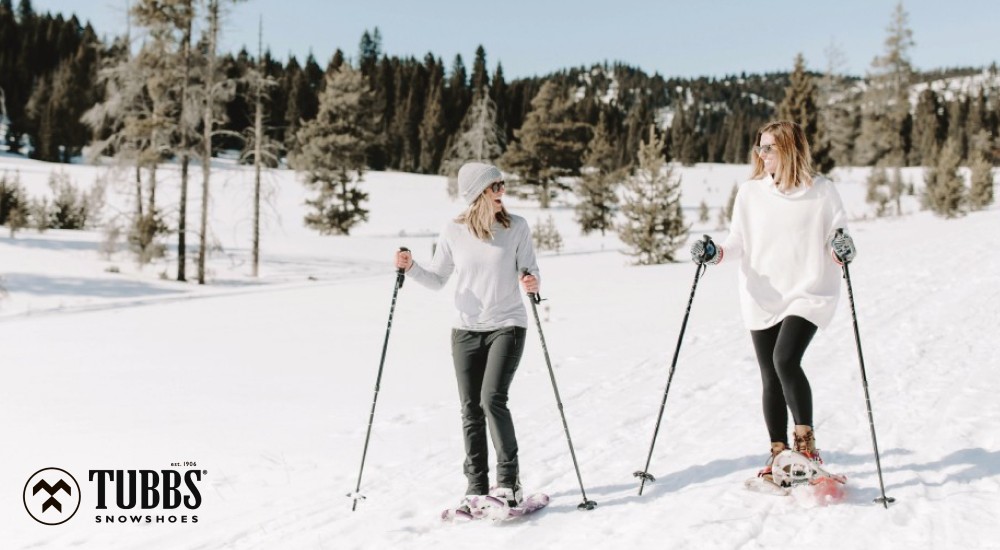 Snowshoeing is a great way to enjoy a nice winter day with your family and friends. Whether you've been out snowshoeing before or you're just looking to get started, our experts break down all the information you need to know when choosing a pair of snowshoes. From describing the parts of a snowshoe to explaining the types of snowshoes and how to size snowshoes, you'll learn everything you need to know before choosing your new pair!
When buying a new pair of snowshoes, it's a good idea to have a general understanding of the parts of a snowshoe. Below our experts highlight the different features and provide a brief description of their function: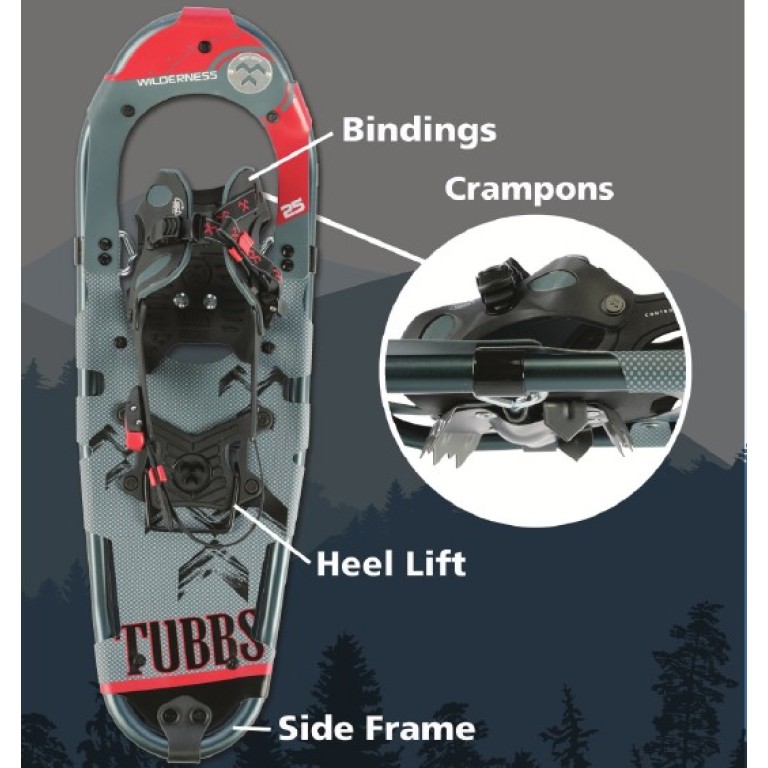 The snowshoe's frame provides a supportive attachment point for the snowshoe deck. The frame is typically made from aluminum tubing for durability.
The snowshoe deck attaches to the frame to increase surface area. This is what allows you to float on top of the snow.
Snowshoe bindings allow you to attach the snowshoes to your winter boots. There are two main types of bindings to choose from (floating and fixed bindings) as well as a few different styles of closures.
Many customers wonder what shoes they should wear when snowshoeing or if they need to purchase a specific pair of boots. Our Winter Sports Experts suggest that you wear insulated hiking boots or winter boots so that you have plenty of durability and structure to keep your feet protected as well as warm.
A snowshoe crampon acts like a cleat to grip icy snow for better traction.
A heel lift on a snowshoe adds a bit of height to make climbing uphill more efficient. A heel lift is an optional feature and not included on all snowshoes.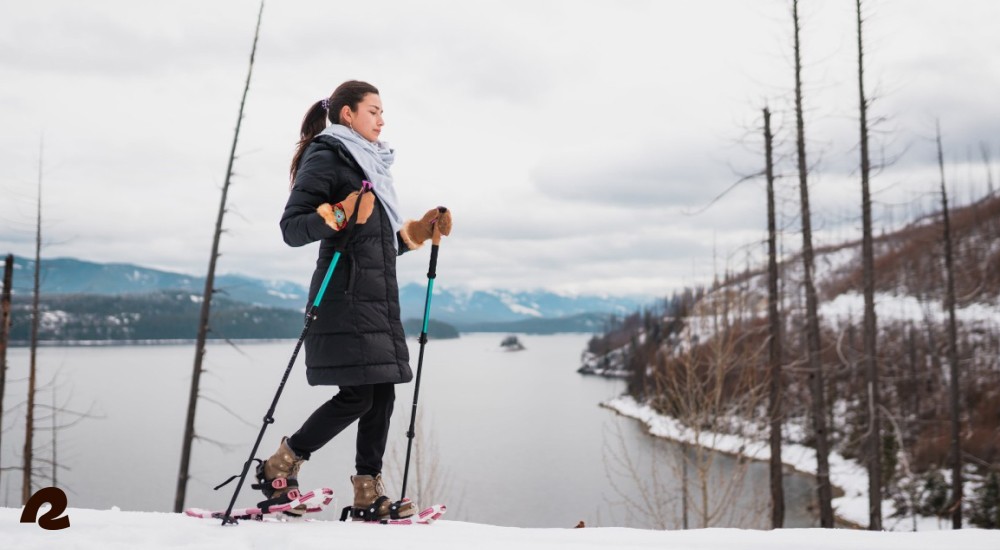 When buying a new pair of snowshoes, you need to think about the type of terrain you'll be exploring. There are three main types of snowshoes—flat, rolling, and mountain.
1. Flat-Terrain Snowshoes
This type of snowshoe is a great choice for those beginner snowshoers.
Most flat-terrain snowshoes have easy-to-use bindings, are incredibly lightweight, and provide moderate traction. If your snowshoeing adventures take you on fairly flat trails or around the park, flat-terrain snowshoes are a perfect choice.
2. Rolling Terrain Snowshoes
These snowshoes are ideal for those outdoor enthusiasts who have a bit more experience and would like to take day trips exploring on or off the trails. The main difference between flat and rolling terrain snowshoes is the amount of tread. Rolling terrain snowshoes require more aggressive tread to provide better traction and grip when on varying terrain.
3. Mountain Terrain Snowshoes
Mountain terrain snowshoes have aggressive traction, advanced binding systems, and a heel lift in order to tackle steep, icy mountain slopes. Mountain terrain snowshoes are ideal for intermediate to advanced outdoor enthusiasts.
Determining what size snowshoe is best for you is primarily based on the weight. Weight includes the person's body weight plus all the gear they need to carry. Below are snowshoe size charts to help give you a better idea of what size snowshoe you'll want to buy.
| Weight Range | Size |
| --- | --- |
| 120—200 lbs. | 25 in. |
| 170—250 lbs. | 30 in. |
| 220—300 lbs. | 36 in. |
Women's Snowshoe Size Chart
There are women's-specific snowshoes designed for those with smaller frames to offer greater control.
| Weight | Size |
| --- | --- |
| 80—150 lbs. | 21 in. |
| 120—200 lbs. | 25 in. |
| 170—250 lbs. | 30 in. |
Kids' Snowshoes Size Chart
| Weight | Size |
| --- | --- |
| 25—100 lbs. | 20 in. & under |
Please Note: If you plan snowshoeing only on fresh snow, you'll want a size bigger than recommended. This will give you more surface area to help you stay afloat.
Now that you know the parts of a snowshoe, the types of snowshoes, and what size snowshoe works best for you, you're ready to invest in the perfect pair! If you have additional questions about snowshoeing, check out our Snowshoeing for Beginners guide or contact a local store to speak with one of our experts.