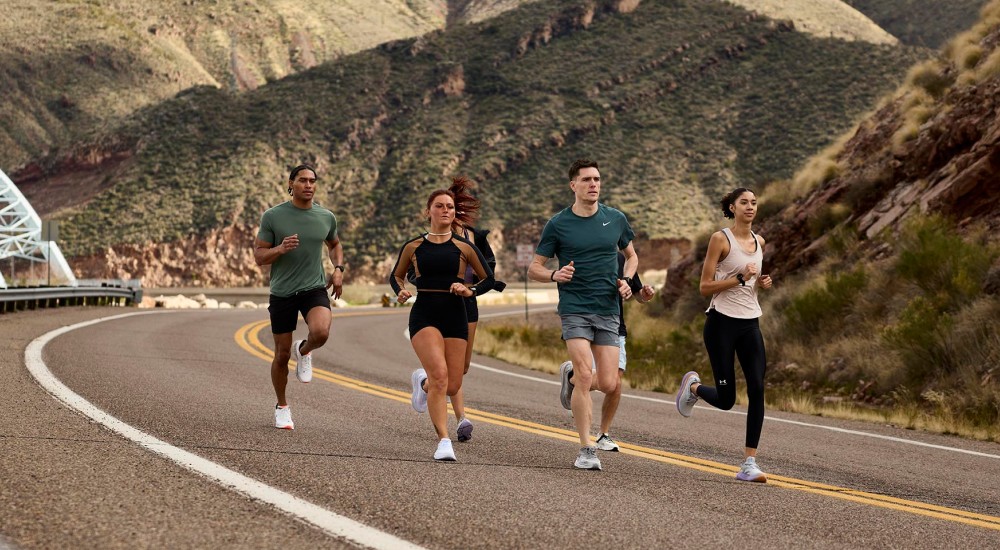 Running is not only a great cardio workout but is also a great way to relieve stress, get fresh air, and spend time with others. Whether you're a beginner to running or looking to get started after time away, the great news is that running doesn't require much technical gear—maybe just a little motivation! To help, our Running Experts share some important tips and outline the running gear you need for when you hit the pavement, treadmill, or track.
Before shopping for that brand-new pair of running shoes, start by setting your running goal. Think about why you want to start running—and be specific about it! We even recommend writing it on a sticky note and posting it somewhere that you'll see frequently. There will be days that you won't want to run (that's okay), but when this happens, rereading your goal will help keep you motivated.
With your running goal in mind, create a running plan that's realistic to your lifestyle. There are many suggested running plans available, but it's important to create your own that's suitable for your current fitness level. Since running is a high-impact activity, it's important to consult with your physician before starting any program.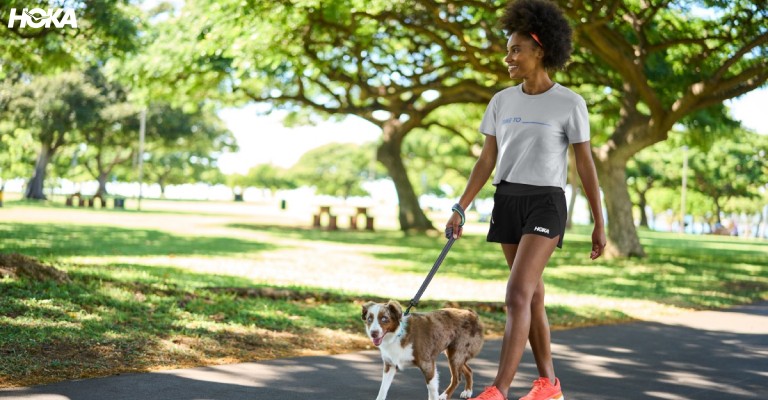 For beginner runners, we recommend following the general steps below to make running part of your weekly routine.
Walk:

Start by brisk walking three to five times a week for at least 30 minutes.

Walk/Run:

It's time to add some running into the mix. Run and walk in intervals depending on your fitness level. For instance, you can run for one minute and then walk for two minutes. Repeat this until you've reached your desired time. Continue doing this for the next few weeks, pushing yourself to run for longer periods of time.

Run:

Once you're able to run without stopping, it's time to think about pushing yourself to run for longer periods of time, reach a mileage goal, or run at a quicker pace.

Race:

At this point in running, many runners like to sign up for a race to push them out of their comfort zone. Whether it's a 5k, 10k, or farther,

training for a race

adds even more excitement to running!
Many new runners put pressure on themselves to run the whole time—it's okay if you need to walk! Don't let a walking break discourage you from reaching your goals or lining up at the start line.
Now, it's time to get the proper running gear and clothing so you can stay comfortable when logging in those miles.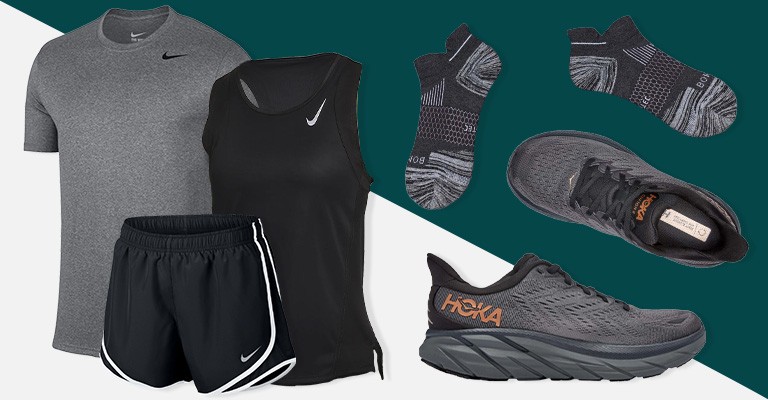 Avoid the temptation of wearing your mowing shoes or 3-year-old gym shoes. Invest in a quality pair of running shoes to support and cushion your feet and joints in order to prevent injury. Every runner is different, so It's important to pick the right running shoes for you.
Whether you're running in 70-degree weather or 10-degree weather, you want to wear running clothing made with moisture-wicking, quick-drying technologies and fabrics. You'll also want to wear a properly fitting sports bra designed for high-impact sports.
What to Look for:
Clothing made from polyester, Merino wool, or nylon

Flat or welded seams to avoid chafing
Don't reach for your inexpensive cotton socks when heading out on a run. Make sure to wear running socks made from synthetic fabrics or Merino wool from brands like Darn Tough or Smartwool. Your feet sweat a lot no matter the temperature, so moisture-wicking socks help reduce the chance of getting blisters.
Learn more about why running socks are important, straight from our Footwear Experts: Do Running Socks Make a Difference? >
When just getting started, you'll want to be sure you have proper running shoes, clothing, and socks. However, as you start logging more miles, participating in races, or joining the running community, there's some additional running gear you'll want to consider: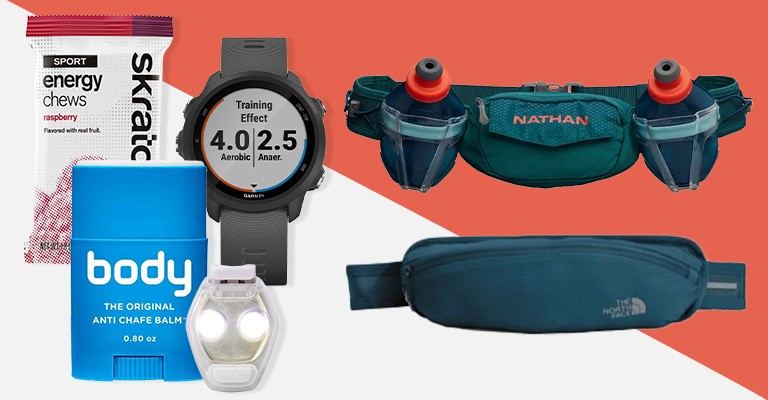 Reflective Running Vest & Lights: If you plan on running before or after work and the sun isn't out, stay safe and seen by wearing a reflective running vest and running lights. Most reflective running vests are adjustable for a better fit, while there are a wide variety of different running lights to choose from.
Running Belt: Wondering where to put your phone while running? Having a running belt is a great way to carry your small essentials like your phone, nutrition, keys, chapstick, and more. With a running belt, you won't be distracted by the added weight in your pockets or exert extra energy by holding your phone.
Chafing Cream: Nothing stings more than sweat or water hitting your chafed skin. Reduce friction and prevent skin irritation by using chafing cream like BodyGlide®.
Hydration: Having water available when running is important, especially if you're running in warm weather. There are a few different ways to carry water while running: a handheld water bottle, a running water bottle belt, or a hydration pack.
Nutrition & Fuel: If you're training for longer distances, you want to think about replacing some of the lost energy during your run. Many runners enjoy using fuel like energy chews or energy gels because they are packed with the right amount of carbohydrates and electrolytes and are easy to stash in your running belt.
Running Watches: When spending more time around runners, you'll likely hear discussion around PRs and average pace. A running watch isn't a must-have, but you may find that tracking your pace and running routes helps keep you motivated.
When starting a new hobby, there are plenty of questions that come to mind. Running is no different, so our Running Experts answer some commonly asked questions and provide tips too!
Where should I run?

It really depends on your personal preferences on where you should run: outdoors, on a track, or on a treadmill. If you run outdoors, especially alone, always keep safety in mind.

What time of day should I run?

Run at the time of day that works best for you. We all have different schedules, so it's okay if you can't hit the road at 5 AM.

How often should I run?

For beginners, it's best to run between two to three times each week. This will help your body adjust to in order to prevent injury.

What should I eat before and after a run?

Knowing what to eat before and after a run is really challenging because it all depends on how far you are running, the time of day, and your personal preferences. Before your run, try eating something light like a banana with peanut butter or a bowl of oatmeal and drinking some water or an electrolyte drink. As for after your run, keep healthy and protein in mind—a veggie omelet or yogurt with fruit and nuts.

How do I know if I'm running too fast or too slow?

When starting to run, you'll want to aim for a pace that you're still able to maintain a conversation with your running buddy.

How do I prevent injury from running?

It all starts with wearing a pair of

properly fitting running shoes

. From there, be sure to spend at least five minutes warming up with dynamic stretches or walking. After your run, spend time stretching your main leg muscles and lower back. Using a

percussion massager

, incorporating resistance bands, or practicing yoga are all ways to prevent injury and speed up recovery too.
Running for any amount of time or distance is an accomplishment. If you're wondering how to start running, remember to start with your why, develop a realistic running plan, and invest in new running shoes and clothing. With practice and hard work, you'll be able to reach your running goals and be well on your way to a healthier lifestyle. If you have questions about what to wear running or other running gear you may need, contact a Fitness Expert at your local SCHEELS or check out our other Expert Running Articles.