Types of Ice Fishing Augers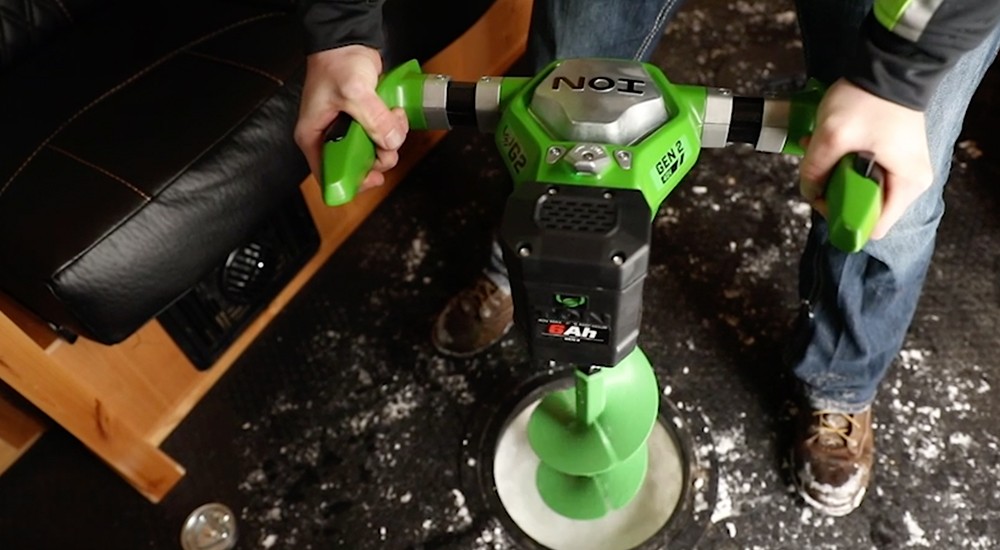 Drilling the perfect hole through the ice is a crucial part of ice fishing, making an ice auger a must-have for ice anglers. There are five main types of ice fishing augers—electric ice augers, hand-powered augers, cordless drill augers, gas augers, and propane augers. While all of them will get the job done, each type has its own distinct advantages and disadvantages that make them better suited for certain ice anglers. Learn more about the different types of ice augers with our guide and choose the best ice auger for you.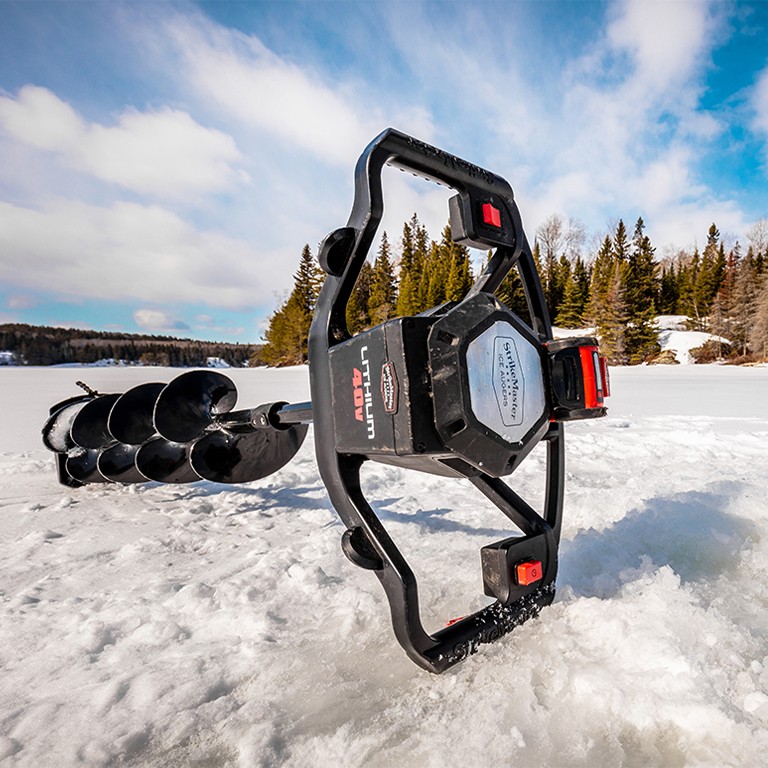 Electric augers are the newest type of ice auger and make drilling through ice much easier than traditional methods. Electric ice augers use Lithium-ion batteries to power the auger and drill holes. These augers come with a charger that plugs into the wall to recharge the battery. If you plan on spending long days on the ice, the batteries may die while you're still fishing; however, many newer models feature innovative technology for extending runtime. This technology vastly improves the number of holes that can be drilled on a single charge. Electric augers also tend to be quieter than other power augers and are generally easier to care for. Plus, some models, like the ION R1 Electric Ice Auger, have a reverse mode that makes it easy to remove slush from the hole as you drill.
Advantages:
Quieter drilling

Easy to care for

Lightweight and portable

Reverse feature for easy slush removal
Disadvantages:
Batteries must be charged

More expensive than other options

Power slowly fades throughout the day
Hand-powered augers were the first type of ice auger to be developed and use manpower to drill through the ice. Hand augers are a great option for early season when the ice is a little softer and requires less power to drill through. Since you don't have to worry about powering a motor or a battery, manual augers will work in a variety of conditions. They're also the most lightweight, portable, and quietest option available. However, since they require manual effort, hand augers can make you tired if the ice is thicker or you have to drill multiple holes.
Advantages:
Inexpensive

Lightweight and quiet

Runs without a power source

Offers more control over the drilling process
Disadvantages:
Requires manual effort

Less powerful than an electric or gas auger

Takes longer to drill through thick or hard ice
Cordless drill augers offer the portability of hand-powered augers but reduce the amount of effort required to drill through the ice. These ice augers have an adapter on the top that connects to your cordless drill. The auger functions similarly to a drill bit—when you spin the drill, the auger blades also spin and drill through the ice. Cordless drill augers are more portable and affordable than power augers, but they're also less powerful. Like electric augers, these require that you have a charged battery for your drill. However, they're a great alternative to manual augers during early ice, especially if you need to drill several ice holes.
Advantages
Portable and lightweight

Less effort than hand-powered auger
Disadvantages
Drill requires charged batteries

Less powerful than power augers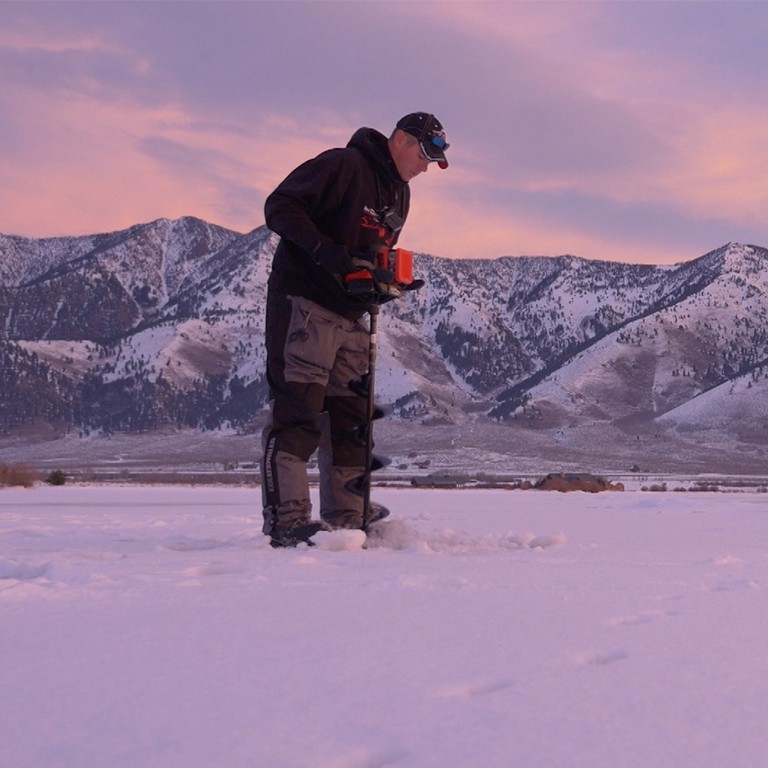 Gas-powered augers were developed to combat the fatigue of manual augers. Like electric augers, they reduce the time and effort required to drill through the ice. Instead of a battery, these augers use gasoline to power the motor and spin the auger blade. While this makes them heavier to transport, it also allows them to run longer. Since you can carry extra gas with you, the run time of a gas auger is limited only to the amount of gasoline you can bring along. However, having to bring gas and oil with you can be an extra burden, especially if you're fishing out of a compact space like an ice house. Despite this, their extended run time makes them a great choice for anglers who drill multiple holes throughout the day.
Advantages:
Longest run time

Continuous, even power

Most affordable power auger
Disadvantages:
Noisier than other augers

Requires you to bring along gas and oil

Heavier motor can be difficult to transport

Can be difficult to start in lower temperatures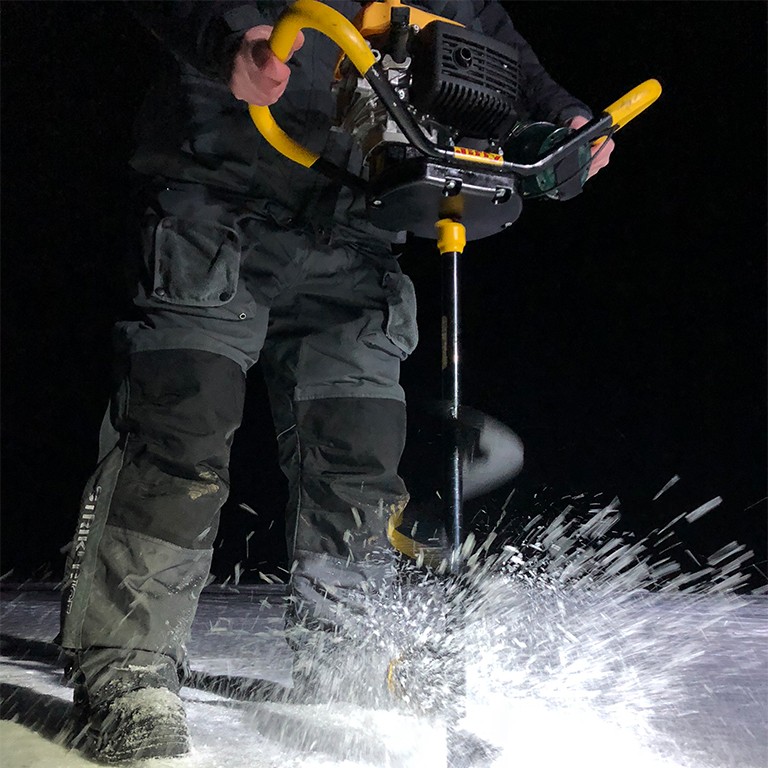 Propane augers are similar to gas augers but use propane tanks instead of gasoline to power the motor. These augers are clean burning and offer lower emissions, making them a great option for ice houses and other compact areas. They're also easier to start than gas-powered augers since you won't need to choke or prime the motor. However, a propane auger requires you to take propane cylinders with you, taking up valuable storage space. These propane tanks must be kept warm in order to function, so outdoor ice anglers should consider another option.
Advantages:
Easy to start

Longer run time

Easy to maintain

Lower emissions
Disadvantages:
Propane cylinders must be kept warm

Takes up more space than other augers
Once you've selected your ice auger, you'll be ready to drill some holes and start catching fish! If you have any questions about which ice auger is right for you, stop by your nearest SCHEELS and talk to one of our ice fishing experts.