Tips to Find the Right Kids' Shoes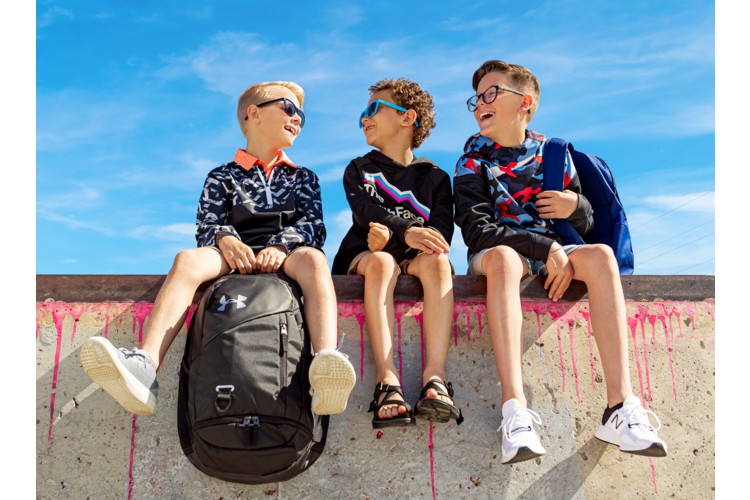 Finding the Right Shoe Size
When you're narrowing down the options to find just the right fitting shoes for your kids, it can be challenging to find the proper fit and size when there's an array of sizes to choose from. Wondering how to find the perfect fit for your child? You're in luck! We've gathered a few things to look out for to help you better understand kids' shoe sizing when it comes to finding the ideal shoe size and fit for your kids.
Below, we've narrowed down kids' shoes into four groups:
Infant shoe sizes range from 0-4. If your child is between the ages of 2-12 months, this is the ideal kids' shoe size range for their little feet. With an average foot length of 3.5 to 4.75 inches, our selection of infant kid shoes are easy to slip on to little feet with plenty of extra breathing room to grow.
Toddler shoe sizes range from 4.5-10. Now that your child's past the infant stage and right around the age of 1-3 years old, you'll need a pair of toddler kids' shoes. Toddler shoes are the beginning steps to more versatile, yet functional designs for growing feet around the foot length of 4.88 to 6.5 inches.
Preschool shoe sizes range from 11-3. After your kid has outgrown their toddler shoes, it's time to step into big kid shoes. Preschool kids' shoes offer growing kids from ages 4-6 years old the freedom to continue to tie their shoes, while still offering supportive closures ideal for foot lengths of 6.63 to 7.5 inch.
Grade School shoe sizes range from 3.5-7. At this point, your child has mastered tying their own shoes and are beginning to develop their own style at the age of 7-12 years old. With a variety of sizes and styles for their everyday adventure, the average grade school kids' shoe foot length includes 7.63 to 9.88 inch.

How to Find the Right Shoe Fit
Getting your young toddler or child through the shoe buying process can be a challenge for any adult, but the experts at SCHEELS are here to help.
Shoe Style
First, think about how your kid will wear the shoes and try to lead him or her in this direction. It can be distracting and overwhelming to see all the different styles and colors in-store or online.
Measurements
When shopping in-store, ask a SCHEELS Fitting Expert to measure your child's foot. They are trained in getting the most accurate measurement so your child finds the perfect shoe. If shopping online, don't worry because you can become the expert. Just print out the information page and follow the steps for measuring.
Try On
Now that you have a good idea of the size of shoe, it's time to try on a few pairs that your kid likes. Many of our top selling brands like Nike, Skechers, Asics, and adidas have a slightly different fit. Once the shoe is on, check to see if there is enough room to grow.
Purchase
You've made it through the measuring and testing! Now it's time to make a decision and purchase. Hopefully your kid will enjoy the new shoes!
Looking for a way to speed up the shoe shopping process while ensuring your child finds the perfect fit? Here are some quick tips for trying on kids shoes:
Measure Later in the Day
With busy feet that move throughout the day, your child's foot will begin to swell during the afternoon and evening. It's important to measure your child's feet during this time instead of right away in the morning to find the most accurate sizing.
Measure Both Feet
It's common for one foot to be bigger than the other. Measure both of your child's feet and size according to the bigger foot to avoid an uncomfortable fit.
Check for Room to Grow
Start by placing your hand on the front of the shoe to prevent little toes from curling under. Then, place your thumb across the top of the shoe. Check if there's a thumb space between the longest toe and the front of the shoe. Ideally, there should be about a thumb space for "wiggle room" to grow.
Get Their Feet Moving
Have your child do more than stand or walk around. Encourage them to jog in place or do some jumping jacks to get their feet moving. Is the higher impact causing them to wince in pain or their heel to slip from the shoe? These are signs a size adjustment is needed.
Talk to an Expert
Looking for a second opinion to ensure the best fit? Our SCHEELS kids' shoe experts are trained on how to help customers like you find the perfect shoes, and they are happy to help with any questions or concerns you have.
Are you ready to find the perfect shoe size and fit? Shop our boys' and girls' shoe selection at SCHEELS.