How to Choose Kids' Winter Coats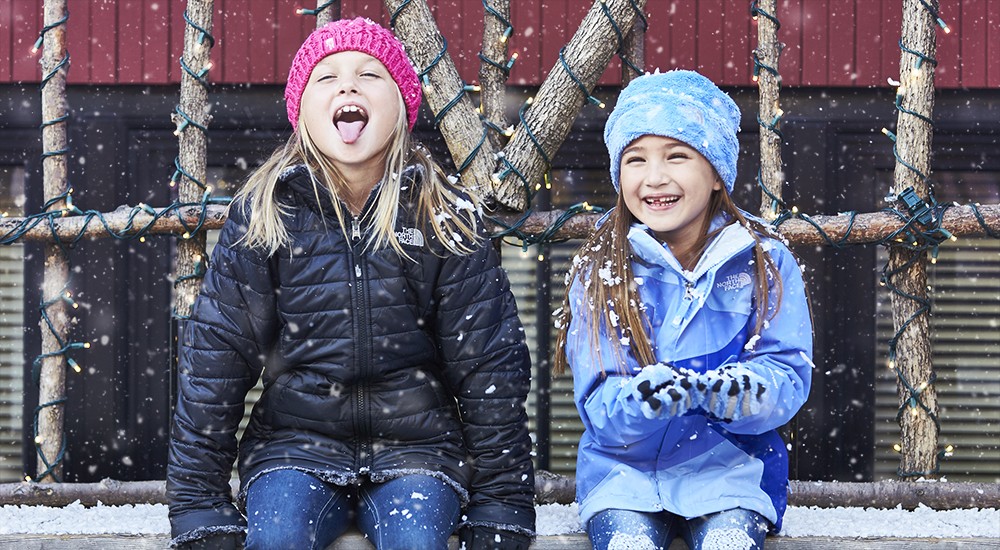 Although it's hard to say goodbye to warm, sunny weather, the seasons change quickly, so it's important to make sure that your child has a properly fitting winter coat for recess and cold-weather adventures. No matter if you live in the cold tundra of the midwest or experience a more mild winter in the south, you want to make sure your kid has the right winter coat to keep them warm. Our experts help you find the best winter coat for your kid by breaking down the types of winter coats, important features to consider, and how to find the right fit.
Types of Kids' Winter Coats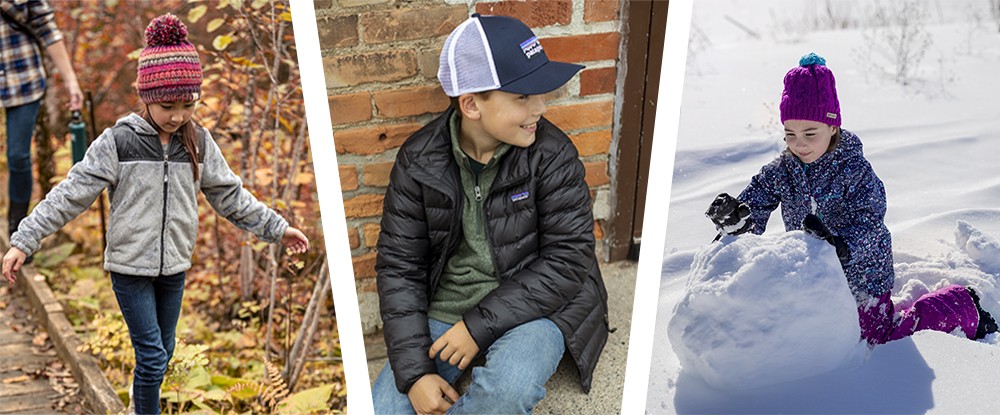 A kids' ski jacket is what many people traditionally think of as a winter coat. Kids' ski jackets usually use synthetic insulation, making them perfect for cold-weather activities. Ski jackets have several convenient features such as a powder skirt or goggle pocket for easy use while on the slopes.
For a versatile winter coat, a kids' 3-in-1 jacket is a great option. These winter coats combine a waterproof outer shell with an insulated or fleece liner. Together, these two jackets provide enough warmth for most winter conditions. When the winter weather isn't nearly as harsh, your child can wear the liner or the shell separately for the right amount of protection and warmth.
A kids' softshell jacket offers some lightweight insulation plus a little rain and wind protection. With a softshell jacket, your child won't experience nearly as much warmth as a ski jacket, making these ideal for spring and fall months or for those who live in warmer climates.
During fall and spring months, a kids' fleece jacket offers the right amount of warmth and is super soft. It's important to know that kids' fleece jackets are not insulated and don't provide wind or rain protection. There is a lot of variety within fleece jackets. You can find kids' fleece jackets with or without hoods as well as full-zip or quarter-zip closures. Plus, most fleece jackets come in a variety of styles and colors to fit your child's personality.
A kids' rain jacket provides protection against wind and rain. For cold, rainy days, combine a rain jacket with a fleece jacket to keep your child feeling warm and dry. If your winter season includes plenty of rain, a rain jacket is a good layering option throughout the winter.
Kids' Winter Coat Features
Once you know which type of kids' winter coat fits the climate you live in, it's a good idea to pay attention to different features that enhance the winter coat. Below are some of the top features to consider when choosing a winter coat:
Extendable Sizing

is a perfect choice for when kids are in the midst of their growth spurt. With this feature, you can easily adjust the fit of your child's sleeves by approximately one to two inches to allow your kid to wear their winter coat for an additional season or two.

Closures

for kids' winter coats come in a wide variety of styles including zippers, buttons, touch fasteners, and snaps. The most common type of closure for kids' winter coats typically includes a sturdy zipper with a snap to help trap body heat.

Thumbhole Cuffs

are great for making sure that there is no exposed skin between this jacket's sleeves and their gloves. With thumbhole cuffs, the sleeves stay pulled down offering more warmth and coverage.

Hood Coverage

is an essential part of a winter coat for kids. Most hoods feature adjustable drawcord or hook-and-loop tabs for better coverage.

Reflective Detailing

is a must-have safety feature for your child's winter coat. With reflective logos and piping details, your child stays visible in low-light conditions.

Insulation

is important, especially if you live in cold climates. You'll find winter coats featuring down or synthetic insulation. In short, down insulation traps and retains heat better than synthetic insulation, but synthetic insulation offers better warmth in wet conditions.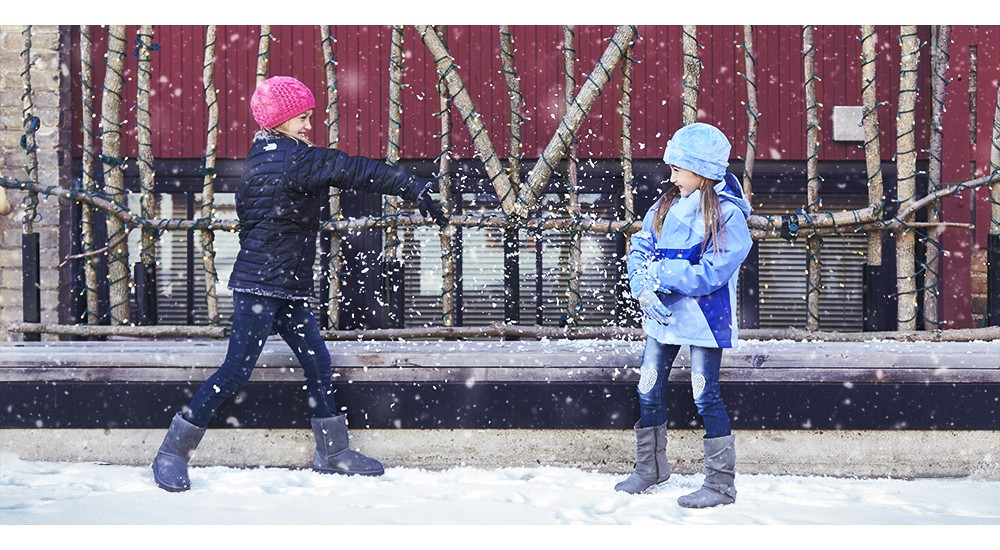 When buying a new kids' winter coat, many parents think it's a good idea to get the winter coat one size bigger to give their child a little extra room to grow. As much as our wallets might enjoy that idea, your kid won't be as warm as they should be. The extra open space in the winter coat will end up letting the cold air into their coat faster than their body heat can keep up. How do you make sure your child's new winter coat fits just right? Below are a few easy tests to run through before making your purchase or taking the tags off:
The Hug Test:

The purpose of this test is to make sure the winter coat isn't too tight across their chest or in their arms. Have your child zip up the coat and give themselves a tight hug. Their arms should reach across to touch the opposite shoulder blades on either side. Are they struggling to raise their arms and reach across? Are they able to complete the test but feel tightness through the elbows and shoulders? These are both signals to try the winter coat in the next size up.

The Stretch Your Arms Test:

This test will determine if the sleeves of the winter coat are too long, too short, or just right. Have your child zip up the coat and reach their arms straight out. If your child's wrists show, the sleeves are too short and will expose their arms to cold air. If you can barely see their fingers, the sleeves are too long and the coat may be uncomfortable.

The Reach for the Sky Test:

This test helps you determine if the winter coat is long enough. Once the coat is zipped, have your child reach overhead towards the sky. If your kid's tummy shows, you'll want to look at a longer jacket.
By understanding the different types of kids' winter coats, features, and how the coat should fit will help finding the perfect winter coat much easier. If you have additional questions about how to choose a kids' winter coat, contact an expert at your nearest SCHEELS location.