Paddle Boarding for Beginners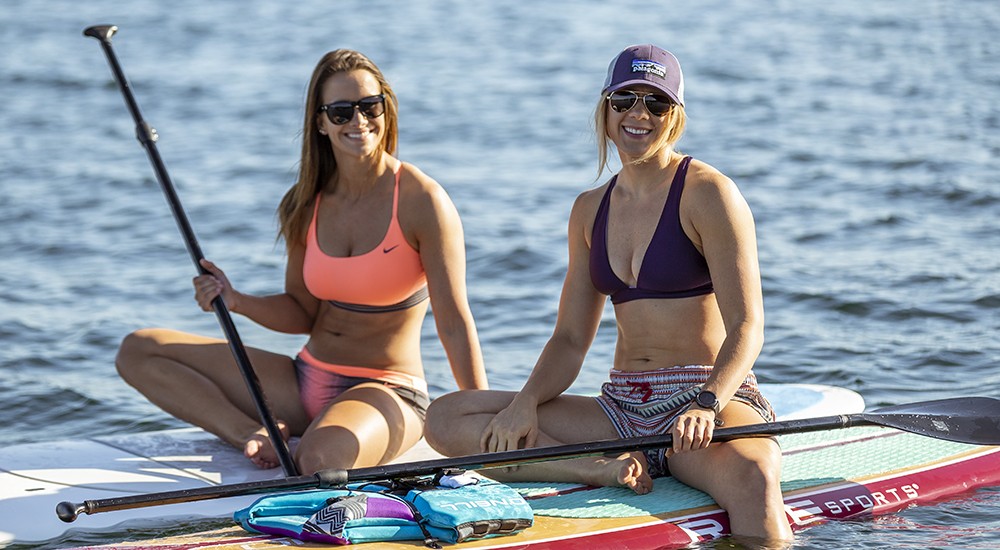 Although paddle boarding originated during the 1940s in Hawaii, it exploded several years ago and continues to be a strong category today. Whether you're at the ocean or lake, stand up paddle boarding, often shortened to SUP, is a fun way to stay active and enjoy the view of the horizon. Renting a stand up paddle board is a great way to see if you enjoy this activity, but owning your own SUP board offers you more flexibility in your paddling adventures. The opportunity to own a board has never been easier with a range of price points and how many options of inflatable paddle boards which are easy to transport and store. If you're new to paddle boarding, make sure you brush up on some of these paddle boarding basics for beginners prior to purchasing your own SUP board.
The Basics of Paddle Boards
As with any activity, it's important to think about how you are going to use your piece of equipment. Buying a paddle board is an investment, so you want to make sure you find one that fits the type of activities you plan on doing. Pay attention to these features while selecting your new paddle board.
The hull refers to the shape of the paddle board's body. There are two types of hulls when it comes to paddle boarding — planing hull and displacement hull. Either type of hull works well for someone new to paddle boarding, but the different shapes are geared towards different paddle boarding activities. A paddle board with a planing hull offers a wide, flat shape which resembles a surfboard. With a planing hull, the paddle board is more stable and easier to maneuver. If you're looking to use your paddle board for leisure, fishing, or yoga, a planing hull is a good fit. The second type of paddle board hull is the displacement hull, which features more of a v-shaped nose. Shaped more like a kayak or canoe, this paddle board hull is ideal for slicing through water allowing you to paddle for longer distances at faster speeds. If you're wanting to use paddle boarding as a workout or for racing, the displacement hull is a better option.
Paddle Board Length and Width
A good rule of thumb to remember is the longer the paddle board the harder it is to handle and maneuver. Often, board length goes hand-in-hand with the paddle board's type of hull. Short SUP boards are any board less than 10 feet in length. Because they're a little shorter, they're a great choice for kids. If you're looking at an adult paddle board that's easy to maneuver, stick to medium length boards which run between 10 to 12 feet. For those looking to race or travel long distances, make sure you look into the long SUP board options which can be as long as 14 feet. Along with length, the width of a paddle board is important to pay attention to as a beginner to SUP. With a wider board, you'll enjoy more stability, while the narrow paddle boards are better for advanced paddlers.
The last major feature to consider when looking to buy a new paddle board is whether you want a solid or inflatable SUP board. Most solid paddle boards are made with an EPS foam core that is wrapped in fiberglass and epoxy. This makes the SUP board lightweight yet stable on water, offering a better performance compared to inflatable boards. Also, solid SUP boards come in a wide variety of sizes and shapes, so you're able to find a more customized paddle board. If you are traveling or have limited space to haul your SUP board, an inflatable paddle board would be a good choice. These paddle boards can be deflated and easily hauled in your car's trunk. If you're planning on using your board mainly for SUP yoga, an inflatable paddle board offers a bit more cushion in comparison to the solid paddle board type.
Choosing a Paddle for Paddle Boarding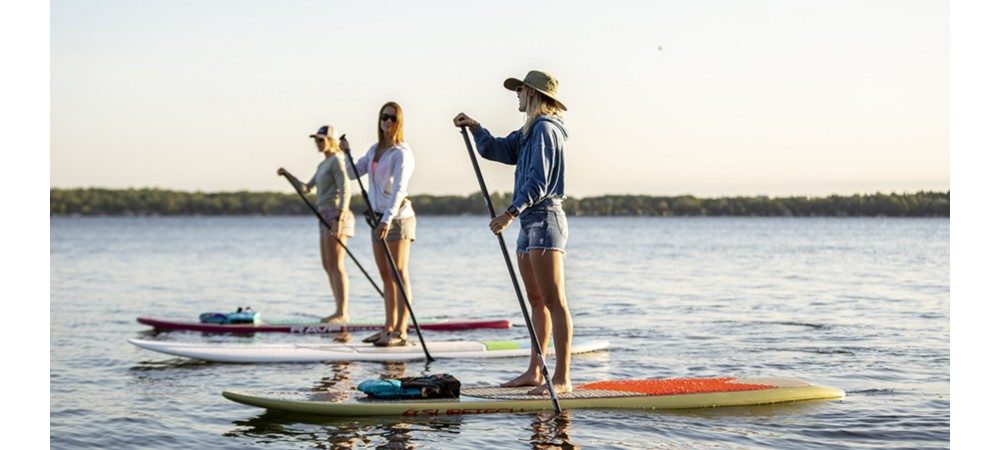 Aside from finding the right paddle board, you'll want to make sure your paddle is lightweight while still being the right length and shape for your next paddle adventure.
It's important to find the right length of paddle so you feel comfortable and remain upright while paddling. To find the right length of paddle, stand the SUP paddle vertically so that the blade touches the ground. Raise your arm and take note of where the T-grip handle rests. Your paddle's grip should rest within the bend of your wrist. If multiple people are planning on using the SUP board, you may want to look into buying an adjustable paddle for more versatility.
For a beginner paddler, you mainly want to pay attention to the size of your paddle. With a larger-sized paddle, you're able to push more water allowing you to increase your speed quicker, but moving this amount of water requires more energy and upper body strength. On the other hand, a mid- to small-sized paddle will move less water but makes paddling easier so you can paddle for longer distances without tiring yourself out.
Small Paddle: 80—90 square inches

Medium Paddle: 90—100 square inches

Large Paddle: 100—120 square inches
Paddle Boarding Essentials
For any adventure, safety is always important to keep at the forefront of your mind. When you head out on your paddle boarding adventure, you'll want to make sure you bring the following items so you're prepared for any situation.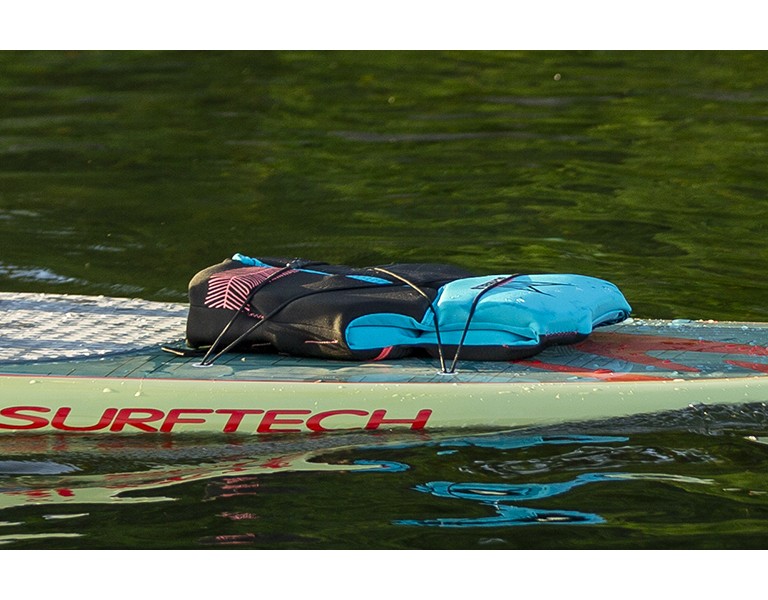 Life Jacket (PFD):

Should you happen to fall or slip off your SUP board wearing your life jacket will keep you safe. To find the right life jacket size, check out this blog about

how to choose the right life jacket

.

SUP Leash:

To prevent your board from floating away, use a SUP leash in order to connect your board to your ankle.

Clothing:

Depending on the outdoor temperature, it's best to wear layers while paddle boarding. If you're going to be in direct sunlight for an extended period of time, wearing a hat, long sleeves, and sunglasses will help prevent your skin from burning.

Water Bottle & Snacks:

When you head out for a day paddle boarding trip, you want to make sure that you stay hydrated. Bring a small backpack with a large water bottle and healthy snacks.

HydroFlask

and

YETI

water bottles are a popular option because they keep your water refreshingly cold even in warm weather.

Light & Whistle:

A whistle allows you to call for help should you happen to need it, while a

headlamp

is ideal if you plan on your adventure lasting past daylight hours.

Sunscreen:

Make sure you have sunscreen packed in your backpack. You'll want to remember to reapply your sunscreen every two hours for protection from the sun's harmful rays.
You can use your SUP board for more than just short trips around the lake. There are lots of ways to stay active with your new paddle board.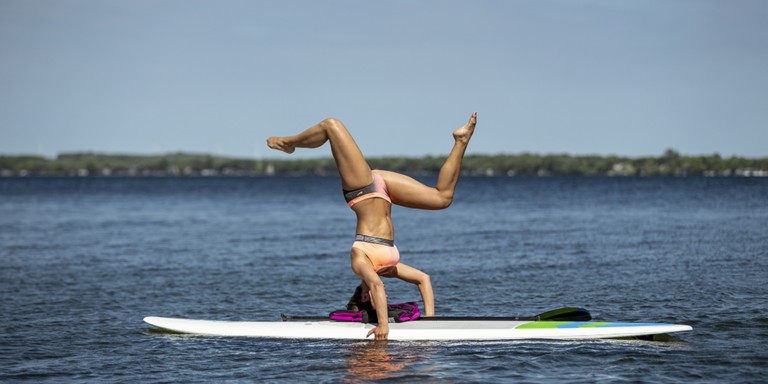 For a relaxing experience on the water try a session of paddle boarding yoga, also known as SUP yoga. While practicing SUP yoga, you'll need to engage different muscles in order to stay balanced on the water, providing a powerful toning workout. Also, practicing SUP yoga allows you to enjoy nature's sounds and smells, keeping your mind focused.
If you're an avid angler and looking for a new way to navigate shallow waters, use your paddle board for a day of SUP fishing. With a paddle board, you have plenty of room to store all of your fishing gear and accessories. Plus, a SUP board is nearly silent while maneuvering through the water so you won't scare off your next catch.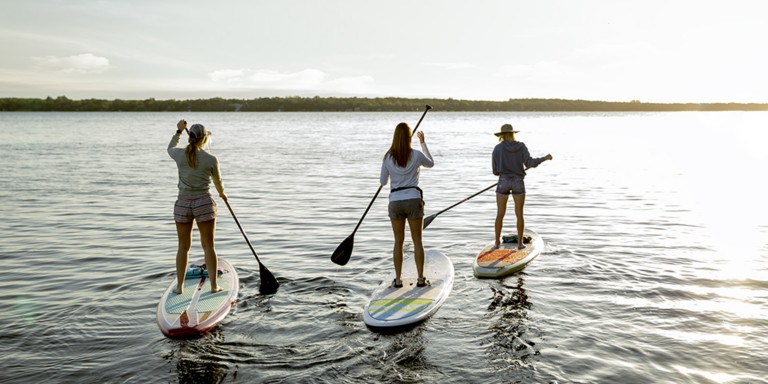 For those who love some competition, you can train and participate in a SUP race. With the right type of paddle board, you can practice moving quickly through the water so you're ready for the competition during a race.
You don't have to paddle board alone! Most paddle boards have enough room for your dog or kids. This is a fun way to spend quality time with the people (or fur babies) you love! Please note that each state's requirements vary regarding registration so please be sure to check with your local agency before hitting the water. For additional help and information selecting a SUP board and paddle, contact your local SCHEELS store to speak with an expert.