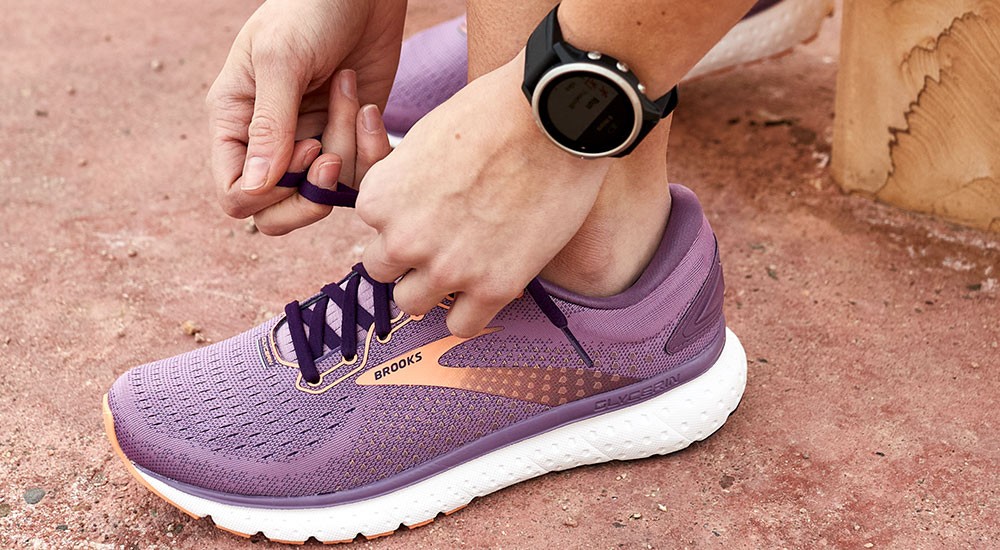 Think about your favorite pair of athletic shoes. What makes them so great? Whether it's their cushion or support, when you find a pair of shoes you love, it can be hard to find another pair that compares. Getting the right shoes for your feet will prevent problems like calluses, blisters, or joint pain so you can stay comfortable throughout the day. Check out our shoe sizing tips so you can purchase your next pair of shoes with confidence.
Measuring your feet is an easy and accurate way to find your shoe size. Before doing this, we recommend wearing the type of socks you plan to wear with your shoes and measuring your feet in the afternoon because they will swell throughout the day. These steps also work for kids!
Step 1:

Tape a piece of paper to a hard floor with one end against the wall. Stand on the paper with your heel against the wall. Make sure you're not slouching!

Step 2:

Have a partner trace along the edge of your foot. Make sure to measure both feet! Right and left sizes can sometimes be different.

Step 3:

Take your foot off the paper and use a ruler to measure from the heel to the longest toe marking for each foot. Use the highest measurement to compare with the size chart.
Women's Shoe Widths:
Standard: B

Narrow: 2A

Wide: D

Extra-Wide: 2E
Men's Shoe Widths:
Standard: D

Narrow: B

Wide: 2E

Extra-wide: 4E
Note: If the shoe you are purchasing does not specify a width, it is usually standard.
Shoe Sizing Tips for Foot Pain
If you have problems with bunions or circulation, try a wider size to reduce irritation

If you experience blisters, calluses, your foot falling asleep, or foot cramps during activity, this could be a sign that your shoes are too small.

Feet can be different sizes, if just one shoe causes pain measure your feet and don't be afraid to go a half size up or down.
Shoe Sizing Tips for Kids
Kids' sizing is based on Men's sizing.

If you are fitting a child, you may want to buy a slightly larger size to allow room to grow.

Check out our

kids' shoes buying guide

for details on finding the right shoe fit for kids!
Additional Shoe Sizing Tips
If you're worried about your shoes being too small, go a half size up! Many people will get a half size to a full size up from their dress shoe when getting athletic shoes.

If your heel is slipping, try lacing the shoes differently, or try a different insole before going to the next size down.

If you are experiencing discomfort while walking or running, it might be a sign of overpronation. Check out our blog on

how to choose the right running shoes

to learn more about the types of pronation.
As you're looking for your next pair of athletic shoes, keep in mind factors such as brand, arch type, foot shape, and activity will alter the way the shoes fit. Personal preference also plays a large role in finding your next favorite pair of shoes. For additional help sizing your foot, visit one of our SCHEELS locations to speak with a Footwear Expert!