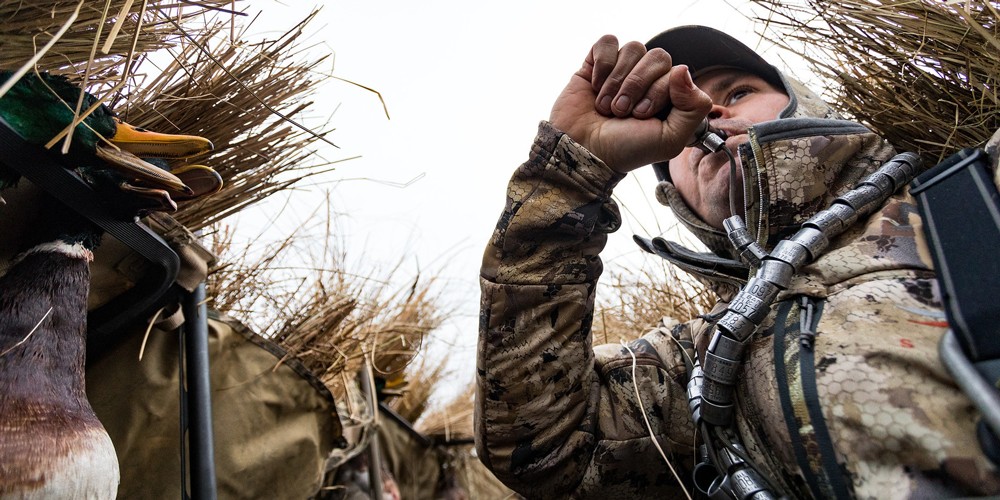 The best waterfowl hunting can take place in the worst weather. Waterproof, windproof and warm garments make up this line of apparel with the sole purpose of keeping you comfortable in the field or on the water. Similar to other lines developed by SITKA GEAR, advanced fabrics (GORE-TEX®, GORE-TEX INFINIUM™ with WINDSTOPPER® Technology and PrimaLoft®) are implemented into the systems to ensure durable construction that will hold up to the elements. We partnered with our experts and the team from SITKA GEAR to build a versatile system out of some of our most popular items in our stores. Build your whole system or choose certain pieces to configure your own customized apparel system for this season.
EARLY TO MID-SEASON LAYERING
Maximum versatility is needed in a system in the early to mid-season as birds start their migrations and winter closely follows. Durability and protection for the widest range of elements is a necessity. The base layer is foundational to any layering system. It must provide superior moisture management, warmth during long periods of inactivity and the durability to be worn as a standalone layer. Middle layers need to provide levels of durability and comfort that allow for either layering or performance as an outer layer providing protection from the elements. When conditions take a turn for the worse, outer layers need to be warm, waterproof and offer ease of accessibility to calls, shells or any other necessities.
The late waterfowl season will expose a hunter to the harshest of conditions. Start with a heavyweight base layer that exceptionally manages warmth. A middle layer needs to provide core warmth but still be able to function as an outer layer when temperatures are unseasonably warm. Outer layers must be able to withstand water, howling winds and frigid temperatures while still being durable and easy to put on over initial layers.