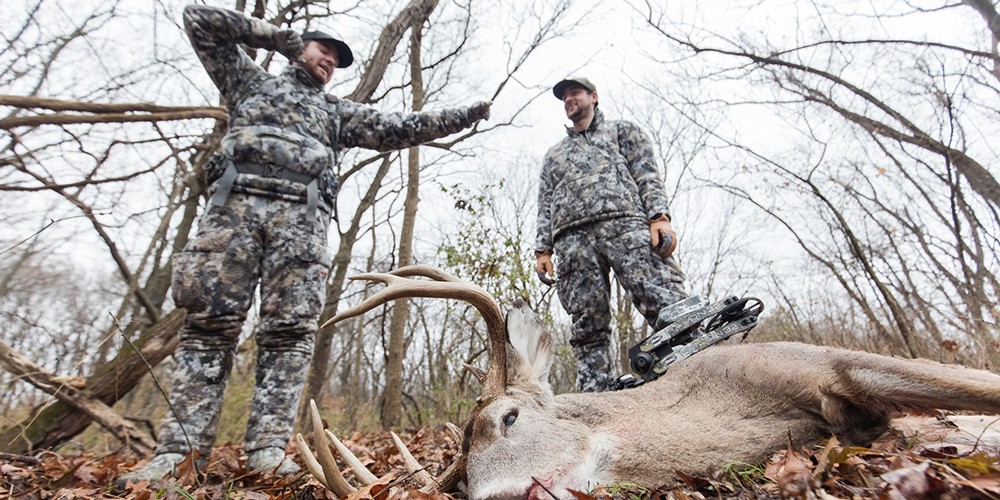 Sometimes the difference between notching your tag and eating tag soup is 5 minutes. Battling the elements and remaining patient can pay off in big ways. This is why having a technical clothing system is so crucial when you are headed into the woods. SITKA GEAR incorporates advanced fabrics in their final production such as GORE-TEX®, GORE-TEX INFINIUM™ with WINDSTOPPER® Technology, and PrimaLoft®. These high-tech materials enable hunters to stand up to all weather and connect with their environments in optimal comfort. We partnered with our experts and the team from SITKA GEAR to build a versatile system out of some of our most popular items in our stores. Build your whole system or choose certain pieces to configure your own customized apparel system for this season.
EARLY TO MID-SEASON LAYERING
Versatility is key for an early to mid-season whitetail system. Maximum performance is needed from high temperatures with leaves on the trees all the way to chilly mornings in the rut. Base layers provide a moisture management system that inhibits bacteria growth for odor control but has the necessary durability to act as a standalone outerwear piece during periods of high temperature. A middle layer must keep odor control in mind yet allow for unrestricted range of motion all while providing protection from the elements. Outer layers need to be quiet for close encounters and provide protection from wind, rain or anything else mother nature throws at it.
Managing warmth during the most extreme and frigid conditions is a must for late season systems. Sound is highly amplified at this time, so the system must be quiet for that moment of truth. The base layer needs to offer superior moisture control regulate odor and body temperature. A middle layer needs to work in unison with the base to minimize odor and withstand the elements on walks to and from the stand. Lastly, the outer layer needs to be whisper quiet, provide warmth and wind resistance but also be packable.