Skiing & Snowboarding Accessories Guide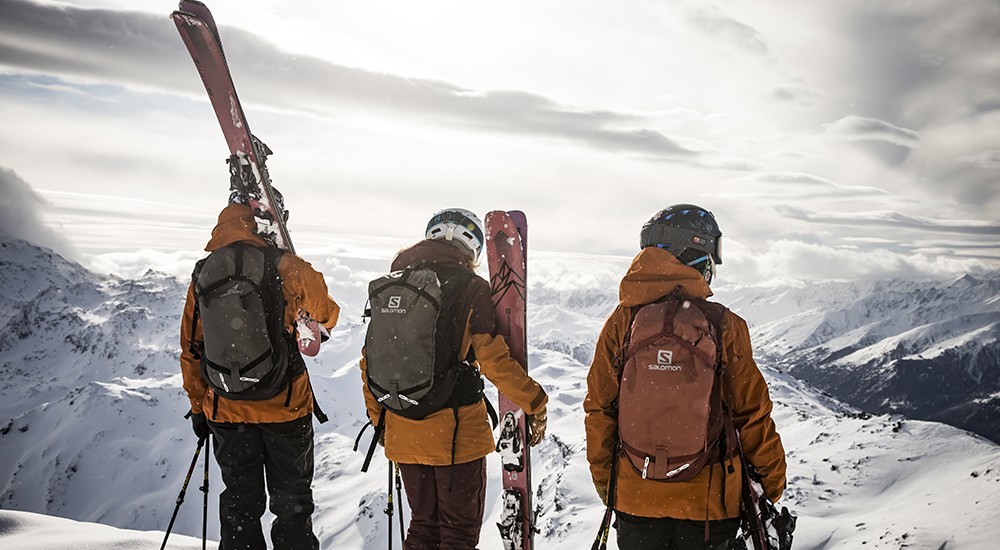 You have your board, skis, boots, bindings, and clothing—now it's time to make sure you have the perfect skiing or snowboarding accessories for the slopes. It's important to make sure you choose high-quality accessories that fit correctly and protect you from the elements. Modern skiing and snowboarding accessories are constructed with innovative technologies and tech features that perform on the slopes. Our guide will help you learn exactly what to look for in goggles and helmets so you stay comfortable and safe while skiing or snowboarding.
Helmets are the most essential skiing and snowboarding accessory. Whether you're a beginner or a seasoned veteran in the sport, wearing a helmet is a must. Helmets provide necessary protection and extra warmth while you're reaching high speeds, approaching obstacles, executing jumps and tricks, or even encountering unexpected terrain. Choose a helmet that fits comfortably and securely, and look for durable materials and technical features that will help you perform with confidence on the slopes.
In-Mold Helmets feature a molded combination of a thin, hard plastic outer shell and a shock-absorbing EPS (expanded polystyrene) liner. This helmet is designed to collapse on impact, softening the blow and creating less rebound. In-mold helmets are also much lighter in construction than their counterparts, making them a popular option for most winter sports athletes.
Hard Shell Helmets are ultra-durable, making them one of the safest options and a great choice for beginners who lack confidence or skill on the slopes. With these snowboarding and skiing helmets, a hard ABS plastic shell is bonded to EPS foam. Because of their construction, hard shell helmets are usually heavier and offer less ventilation than in-mold helmets.
Hybrid Helmets combine the best features of hard shell and in-mold helmets. With this helmet type, the hard ABS plastic is only placed in strategic, high-impact zones, and the lower section is made of in-mold material. Hybrid helmets provide durable protection on impact without too much bulk.
How to Choose the Right Helmet Size
Measure Your Head Circumference.

Use a sewing tape measure to find the circumference of your head in centimeters. Wrap it all the way around your head just about an inch above your ears and eyebrows.

Consult Your Helmet's Size Chart.

Most manufacturers will have a size chart or scale indicating which size your helmet should be based on your head circumference.

Try The Helmet On.

Once you've chosen your helmet, put it on. It should feel snug all the way around your head so it doesn't shift out of place easily. Extra space between your helmet and head can be dangerous on the slopes. Giving your head a shake is another good indicator of fit—if the helmet moves on its own when you shake your head, it's too big.
Fit Note: Keep in mind that you will be wearing your helmet for an extended period of time so it's not good for your helmet to be too snug. You shouldn't feel squeezed on any point of your head.
Pro Tip: Neck gaiters and balaclavas are great accessories for skiing and snowboarding. Lightweight neck gaiters can help block the wind in mild weather, and full-face balaclavas and thermal neck gaiters can offer plenty of coverage and protection for your ears and face in extreme weather. While many options are thin enough to easily tuck into your jacket or helmet, it's important to keep in mind that any face covering you tuck under your helmet or goggles should fit seamlessly without compromising the fit.
When You Should Replace Your Skiing or Snowboarding Helmet
Most skiing and snowboarding helmets are designed to withstand one big impact. After a significant impact, the helmet needs to be replaced. If the hard foam interior collapses or cracks, this is an indicator that your helmet is no longer safe. Helmets with EPP (expanded polypropylene) liners can withstand multiple impacts but require close inspection with every use to ensure all components are intact. Regardless of type, experts recommend replacing your skiing and snowboarding helmets every 3 to 5 years due to the natural breakdown of materials.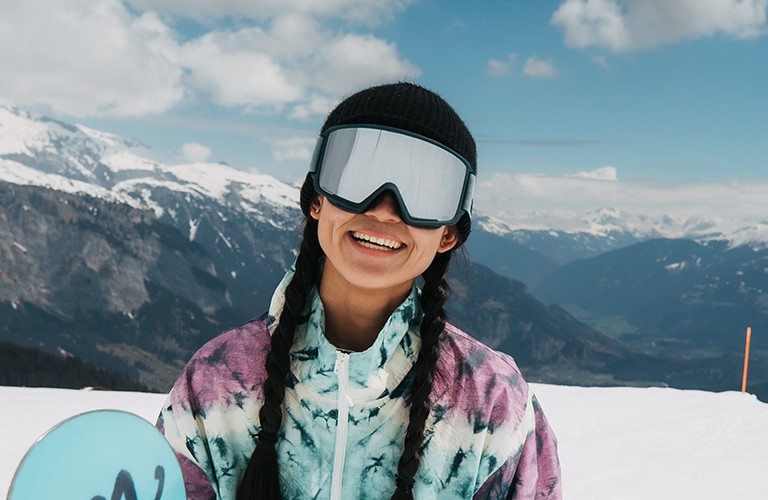 Goggles are necessary when you're skiing or snowboarding downhill at high speeds. Snow goggles protect your eyes from irritants and hazards like snow, branches, UV rays, and harsh wind. When choosing the right goggles for skiing or snowboarding, it can be overwhelming trying to understand what to look for. Most snow goggles come in a variety of fits and sizes and offer different lens colors and types. It's important to choose a pair of goggles that fits comfortably and securely for a complete seal so wind and debris don't get in. It's also good to look for features like an adjustable strap or flex technology so your goggles can adjust to your face for the perfect fit.
Fit Note: Your goggle strap should fit comfortably over your helmet, and there should be no gap between your helmet and the top of your goggles. If you would like to wear your goggle strap under your helmet for style, make sure it doesn't compromise the fit of your helmet.
One of the most important choices you can make about your skiing or snowboarding goggles is the lens type and color. Many skiing and snowboarding goggles give you the ability to use interchangeable lenses so you can have multiple lenses in your collection and choose the right type for each day's weather conditions. Consider your riding conditions and choose the appropriate color and VLT (visible light transmission), or percentage of light that passes through. Since manufacturers vary, most goggles specify which conditions their lenses perform best in, but the chart below provides a rough summary of the industry standard.
| Weather Conditions | VLT | Goggle Lens Color |
| --- | --- | --- |
| Bright/Sunny | < 25% | Gray/Red/Black |
| Partly Cloudy/Partly Sunny | 25-50% | Blue/Green/Red |
| Overcast/Cloudy/Low-Light | 50+% | Yellow/Gold/Copper/Amber |
With the help of this guide, you can get to the fun part of choosing the perfect skiing and snowboarding accessories for you so you're ready to hit the slopes. Understanding what features are essential and what features are at the top of your wish list will help guide you to find the perfect helmets and goggles.