Snowshoeing for Beginners
Although winter may not be everyone's favorite season, many people look forward to freezing temperatures and the first snowfall so they're able to pick up their favorite winter hobbies again. Snowshoeing is one winter hobby you may be interested in trying this year, but perhaps you're not sure where to start. From the top reasons why people snowshoe to what to wear snowshoeing, read on to learn all about the basics of snowshoeing for beginners.
Top Reasons for Snowshoeing
If you haven't been out snowshoeing before, you may wonder why people would like to spend their time outdoors in the cold weather.
One main reason people enjoy snowshoeing is because it's good exercise, yet it is low-impact so people of all ages can participate.

Socializing in nature is another reason why people enjoy snowshoeing. Since purchasing or renting snowshoes and poles is relatively inexpensive, you're able to include the whole family or a group of friends.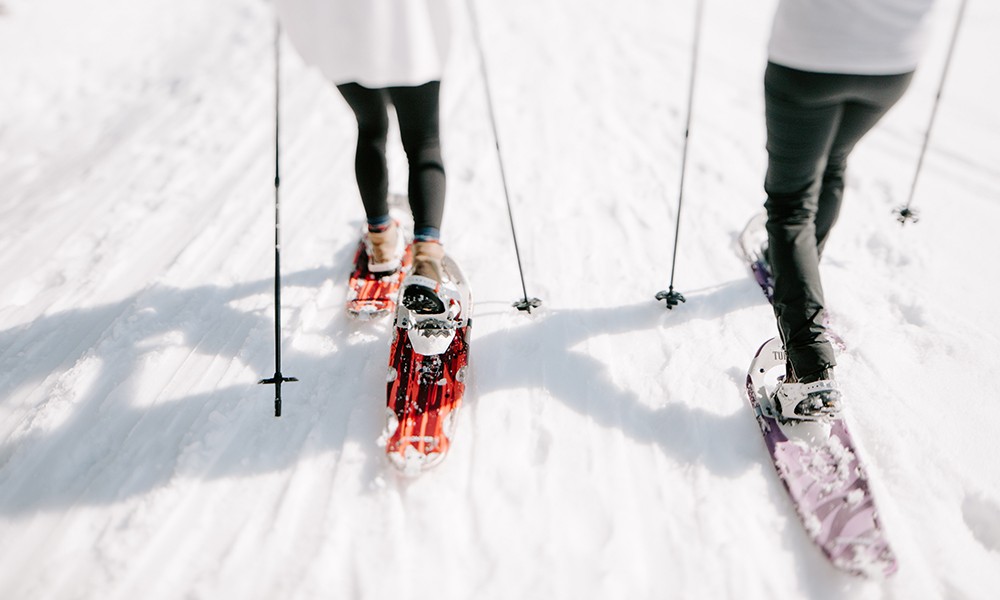 To make sure you have a successful experience snowshoeing, you'll want to find the right size and type of snowshoes. Snowshoe sizing is based on weight recommendations so using the chart below will help you determine the size of snowshoe you should get. In addition to finding the proper size based on weight, there are three additional factors to think about when looking for a pair of snowshoes. First, pay attention to the gender sizing as women's snowshoes offer a narrower fit. Also, it's important to remember that the weight range recommendation includes both your body weight and any gear you plan on carrying while snowshoeing. Last, if you plan on snowshoeing mostly in powder or fresh snow, you should choose a bigger size for more surface area to maintain floatation.
Men's Snowshoes Size Chart
| Weight Range | Size |
| --- | --- |
| 120—200 lbs. | 25" M |
| 170—250 lbs. | 30" M |
| 220—300 lbs. | 36" M |
Women's Snowshoe Size Chart
| Weight Range | Size |
| --- | --- |
| 80—150 lbs. | 21" W |
| 120—200 lbs. | 25" W |
| 170—250 lbs. | 30" W |
Kids' Snowshoe Size Chart
| Weight Range | Size |
| --- | --- |
| 25—100 lbs. | 20" & under |
Once you know your ideal size of snowshoes, you'll want to think about the type of terrain you plan on exploring. There are three main types of snowshoes—flat, rolling, and mountain.
Flat Terrain Snowshoes:

This type of snowshoe is a great choice for those new to snowshoeing. Most flat terrain snowshoes have easy-to-use bindings, are incredibly lightweight, and provide moderate traction. If your snowshoeing adventures take you on mellow trails, through the forest, or around the park, flat terrain snowshoes are a perfect choice.

Rolling Terrain Snowshoes:

These snowshoes are ideal for those outdoor enthusiasts who have a bit more experience snowshoeing and would like to take day trips exploring on or off the trails. Like flat terrain snowshoes, these are lightweight and are easy to take on and off. The main difference is that rolling terrain snowshoes provide better traction and grip thanks to the more aggressive tread.

Mountain Terrain Snowshoes:

This type of snowshoe features aggressive traction, advanced binding systems, and a heel lift in order to tackle steep, icy mountain slopes. Mountain terrain snowshoes are ideal for intermediate to advanced outdoor enthusiasts.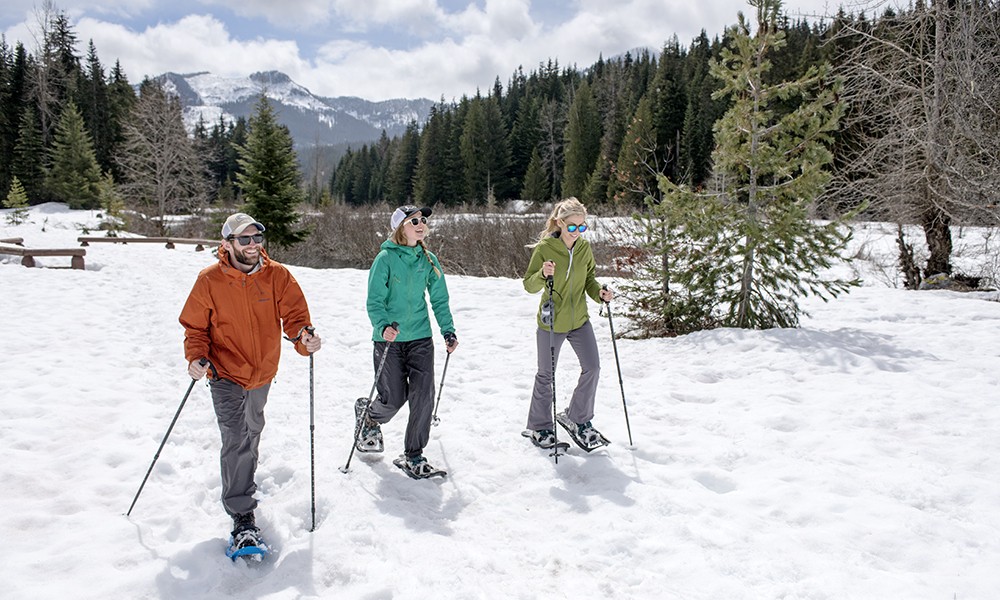 When doing any outdoor activity during winter, you'll want to make sure you wear moisture-wicking layers and avoid cotton to stay dry, warm, and comfortable. It's best to start with a lightweight or midweight base layer made from wool or synthetics. If you're wondering which weight or type of base layer you should get, check out our blog How to Choose a Base Layer for more information. Next, you'll want to wear an outer layer like a winter jacket to block the wind yet allow for ventilation. To finish off your layers, make sure to pack a hat, multiple pairs of mittens or gloves, and a neck gaiter for added protection.
Also, you'll want to make sure you wear thick socks and waterproof winter boots so your feet stay dry and warm throughout your snowshoeing adventure. A second way to keep your feet warm and dry, would be investing in a pair of snowshoe gaiters. Snowshoe gaiters are worn over your boots to help prevent the interior of your boots and pants from filling up with snow. For more stability while snowshoeing, we strongly recommend getting a pair of snowshoe poles.
For more tips on getting the best snowshoeing gear or how to snowshoe, stop by your local SCHEELS store to speak with an expert.