How to Choose a Bike Rack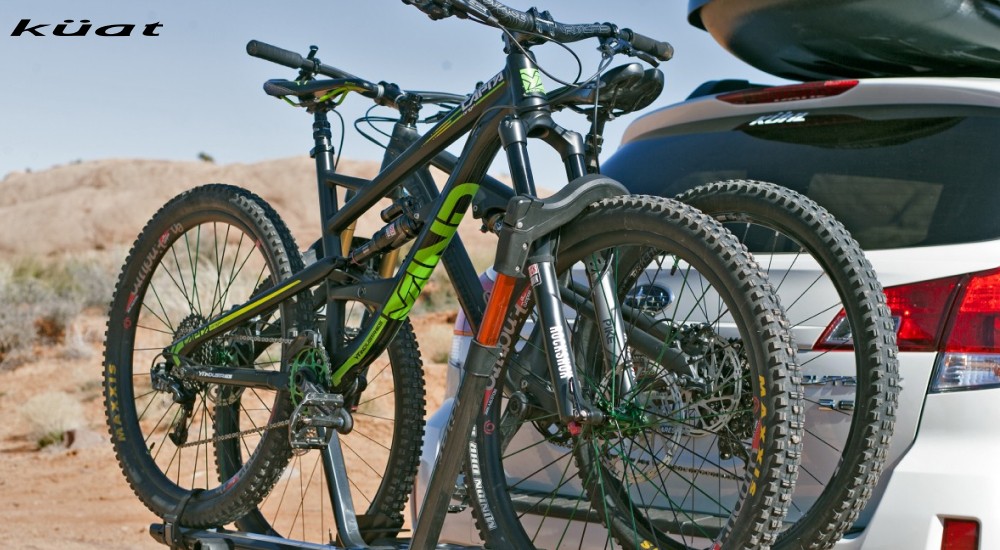 Biking the trails is a fun way to spend time outdoors alone or with friends and family, but transporting your bike or multiple bikes can be challenging, especially if you only have a car. Using a high-quality and reliable bike rack is the best way to transport them to the trailhead easily and safely. Before choosing a bike rack, you'll want to consider a few questions and understand the types of bike racks available so that you're able to buy the ideal one to match your needs.
Bike Rack Features to Consider
Before understanding what each type of bike rack has to offer, it's important to consider the following to help you determine which one will fit your needs.
Capacity:

How many bikes do you normally need to haul? Keeping this question in mind will help you easily narrow down your options.

Trip Length:

Any type of bike rack can be used for extended trips; however, some types create more

resistance

than others and may affect your vehicle's gas mileage.

Storage:

Since you won't leave most bike racks attached to your car, it's important that you have plenty of storage space when it's not in use. Some easily fold down to help save space.

Vehicle Type:

Check to see if your vehicle has a hitch and if so make note of the size. If you don't have a hitch, then you can already rule out looking at any hitch bike racks and should look at roof or trunk racks.

Other Uses:

If you're an active person, you may have other sporting equipment like kayaks or snowboards to haul. Some bike racks offer the versatility of hauling other equipment too.
There are three types of bike racks: trunk, hitch, and roof with each providing slightly different features and functions to match your vehicle and needs.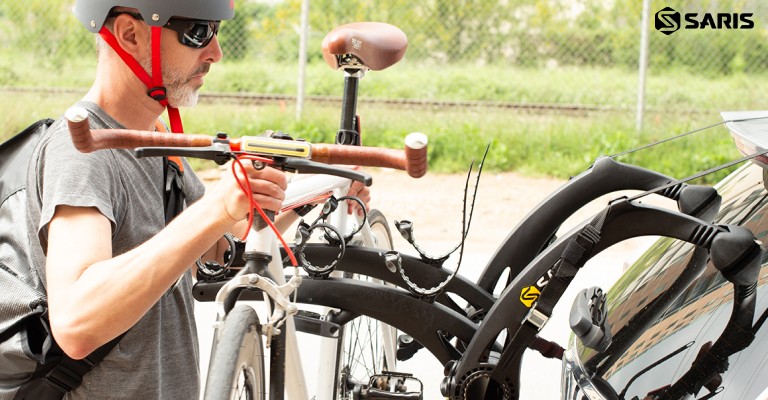 A trunk bike rack will attach to the back of your car or hatchback for easy loading and unloading and typically holds between one and three bikes. This type of bike rack easily adjusts so you're able to use it on a wide range of vehicles, and they often fold down for more compact storage and portability. A few drawbacks to consider with a trunk bike rack include preventing access to your trunk, reduced visibility out of the back window, and needing to buy bike rack accessories like straps to keep the bikes from swaying or a frame adapter bar to attach women's bikes.
Highlights:
Capacity: 1 to 3 bike

Ideal For: Occasional use

Fits a range of vehicles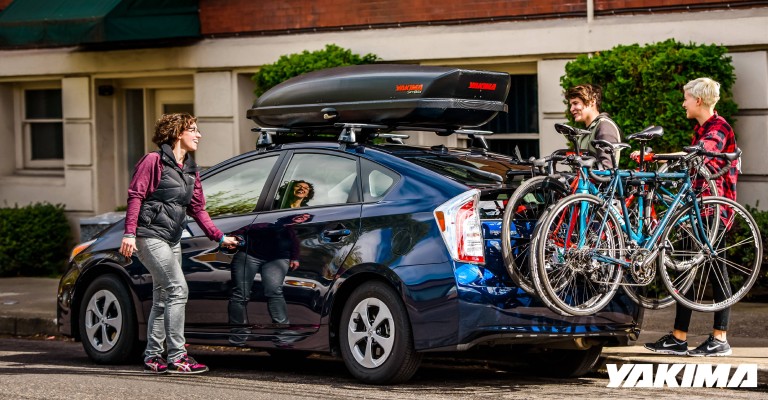 If your vehicle has a hitch, a hitch bike rack is a great choice for you. There are three different styles of hitch bike racks to consider:
Mast: The bikes will hang from their top bar with a capacity of up to five bikes. You may need to invest in a frame adapter bar if you're hauling women's bikes.

Tray: The bikes are secured by their wheels for greater stability during transport. This style of hitch bike rack usually only carries two bikes and tends to be the most expensive choice.

Vertical: Your bikes will hang vertically secured by the handlebars. This style allows for hauling up to six bikes at one time.
With a hitch bike rack, installation is quick and you'll enjoy easy loading and unloading. This type of bike rack will impede access to your trunk unless you choose one that sways or tilts away from your vehicle (this feature makes the rack more expensive).
Highlights:
Capacity: Up to 6

Ideal For: Frequent use, families

Must have a hitch that's compatible with the bike rack

Some can be used for hauling other sporting equipment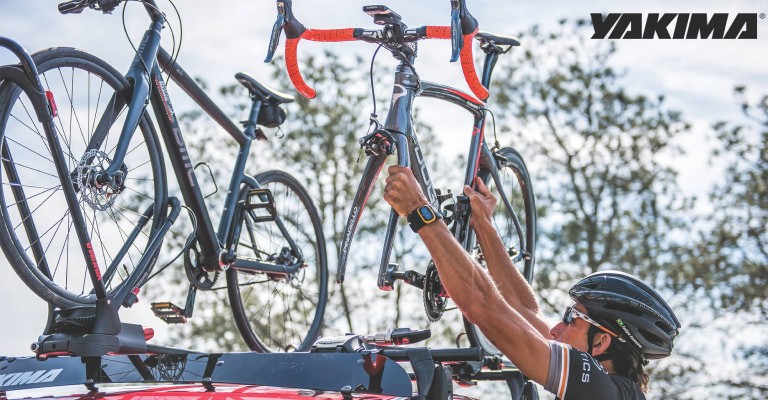 A roof bike rack is by far the most stable, secure, and versatile type available, yet is often the most expensive. This type of bike rack attaches to the top of your car so that you have easy access to your trunk anytime, while the design allows you to customize it in order to carry more than just your bikes such as kayaks, snowboards, and cargo boxes. With a roof bike rack, your back window won't be blocked keeping your vision clear while driving. There are a few drawbacks to using a roof bike rack including the challenge of loading and unloading, increased wind resistance causing lower gas mileage, and the added height which can limit parking options.
Highlights:
Capacity: Up to 4

Ideal For: Those who haul a variety of outdoor gear

Back window view and trunk access clear at all times

Requires the combination of a roof rack and bike mount attachment
When choosing a bike rack, keep in mind how many bikes you want to carry, how frequently you'll use it, and what type of bike rack is compatible with your vehicle. With the proper one, you'll be ready for any upcoming adventure. For more help on choosing a bike rack, stop into your local SCHEELS to speak with an expert today.