Cooking outdoors is a great way to enjoy the warm weather while crafting delicious meals for friends and family. But with so many types of grills available, it can be hard to know which grill is best for you. Learn more about the different types of grills and the benefits of each type so you can pick the right grill for your next cookout!
SCHEELS offers five types of grills: propane grills, charcoal grills, wood pellet grills, kamado grills, and hibachi grills (griddles). While you can cook great meals on any grill, each grill type has characteristics that make them better suited for certain cooking methods or different situations. For example, gas and propane grills are easy to start and control, making them the best option for beginners, while pellet grills give a great smoky flavor during low-and-slow cooking.
We've broken down each grill type and highlighted their strengths and shortcomings so you can find the best grill for your next backyard BBQ, tailgate, or home-cooked meal!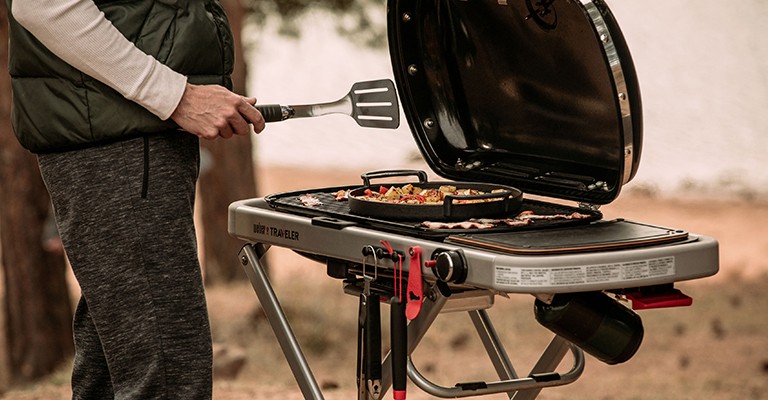 Gas grills are powered by some type of gas, usually propane or natural gas. Most modern gas grills have an electric starter and are very easy to light. They also have dials that make it incredibly easy to set and adjust your grill temp. Gas grills can be used for a variety of cooking methods since you can cook at a variety of temperatures with both direct and indirect heat simply by adjusting the burners. Several gas grills are designed to work with small propane canisters, making them incredibly portable and easy to use at the campground, beach, or a tailgate.
While you'll still get good char and grill marks, cooking with a gas grill doesn't infuse a lot of added flavor like a charcoal or pellet grill. Despite this, they are easy to use and allow you to cook with a variety of methods. This makes them a great choice for new grillers or those who want to grill with less hassle.
Pros:

Easy to use, Portable models available

Cons:

Don't add a lot of grilled flavor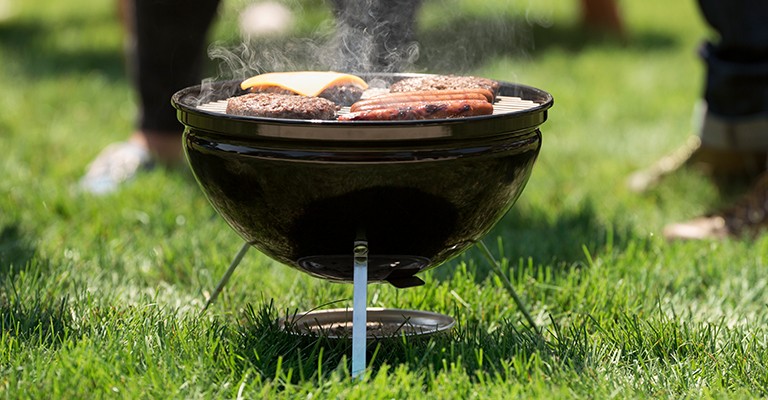 Charcoal grills require you to light charcoal to create a small fire. You can control the heat and cook by leaving some areas without charcoal, giving you one side for fast searing and another for finishing your cooking. Charcoal is less prone to flare-ups and creates more smoke than gas, giving your food a classic grilled flavor.
Charcoal grills are also very portable since all you'll need is the grill, some charcoal, and a match to light the charcoal. However, charcoal can sometimes be hard to light. It's also harder to control the heat on a charcoal grill. Charcoal grills are a great option for those looking to add grilled flavor to their food with a more portable and less expensive grill.
Pros:

Portable, Add classic grilled flavor

Cons:

Harder to control heat, Can be messy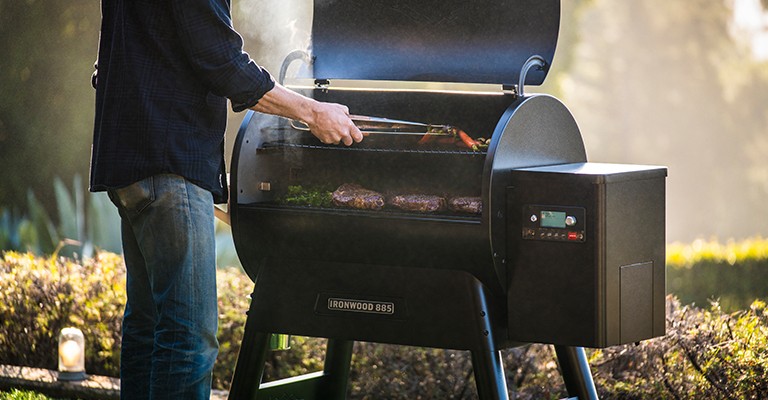 Pellet grills, like the popular Traeger Pellet Grills and Pit Boss grills, use specialized wood pellets to create heat. Wood pellet grills create more smoke in the cooking process, giving food a delicious smoky flavor. The pellets are available in a variety of flavors, like oak, apple, and cherry, which give different notes and tastes to food.
Pellet grills are also very versatile and offer a wide range of heat settings. High-heat settings allow you to roast chicken and veggies, sear steaks, or even bake bread, while lower heat settings are perfect for low-and-slow smoking for brisket and smoked salmon. Pellet grills must be plugged into an outlet work, so they're a better option for use at home or the cabin where you'll have reliable power. Pellet grills are great for giving your food an extra punch of wood-fired flavor, especially if you're interested in making brisket, pork shoulder, and other proteins that benefit from low-and-slow cooking.
Pros:

Smoky flavor, Versatile cooking

Cons:

Must be plugged in, Less portable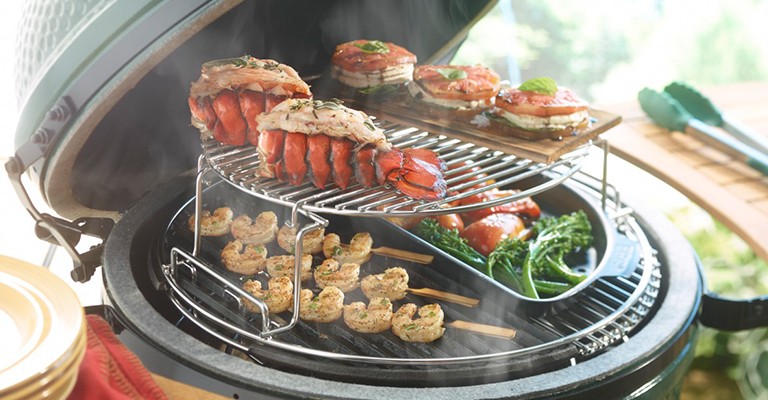 Ceramic grills, like the Big Green Egg or Kamado Joe, are egg-shaped grills that use wood lump charcoal to cook. Using lump charcoal as fuel gives your food a classic grilled flavor with an added smoky taste. The ceramic lid keeps smoke and moisture in, giving your food added smokiness compared to a traditional charcoal grill along with more consistent heat and moisture in the grill.
Because of their material, ceramic grills are heavier than other grills and better suited to use at home than a tailgate or day at the beach. If you want to take the flavor of a ceramic grill on the go, there are portable options available like the Mini Big Green Egg or the Kamado Joe Jr. Ceramic grills are a good option for home cooks looking to create smoky meals with a more traditional grilled flavor.
Pros:

Classic grilled flavor with added smokiness, Keeps moisture in food

Cons:

Heavy and not portable, Harder to control temps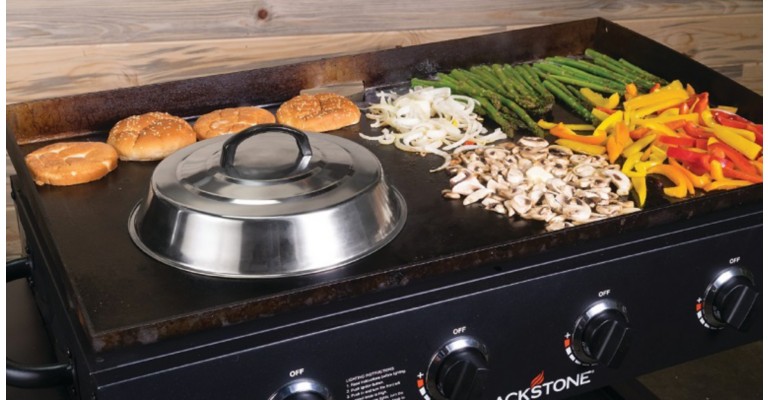 Most people are familiar with griddles for cooking breakfast, but they can also be used as a hibachi grill like those in Japanese restaurants. Using a hibachi grill or griddle gives you incredible versatility: you can fry up bacon, eggs, and pancakes for breakfast, cook diner-style burgers and hotdogs for lunch, or cook steaks, fried rice, and hibachi veggies for dinner. Most griddles have a large cooking area, making it easy to serve up a full meal for everyone at your cookout in record time.
Griddles are also easier to clean since there's no grill grates for food to fall into. Despite their versatility, griddles cook with high, direct heat, so you won't be able to cook cuts like brisket and prime rib that require a low, slow, and controlled cook. Griddles are a great option for larger gatherings, since you'll have plenty of room to cook large batches of protein and sides at the same time.
Pros:

Versatile, Easy to clean

Cons:

Only cook via direct heat
Whether you're new to cooking outdoors or a seasoned king of the grill, a grill or griddle is a great way to create delicious meals and memories the whole family will love. If you have more questions about which grill is right for you and your favorite ways to cook, stop by your local SCHEELS and talk to one of our Grilling & Food Prep Experts!