Under Armour Spotlight Football Glove Review
"Great fit. I perform better on the field." - Valued Customer
For skill position players, the Under Armour® Spotlight Receiver Glove will match your needs on the football field this fall. Right away, you'll notice the sleek, streamlined design of these football gloves so you won't have any distractions during the game. Once you put on the football gloves, you'll notice the incredible compression and tacky grip. Both these features provide a comfortable fit while catching the football in practice or during a big game. With the Under Armour® HeatGear® technology, practicing in the heat is no problem as this material wicks moisture away from the skin for a more comfortable feel. Hustle, sweat, and catch in your next football game with the Under Armour® Spotlight Receiver Glove.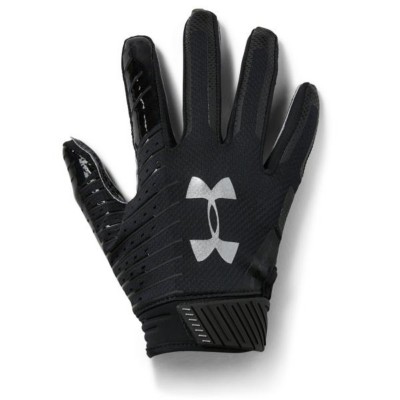 Top Reasons to Buy:
UA® GlueGrip
Ventilated cuff
Streamline, sleek look
UA® HeatGear® technology

Features to Improve:
Finger width
Thicker material
Less ventilation on palm
The impressive Under Armour® HeatGear® Technology helps athletes perform to their highest potential despite warm weather conditions. The HeatGear® technology allows the material to pull heat away from the skin and wicks sweat to prevent your hand from slipping. Under Armour® realized that their glove grip needed improvements. Now, the strategic diamond grip pattern maximizes opportunities to catch and grip the football, even one-handed. With this glove, the grip starts sticky and stays sticky throughout the life of the football glove.
Even though these Under Armour® football gloves don't accommodate for wider fingers, the HeatGear® technology, GlueGrip, sleek look, and ventilated cuff all help skill position players handle the ball with extreme precision. Get ready for football season with these Under Armour® Spotlight Receiver Football Gloves. Need help with sizing and fit? The football experts at SCHEELS are dedicated to making your season a success.
Shop the Men's and Youth football gloves and get ready for your season.