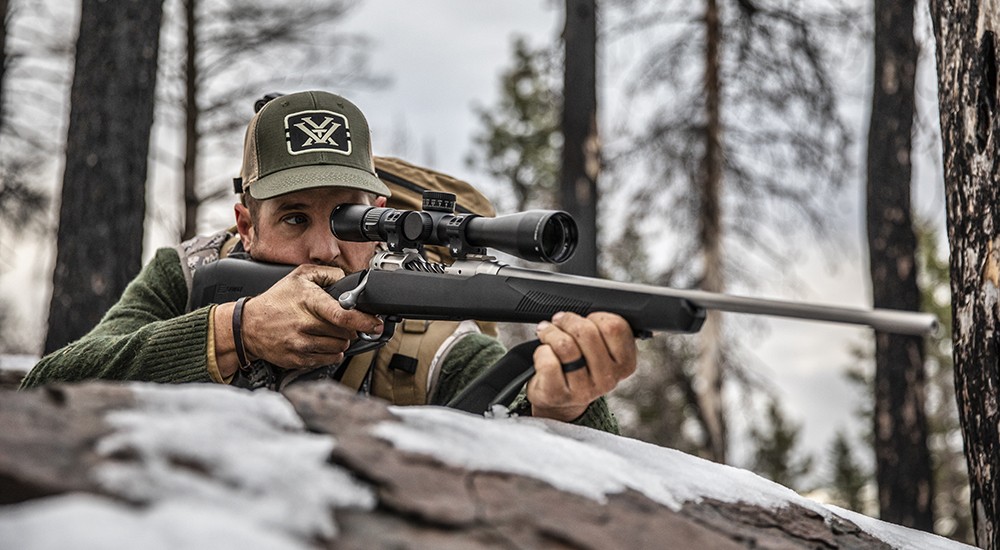 Vortex Optics® is dedicated to producing optics that excel from mountain peaks to battlefields and from heavy timber to wide open spaces. Each Vortex® product is designed to push the limits of what's possible and provide hunters and shooters a reliable and accurate point of aim. This is especially the case with Vortex® long-range scopes. Designed for precision aim from close-quarters to long-distance engagements, Vortex® long-range scopes will help you hit targets both near and far. Learn more about our top Vortex® scopes for long-range: the Strike Eagle® FFP, the Viper PST® Gen II FFP, and the Razor® HD AMG®.
Vortex® Strike Eagle® 5–25x56 FFP Scope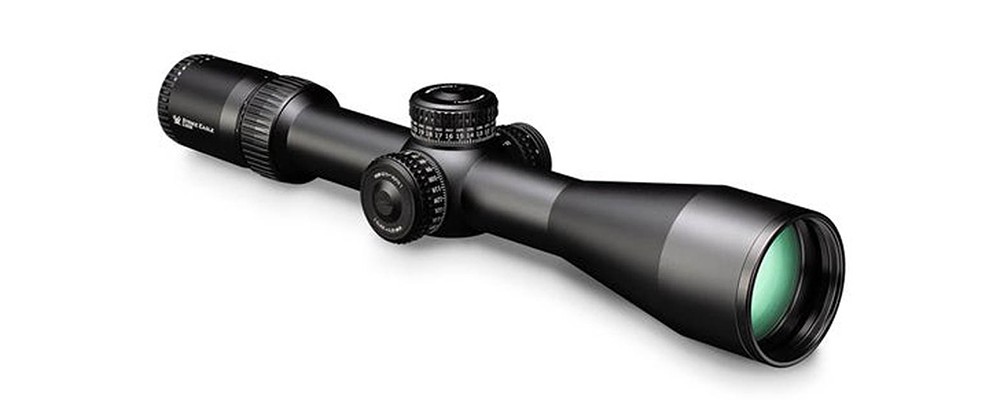 Take your down-range game to the next level with the Strike Eagle® 5–25x56 FFP scope. This versatile scope is ideal for long-range tactical shooting. Like most Vortex® scopes, the Strike Eagle® features fully-multi coated lenses with XDTM lens elements for crisp, clear images and improved color fidelity. This scope also has a durable ArmorTek® coating that protects the exterior lenses from scratches, oil, and dirt.
The Strike Eagle® features a first focal plane illuminated reticle to provide fast, accurate aim in virtually any situation. As a first focal plane reticle, the EBR-7C (Enhanced Battle Reticle) reticle will stay in proportion to the zoomed image, maintaining accurate holdover and ranging corrections at all magnifications. The included throw lever allows long-range shooters to make rapid magnification changes. For added precision and ease-of-adjustment, the Strike Eagle® features innovative tactical locking turrets that provide fast, accurate, and easy-to-read elevation and windage adjustments. A unique locking mechanism prevents accidental turret rotations to keep the scope dialed-in, while a RevStopTM Zero System provides a rock-solid return-to-zero after you've made turret adjustments.
Vortex® Viper® PST Gen II 5–25x50 FFP Scope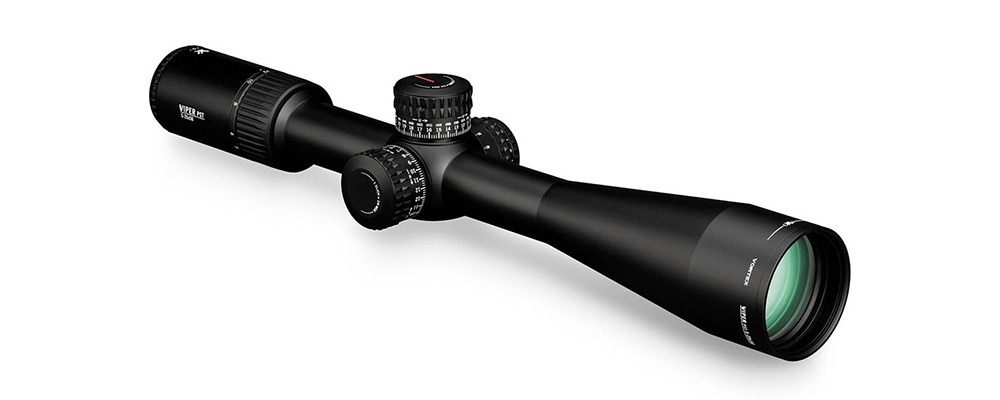 The Vortex® Viper® PST™ Gen II 5–25x50 FFP Scope gives shooters the upper hand in virtually every situation from close-quarters to long-range. XD™ lens elements and XR™ fully multi-coated lenses provide edge-to-edge clarity. Durable aircraft-grade aluminum construction and an ArmorTek® lens coating makes for a long lifetime of accurate aim.
The illuminated first focal plane EBR-7C reticle on the Viper® PST Gen II provides precision aim in any light conditions and accurate holdover and windage estimation across magnification levels. Exposed tactical-style turrets allow for fast, accurate, and easy-read elevation and windage adjustment. For added convenience, a fiber optic radius bar provides a visible and tactile reference point for turret rotations.
The Viper® PST™ Gen II also features the innovative RZR™ (Rapid Zero Return) Zero Stop. This unique feature uses rugged steel components to prevent the turret from dialing-in below the sight-in range. The internal mechanisms of this system also keep the scope free of any foreign materials like sand, dirt, dust, and moisture even when setting the zero-stop position. For improved repeatability, this scope has a precision-force spring system. A precision-glide erector system ensures smooth, clean zoom through all magnification changes.
Vortex® Razor® HD AMG® 6–24x50 FFP Scope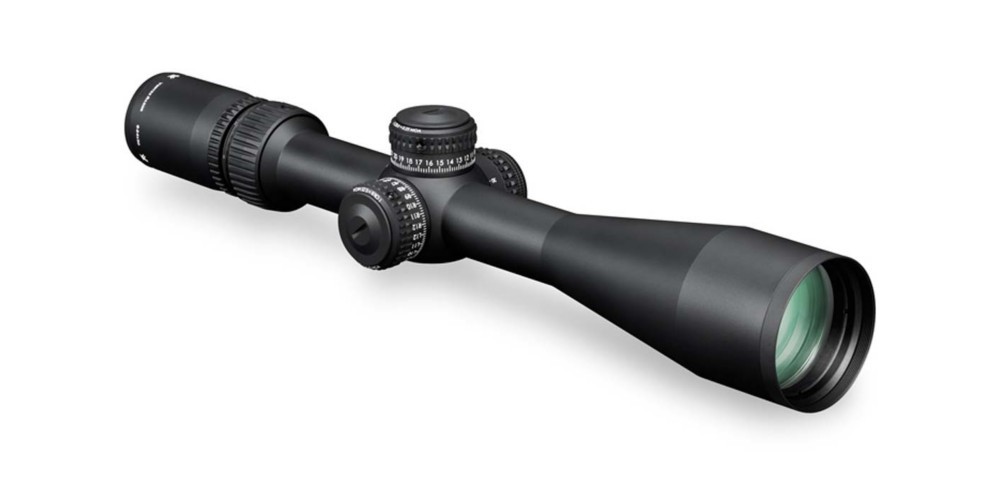 With the highest-end optical system in the Vortex® line, the Vortex® Razor® HD AMG® 6–24x50 FFP Scope is built for any situation from long-range hunting to competitive shooting. An ALO laser alignment system perfectly aligns each lens element to ensure the best image possible. In addition to precision alignment, the Razor® HD AMG® features an AP system with index-matched lenses that provide a color-correct image across the entire visual spectrum. The result is premium clarity and high-definition imaging no matter what the situation calls for.
For versatile and accurate aim, the Vortex® Razor® HD AMG® features an illuminated EBR-7B. This reticle features hashmarked subtension lines for accurate estimation of ranging, holdover, and windage corrections. Plus, the reticle has 11 illumination intensity levels for variable brightness conditions. From open-landscape hunts to tactical situations, the EBR-7B reticle provides hunters and competitive shooters the precise point of aim they need to make their shot.
An L-Tec™ zero stop prevents the elevation from dialing below the sight-in range, while a micro adjust zero setting allows shooters to set the zero between adjustment clicks for optimal accuracy. The scope comes with an L-Tec™ tool that allows you to easily make precision adjustments to the turret. Plus, an erector tube system withstands higher stress than traditional flat springs for long-term durability and a lighter weight. For added convenience, this scope also features a locking diopter eyepiece that allows shooters to set and lock the eyepiece to keep the focus dialed-in.
From long-range hunting to competitive shooting, the Vortex® line of long-range rifle scopes offer precision aim with durable, high-quality construction. Whether you're looking for a tactical long-range scope like the Strike Eagle® 5–25x56 or a more versatile option like the Viper® PST™ Gen II 5–25x50 or the Razor® HD AMG® 6–24x50, Vortex Optics® offers world-class glass to hunters and shooters that will help you make every shot count. To learn more about the entire Vortex® line-up, stop by your local SCHEELS or shop our entire selection of Vortex Optics® online.