The SCHEELS Outfitters Big Game Collection has grown to be one of the most popular hunting clothing systems available at SCHEELS. We launched the Big Game Collection in August of 2018 with 12 garments, all designed for versatility, stealth and warmth. The garments featured a camouflage pattern that we developed in partnership with Veil Camo called West River. Within the first six months of the launch we were overwhelmed with the support and feedback from our customers and associates on the clothing selection and camouflage pattern.
"We developed this program to support the high demand we had been receiving from our associates and passionate SCHEELS customers. Their persistence pushed us into developing the 2018 line, and after a successful launch we decided that we wanted to continue the same approach throughout the development of this collection. For 2019 we knew that the demand for a greener pattern, more durable textiles, and a handful of new pieces were on the drawing board. We are very excited about what we were able to develop in partnership with Veil - A brand new camouflage pattern called West River Verdant, a lightweight Musselshell hoodie and pant, a brand new softshell series, and introduced in the spring of 2019, the Ram River Puffy Jacket."
-Brandon Stone | Hunting Clothing Buyer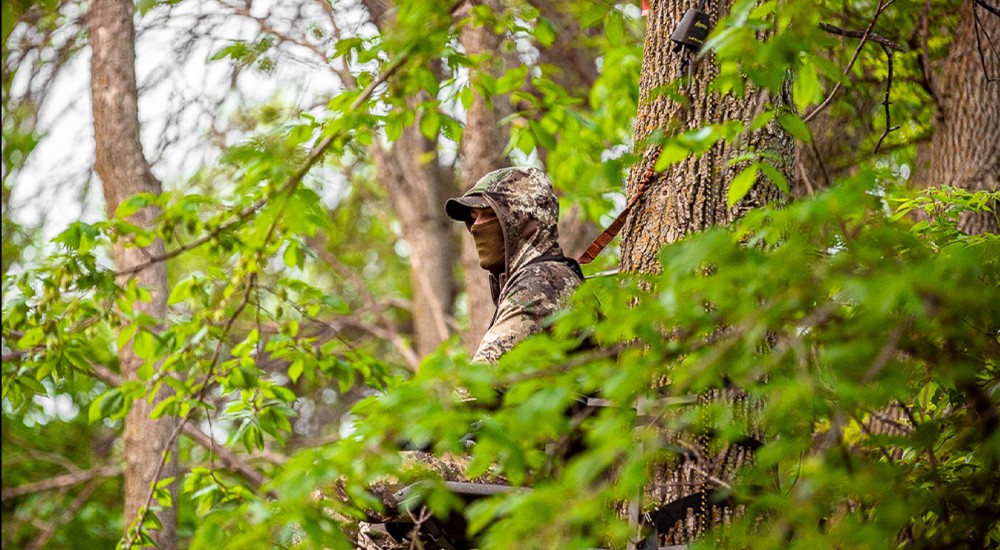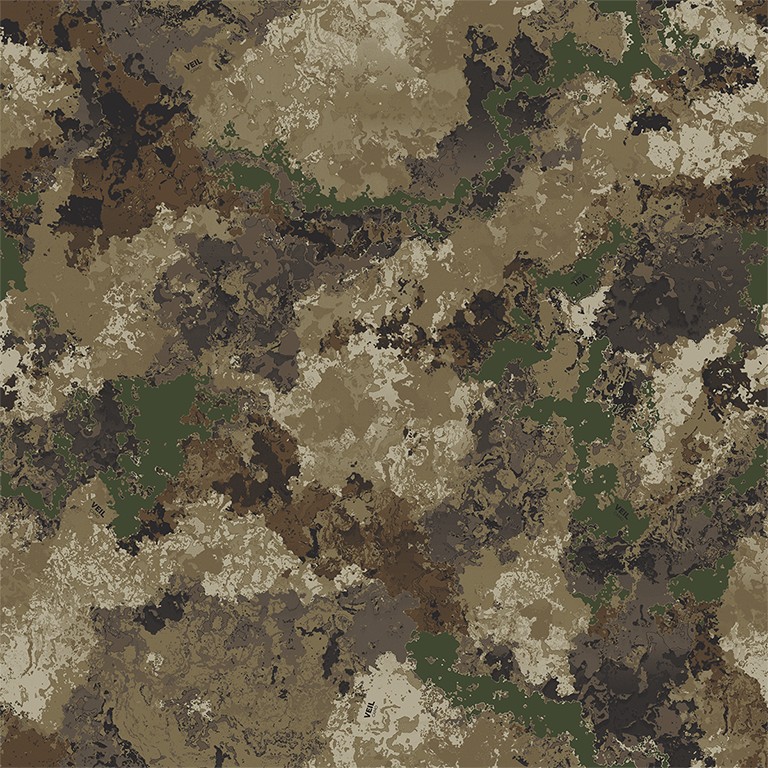 VERDANT
Definition: ver·dant (of countryside) green with grass or other rich vegetation.
We developed the NEW West River Verdant pattern to be our most versatile year round camouflage pattern. By the Spring of 2020, we will have 28 stores in 13 states from Wisconsin down to Texas and west to Nevada. We wanted to develop a clothing system that worked in every scenario and for every hunter. What we came up with was a complementary color palette and apparel collection to the original West River pattern. A tanner, browner and most importantly, greener pattern was born. We combined this pattern with a product collection that features softshell exteriors over the quieter fleece fabrics found in the Antler River and Highwood series.
"Our goal with the Big Game Collection is to develop the most versatile layering system from base layers to outer layers in all of our SCHEELS markets. From chasing elk in September to turkeys in April, the new West River Verdant camouflage pattern paired with our new apparel in the SCHEELS Outfitters Big Game Collection will be your go to clothing system."
-Ramsey Mills | Hunting Clothing Buyer
Next-to-skin base layers are the foundation to any layering system. These garments are designed to efficiently regulate body temperature and manage moisture. The Big Game Collection features 3 weights of 18.5 micron 100% merino wool base layers. These include 170, 230 and 330 gram tops and 230 and 330 gram bottoms.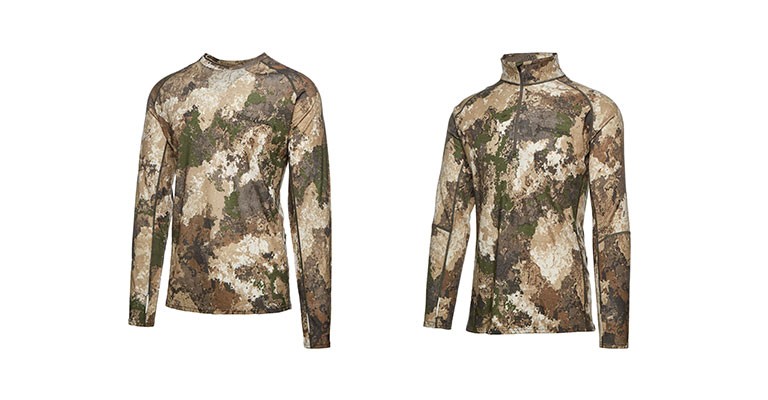 The Musselshell Series was designed to be our most versatile layering system in the Big Game Collection. Featuring a lightweight synthetic blend hoodie, a grid fleece 1/2 zip pullover, and a lightweight pant, the Musselshell series can be worn stand alone or become the foundation of your layering system moving into the late season.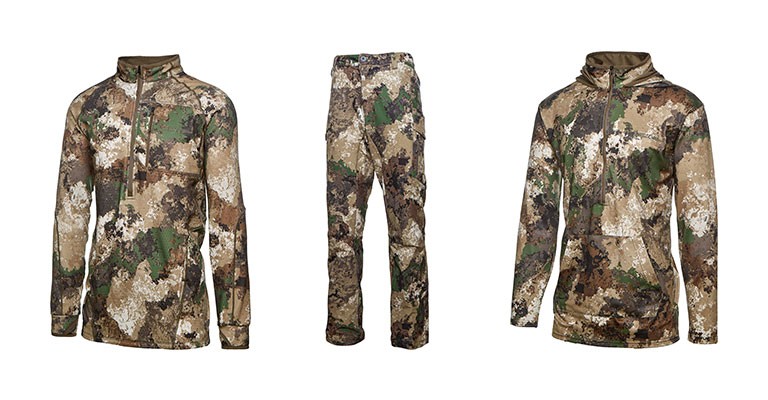 Based on the technology and success of our Antler River Series we developed a softshell version in our new pattern to be our workhorse in the Big Game Collection. The softshell face of the Boundary Series makes this our most versatile outerwear system built to withstand harsh abuse in a variety of conditions.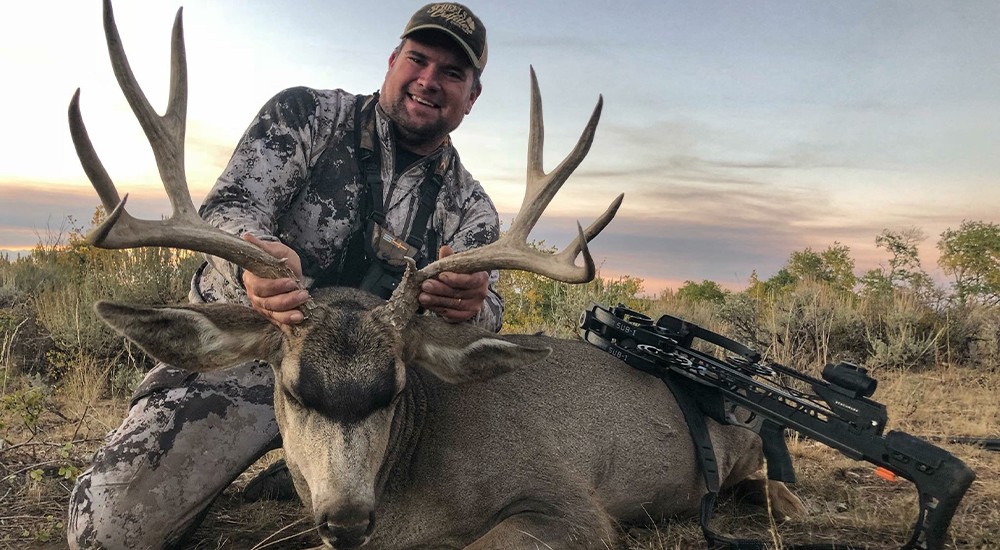 I have been a big fan of the West River Camo assortment in the Scheels Big Game Collection. The layering system allows you to adjust through the day so you can stay comfortable while you exert yourself in changing conditions. The clothing is durable and quiet while allowing full range of motion.
I find that so many camo patterns are just too dark and are designed to look appealing hanging from a rack a few feet away. The West River pattern is light enough where it simply disappears against so many backgrounds whether I am up in a tree or crawling through sage. This camo just gets better with age and the more you wash it, the better it looks. I harvested this mule deer in Wyoming after an exciting spot and stalk hunt where I was able to move fast to get into position where I had a sixty yard shot. When you have to live in your clothes day after day and need your clothing to keep you comfortable enough to keep your head in the game, you only want to wear the best. You want every advantage you can get.
-Jason Mitchell | Jason Mitchell Outdoors | SCHEELS Pro Angler/Hunter
"West River Verdant is new addition to our wildly successful West River camouflage pattern. The Verdant patterns was designed to satisfy the needs of the all-around multi-species outdoorsman – ensuring you're prepared for the spring turkey woods, early season waterfowl hunting, pursuing early season big game and everything in between. You can expect to see our innovative camouflage patterns on a variety of SCHEELS exclusive products from some of your favorite brands including Danner, LaCrosse, ScentLok, Christensen Arms and more!"
-Ben Fleischacker | SCHEELS Product Developer
We look forward to better serving you, our customer. If you have any feedback in regards to our current offering or you are hoping to see specific additions to our collection, please reach out to your local SCHEELS, or send us a message on one of our SCHEELS OUTDOORS social channels on Facebook, Instagram or Youtube!