What to Pack for Backpacking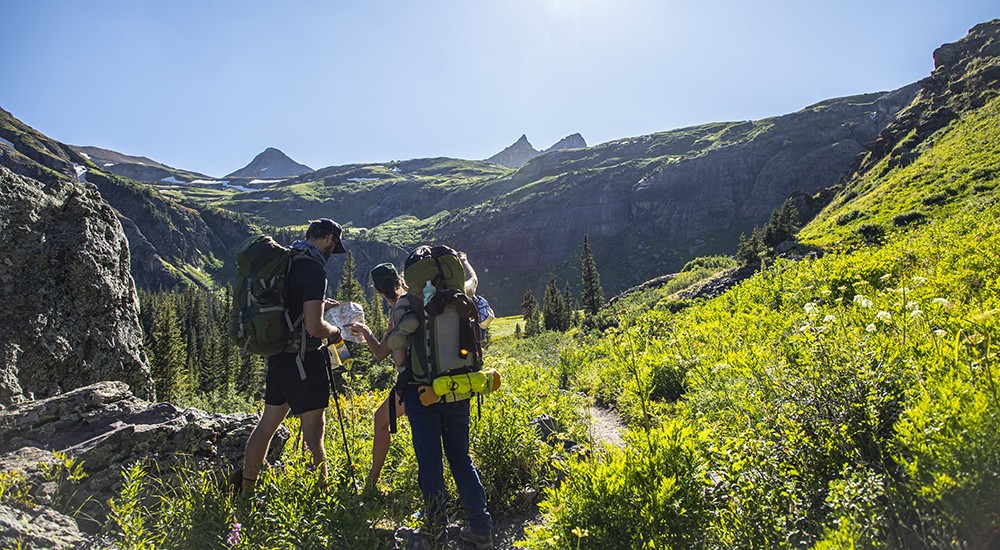 BY ASHLEY BALLENTINE | SCHEELS CAMPING EXPERT
Hiking trails and camping is one of the best ways to enjoy nature's scenery, but it's also important to stay safe while exploring the backcountry. Whether you're planning on backpacking for a weekend or a week, you'll want to make sure that you have the right backpacking gear for the weather and location; however, no matter how long your adventure or the destination, there are several important items to make sure you have packed. Start your backpacking checklist with these top essentials.
Your backpacking pack is the most important piece of backpacking gear because it's attached to your body most of the day. While backpacking, you'll be walking many miles, so comfort is key, especially if you're a beginner to backpacking, hiking, and camping. When selecting the right camping backpack, you'll want to consider three important factors: Capacity, quality, and fit.
Depending on how long your backpacking trip is expected to last, you'll want to find the right type of camping backpack. Choose from a day backpack (15 to 30L), weekend backpack (30 to 60L), or multi-day backpack (60L+). Finding the right capacity ensures that you have enough space to carry all of your backpacking essentials, but you're not bogged down with unnecessary weight.
When looking for a quality camping backpack, pay attention to features like ventilation, easy interior access, number of pockets, padding, and attachment points. Another important camping backpack feature to consider would be a hydration reservoir. Making sure your camping backpack has a hydration reservoir is essential to staying hydrated while on your adventure.
Once you select a high quality backpack, make sure that the fit is right for your torso length. Many camping backpacks come in different sizes such as extra small, small, medium, and large. Selecting the right fitting backpack can be difficult, so make sure to work with one of the trained SCHEELS associates to find the right fit.
When backpacking, it's essential to have a first aid kit with you. You can start with a pre-assembled first aid kit and customize it to best fit the needs of your group. In addition to basic first aid necessities such as bandages and ointments, it's a good idea to have sunscreen, extra batteries for flashlights, and a knife. In order to have fun backpacking, you want to make sure everyone in the group stays safe and healthy.
Water Bottle & Water Filtration System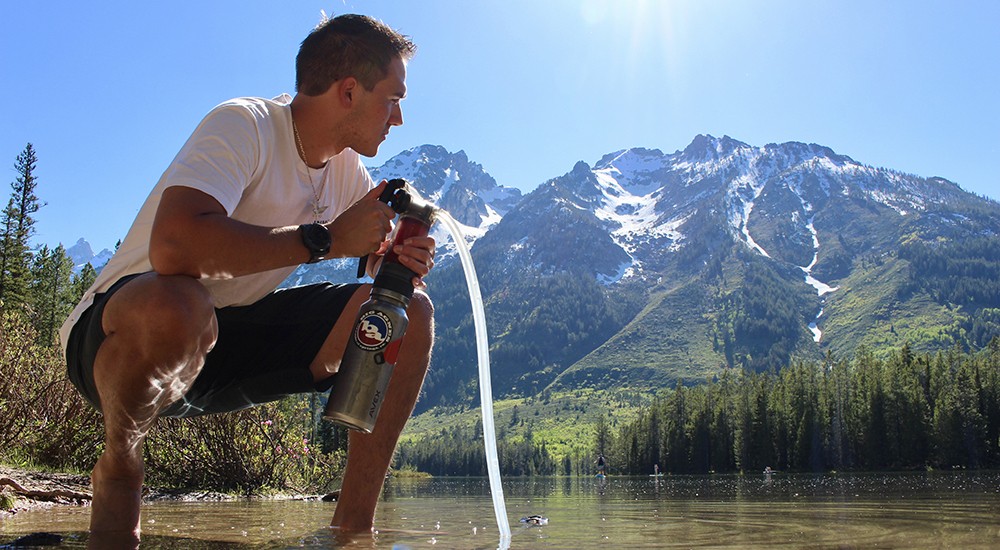 One of the most important parts of any outdoor adventure is staying hydrated. To ensure you stay hydrated, make sure to start your trip with at least a full water bottle. If your camping backpack includes a water reservoir, make sure to fill this up too. Aside from this, you'll also need a method of treating water through a water filtration system. There are three main types of water filters to choose from: Hand pump filters, gravity filters, or water bottles with filters. There are benefits and drawbacks to using each type of water filter, so it's important to speak with an expert at SCHEELS to find the right water filter for backpacking.
Fun Fact: Every liter of water you carry weighs about two pounds!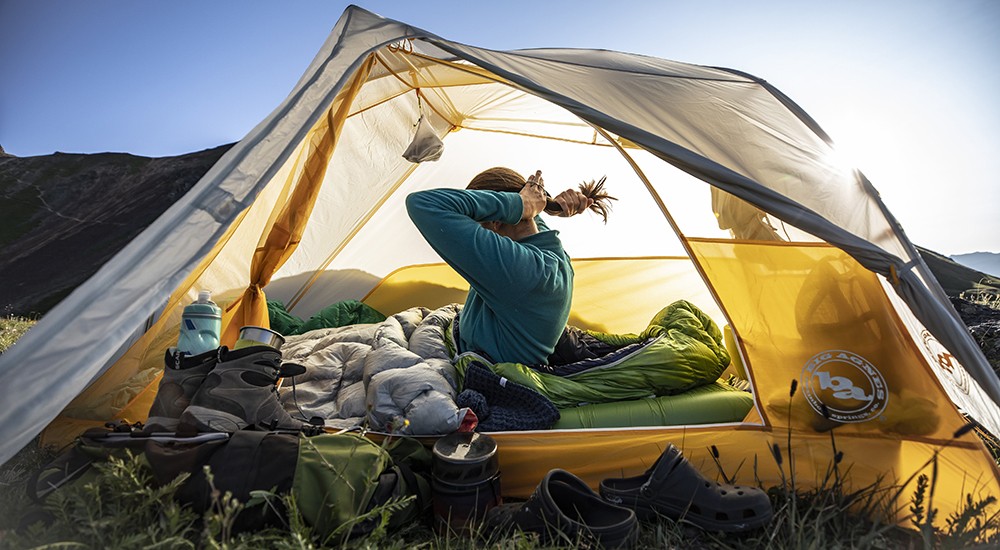 For your home away from home, make sure you find the right backpacking tent. Although backpacking tents are designed to be lighter than an average camping tent, you still want to consider the tent's capacity and protection provided. When looking at the tent's capacity, think about how much space you prefer while sleeping. If you're okay being cozy, follow the recommended capacity of the backpacking tent. If you want a little extra space, look for a backpacking tent that is one-person larger than the number of people backpacking. As for protection from the elements, you want to consider the climate during your backpacking adventure. It's most common to look at a three-season tent, which will protect you from high winds and rain. Also, looking for a tent with a bathtub floor will help keep you and your backpacking gear dry during wet weather.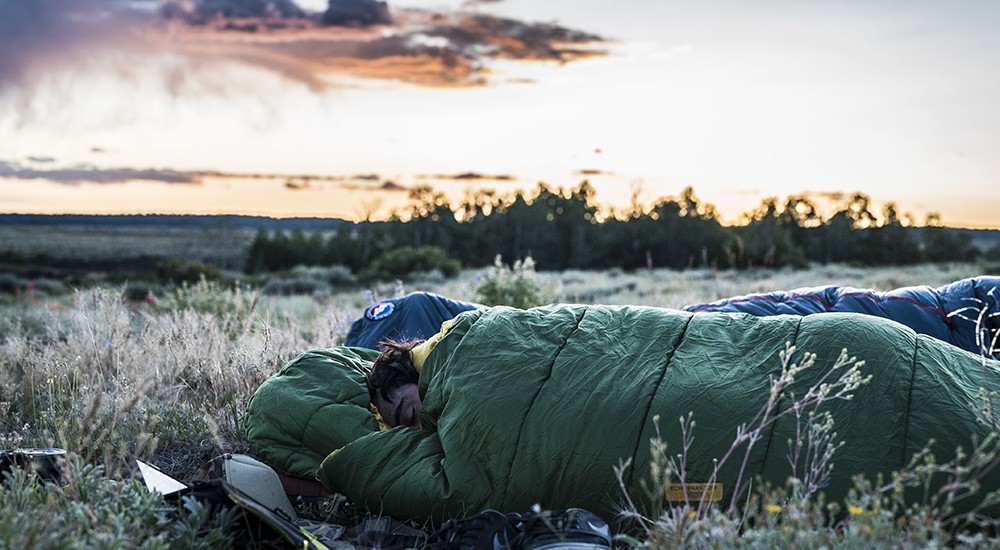 If you've been backpacking before, you know how essential it is to have the right sleeping bag. Although your sleeping bag will most likely be the bulkiest piece of gear you'll have to carry, there are several different packable yet highly effective sleeping bag options to choose from for your next adventure. When selecting a backpacking sleeping bag, consider the insulation material, shape, and temperature rating.
There are two different types of insulation materials used in sleeping bags, down and synthetic. A down sleeping bag compresses to a small size and is lightweight for easy packing; however, a down sleeping bag doesn't dry out quickly or insulate well in wet conditions. A synthetic sleeping bag will dry out quickly and offer better insulation in wet conditions, but synthetic sleeping bags tend to be larger in size and heavier.
The shape of a sleeping bag also contributes to the overall weight and packability as well as how effective it is in keeping you warm at night and the amount of room. Some most common shapes of sleeping bags for backpacking are mummy, semi rectangular, and rectangular.
Last, think about the temperature rating of the sleeping bag. Depending on the season, you'll want the right sleeping bag in order to keep you warm. Typically, sleeping bags can be classified as summer season, 3-season, or winter season.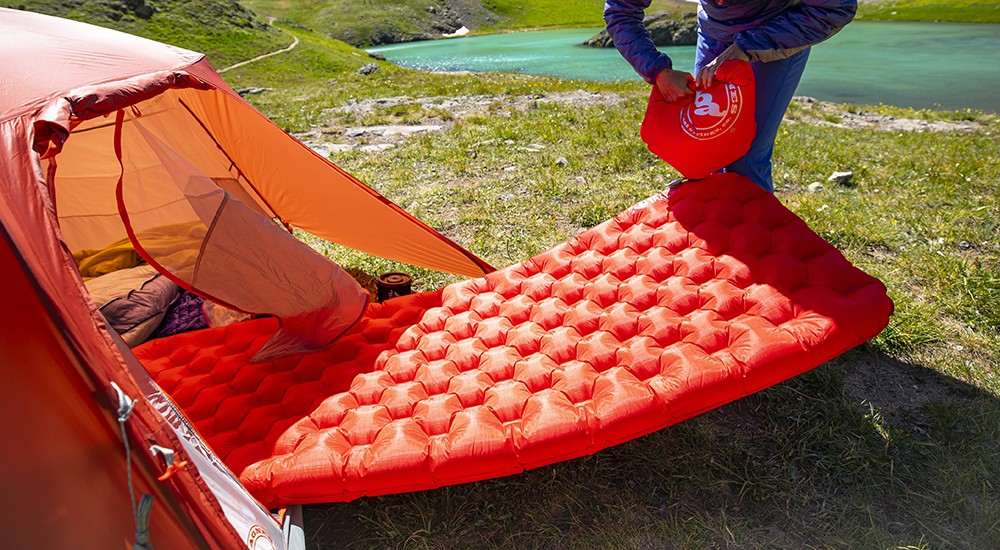 For a more enjoyable night's sleep, it's good to have a sleeping pad. Selecting the right sleeping pad is all about personal preference, but remember that you have to carry everything you pack for many miles—a lightweight, packable sleeping pad is best. The three most common styles are inflatable air pads, air pads with foam, and all foam pads.
- Air pads are incredibly compact in size making them the most lightweight and packable of the three styles. However, air pads require time to inflate and don't offer the best cushion against the hard ground.
- Air pads with foam are a little larger in size and weight but still easy to pack. These sleeping pads are more comfortable with the added foam and usually have a higher R-value rating (insulation rating). If you're backpacking during colder temperatures, an air pad with foam would be an ideal option.
- All foam pads are great for reliability and time efficiency since they cannot leak and don't need to be inflated; however, all foam pads are bulky so they need to be strapped outside of your camping backpack. Also, foam pads are thinner and have a lower R-value rating.
While backpacking for miles, it's good to have easy-to-eat snacks like nuts or beef jerky, but when it's time to set up camp, you'll be ready for a warm meal. Today, there's a wide variety of backpacking meal options that are tasty and easy to pack. Since you have limited space in your camping backpack, you'll want to make sure you find the right backpacking stove. When cooking food, you'll want a backpacking stove with a regulator so you have heat setting options. If you're planning on eating dehydrated backpacking meals, you won't need a backpacking stove with a regulator as you'll only need to boil water.
Make sure you're prepared for your next backpacking adventure with these backpacking essentials. For additional help with selecting the right backpacking gear, talk to one of our camping experts at your local SCHEELS.