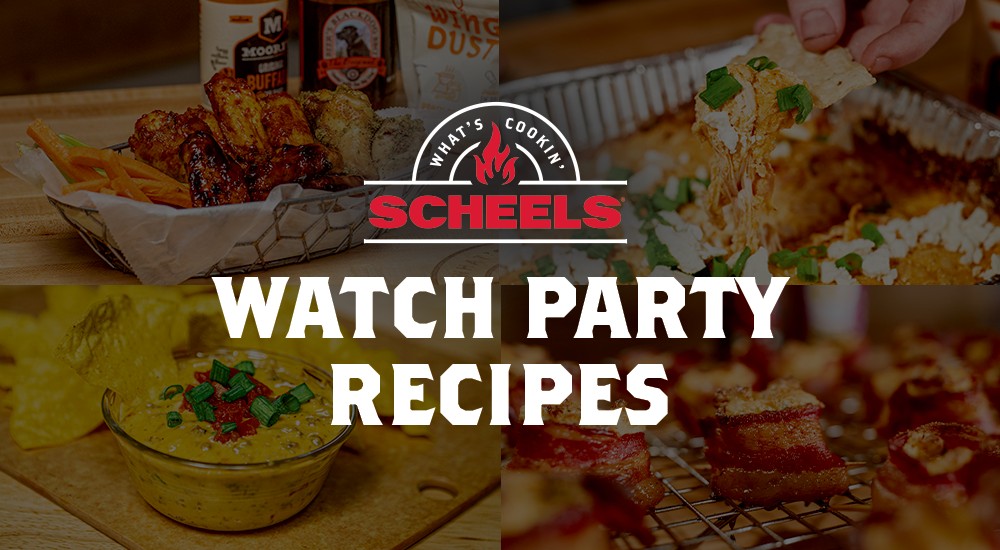 If you're searching for the perfect recipes to score major points, look no further. Whether you're hosting a watch party for the big game or you're looking for an appetizer to wow your friends and family, SCHEELS has the ultimate game day spread for you. We've picked our favorite four recipes for you to try and enjoy while watching the game this weekend!
Are you looking for your next tailgating bite? These smoked pig shots are loaded with an explosion of flavor in every bite and are sure to please every one of your tailgating buddies. If you haven't tried smoked cream cheese yet, you are in for a treat with this simple and easy recipe!
Pulled Pork Nachos Recipe
Pile them high and watch them fly! SCHEELS Grilling Expert Cam doesn't let his pulled pork leftovers go to waste with these nachos. Whether it's for the big game or a small party, these smoked pulled pork nachos are a crowd pleaser.
Queso dip is a classic to add to your appetizer spread during the big game. SCHEELS Grilling Expert Cam shares a smoky Traeger twist for this favorite dip. Everyone is sure to be impressed!
Smoked Chicken Wings Recipe
Put your own spin on this simple recipe with your choice rubs and sauces. SCHEELS Grilling Expert James shows us his favorite way to make smoked chicken wings. It's a recipe so good they'll be calling you the sauce boss in no time.
Buffalo Chicken Dip Recipe
Take it up a notched with this Buffalo Chicken Dip smoked on the Traeger. Who doesn't love a dip that includes cream cheese?
Pulled Pork Egg Rolls Recipe
Take all the traditional egg roll fixings, add in pulled pork, and dip in BBQ sauce for a delicious appetizer everyone will enjoy! SCHEELS Grilling Expert, Cam, takes his leftover pulled pork to craft a delicious and crunchy snack with a tangy twist.
SCHEELS Grilling Expert Austin shares one of his favorite appetizer that don't last long. These Jalapeño Poppers will be the perfect addition to spice up your appetizers!
Ditch your typical boring appetizers and try out our phenomenal smoked salmon recipe transformed into a dip to save the day the next time someone says potluck!