Hyperlite Murray Wakeboard Review
By Greg Nelson | Hyperlite Wakeboard Shaper
My name is Greg Nelson, I'm Hyperlite's VP of Marketing and I also shape some of the boards offered in the 2019 Hyperlite line up. The Murray board is one of my favorites because I love working with Shaun and we both share core beliefs when it comes to shaping a wakeboard. To sum it up, we believe the Murray is easy to ride for all wakeboard styles; it's forgiving in many ways and it lands softly. An "easy to ride" wakeboard is accomplished by simplicity in the board's shape. The Murray is very simple and clean allowing water flow under the board without interruption. No matter how the board is positioned on the water when carving, cutting and landing it will not get hung up, but flow effortlessly for the rider.
Subtle details are easy to find when you look closely at the board, adding to this "easy to ride" mantra. We have a variable edge design; the edge rail shape is soft between the inserts then sharpening at the tip and tail. When you get sideways on the water, the soft edge prevents face plants and when you cut towards the wake, the sharp edge holds your line on approach.
In the center of the board's base is our landing spine. If you poured water on the board while upside down, the water would split at the center feeding off to each edge. This feature pushes and directs water to the edges when you're landing, creating a softer landing than most shapes out there. The Murray was also shaped very thin, allowing us to offer larger sizes like our 144 and 150, but they feel light and have a low swing weight; another "easy to ride" element in the shape.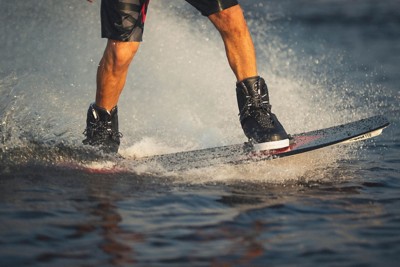 Shaun is a believer is riding larger boards and with today's larger wake sizes, it's important to have a board that can handle the wake. Also, a larger board is more stable for riders because it offers more lift off the wake for more airtime and will accommodate large feet. We believe in this shape so much it's offered in 5 sizes including a 120 Jr. model.
Combined, Shaun Murray and I have 50+ years of wakeboard experience and knowledge, we've poured it all into the 2020 Murray Pro Model. I'm hopeful you feel our shaping philosophy when you hit the water with Shaun's shape.
- GREG NELSON
Hyperlite VP Marketing and Wakeboard Shaper
Wakeboarding Pro Shaun Murray