We're Sorry!
C'meer Deer 3 Day Harvest Deer Attractant is no longer available.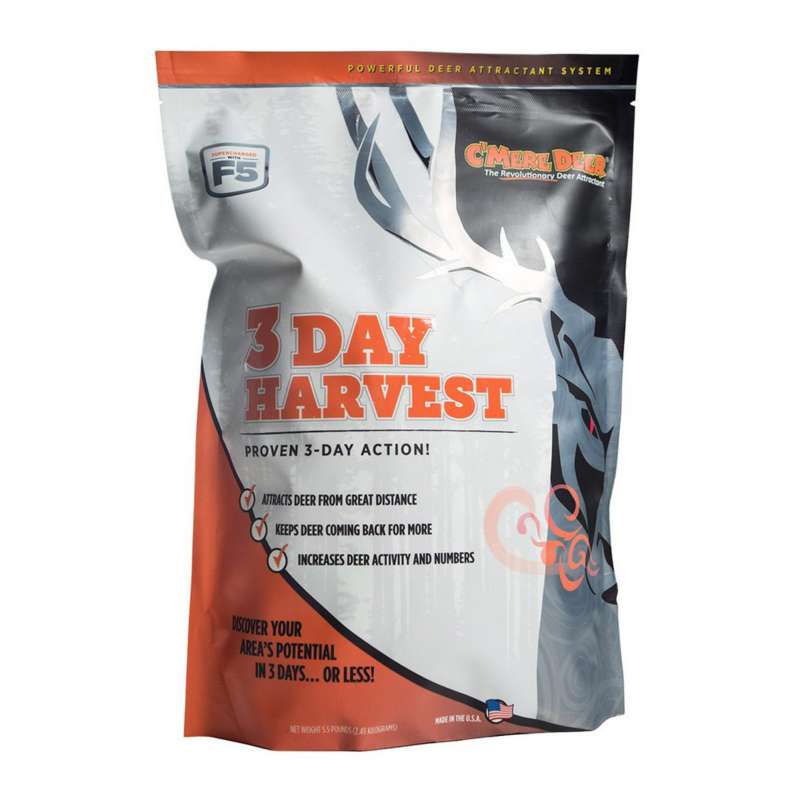 C'meer Deer 3 Day Harvest Deer Attractant
This product is no longer available, but don't go just yet.
Shop Similar Products
Product Description
The C'Mere Deer 3-Day Harvest Deer Attractant System has been scientifically formulated and field-tested under real hunting conditions to give hunters and wild game managers a truly remarkable system for attracting deer. With 3-Day Harvest, you can see for yourself the deer population in your area and increase your odds of harvesting the ones you want.

This 3-Day Harvest uses the animals most powerful sense - smell - to attract deer like a magnet. And it keeps them coming back for more with its highly palatable, great-tasting formula. Creating more deer movement and activity around your stand also attracts the attention of other deer and will pull even more deer into your shooting area. That's the power of the 3-Day Harvest System - irresistible smell, great taste and more action. ATTRACTS deer from great distances, KEEPS deer coming back for more and INCREASES deer activity and numbers.

This deer attractant is unique and has been carefully designed to build on the results from the day before. That's three times the formula, three times the power and three times the action. If there are deer in your area, 3-Day Harvest will bring deer in. The rest is up to you!
best there is
This is the best deer feed there is to bring them in quick . I have used this since 2012 and had great luck with it ,i got my biggest buck ever on it . Scored 147 , if there are deer anywhere around they will come in within 1 to 3 hours after you put it down . I highly recommend this .
August 16, 2020
Purchased
6 months ago