We're Sorry!
Cobra King Tour Copper Irons is currently out of stock.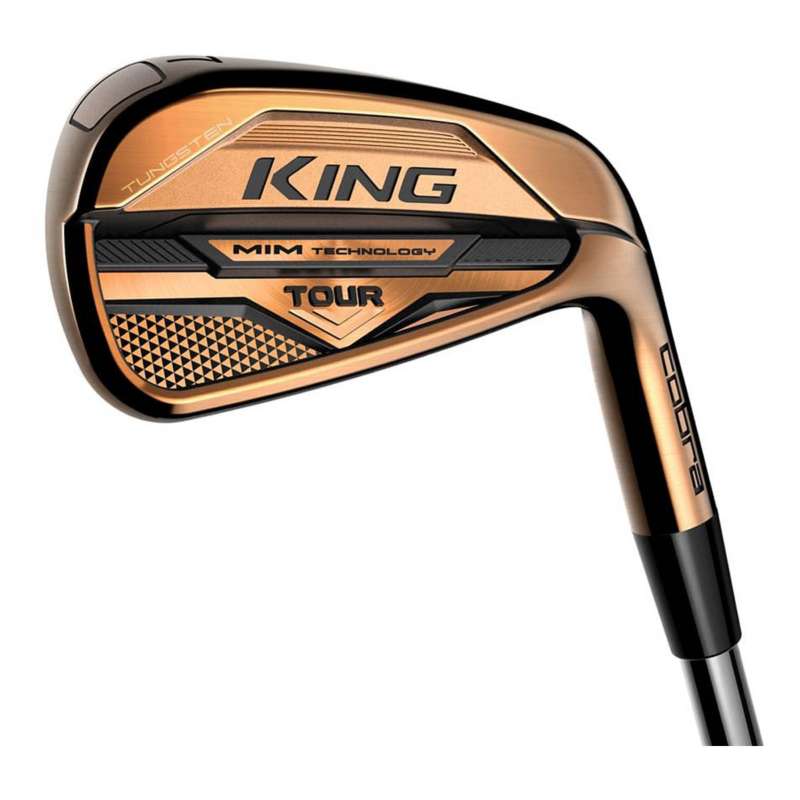 Cobra King Tour Copper Irons
This product is not currently available, but don't go just yet.
Shop Similar Products
Product Description
KING Tour Irons
When forging or casting couldn't deliver the soft feel we sought after, we introduced a new process. The new KING Tour irons are the first irons created using Metal Injection Molding (MIM) Technology, the most precise way to make a precision iron. A new copper finish is available to complement the chrome to suit different preferences in aesthetic.

Fit for a King
The new KING Tour Copper Irons from Cobra introduce the golf world to an entirely new process of golf club design. The team at Cobra used Metal Injection Molding (MIM) technology to craft the KING TOUR Irons with the goal of delivering feel and control never before seen in an iron.

Revolutionary MIM Technology
The MIM crafting process used by Cobra in their new KING Tour Copper Irons heats 304 Stainless Steel Metal Powder to temperatures upwards of 1350°C before it gets poured into a specific mold made for each club. This results in tighter grain structures in each club for enhanced feel and precision.

Made for Pure Feel
The KING Tour Copper Irons from Cobra were designed to be sleek and compact in shape, as well as have a clean topline view. The stainless steel used in the MIM technology also allows the KING TOUR Irons to have a softer feel than other carbon steel irons.

Tungsten Weight "Centers" CG Position
The toe of the KING Tour Copper Irons from Cobra feature a high-density Tungsten weight designed to align the club's Center of Gravity directly behind the sweet spot, producing more accurate and pure feeling shots.

Precise Swing Data from Cobra CONNECT
With the purchase of the KING TOUR Irons from Cobra, you gain access to their CONNECT technology powered by the Arccos Golf App. This technology allows you to see your distance averages, get caddie advice (recommended club based on past yardage data), and track Strokes Gained analytics all from the comfort of your device.

Features:
MIM CONSTRUCTION Metal injection molding (MIM) process delivers precise shaping and exceptionally soft feel.
TUNGSTEN WEIGHTING Tungsten toe weighting centers the CG behind the hitting zone to maximize distance and precision, even on off-center hits.
TPU INSERT A thermoplastic polyurethane (TPU) insert positioned behind the hitting zone damps vibrations for a softer, yet solid feel at impact.
COBRA CONNECT™ Track your accuracy and distance using the Arccos Caddie app on your Smart Device.
Specs:
Grips - COBRA Lamkin Crossline Connect - Black
Shaft - KBS $ Taper 120 Steel
| | | | | | | | | |
| --- | --- | --- | --- | --- | --- | --- | --- | --- |
| Club | Loft | Lie | Offset | Length (ARCOS) | Length (Non ARCOS | Shaft Swing weight | Shaft Flex | RH/LH |
| 3 | 20.0° | 60.50° | 3.8 | 39.50" | 39.25" | D2 | S, R | RH/LH |
| 4 | 23.0° | 61.00° | 3.4 | 39.00" | 38.75" | D2 | S, R | RH/LH |
| 5 | 26.0° | 61.50° | 3.1 | 38.50" | 38.25" | D2 | S, R | RH/LH |
| 6 | 29.0° | 62.00° | 2.9 | 38.00" | 37.75" | D2 | S, R | RH/LH |
| 7 | 33.0° | 62.50° | 2.5 | 37.50" | 37.25" | D2 | S, R | RH/LH |
| 8 | 37.0° | 63.00° | 2.3 | 37.00" | 36.75" | D2 | S, R | RH/LH |
| 9 | 41.0° | 63.50° | 2.1 | 36.50" | 36.25" | D2 | S, R | RH/LH |
| PW | 45.0° | 64.00° | 1.9 | 36.25" | 36.00" | D3 | S, R | RH/LH |
| GW | 50.0° | 64.00° | 1.9 | 36.00" | 35.75" | D3 | S, R | RH/LH |