We're Sorry!
Fat Brain Squigz 24 Piece Starter Set is currently out of stock.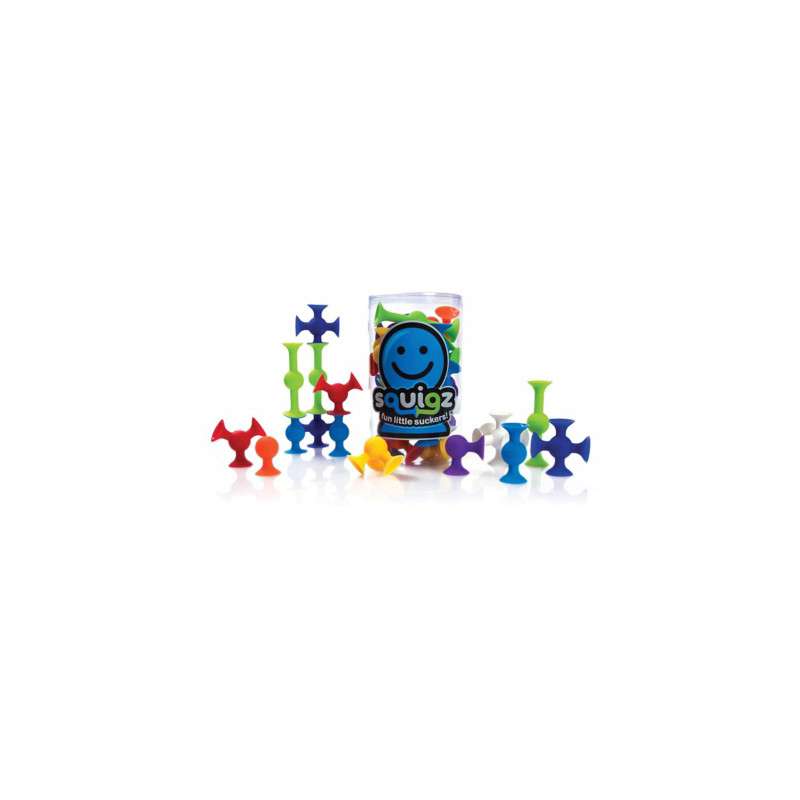 Fat Brain Squigz 24 Piece Starter Set
This product is not currently available, but don't go just yet.
Shop Similar Products
Product Description
Apply pressure to two Squigz. Air rushes out and the fun rushes in!

Connecting to each other and to any solid, non-porous surface - Squigz are a species all their own. They flex. They stick. They suck people into creativity.

Once they take hold, it takes some pull to separate them. When Squigz POP! in protest - you'll have to admit... your hands and ears are shamelessly delighted!

They are flexible fellows and committed joiners. Squigz and fellow Squigz have one chief enterprise - creating things. Willingly, they assemble to become rockets, vehicles, a cushion for the cat, jewelry... they thrill in uniting as a ginormous octopus or squid.

Squigz are scientific sorts - always up for playful experimentation and defying gravity - sticking to bathtubs, windows, school lockers, tabletops, and office desktops. (And they are mannerly guests too - never leaving a trace of their presence.)

Playful curiosity. It's a whole new gig - thanks to Squigz.

Features:
Starter Set = 24 Pieces
A lively toy innovation - new Suction Construction!
Encourages creativity, fine motor skills, interaction, playful experimentation
Provides relaxation and sensory stimulation
Pieces connect easily and POP! apart
Gratifying fun for bathtub, walls, windows, school lockers, tabletops, desktops
Flexible, pleasantly pliable
Generously-sized components
Eight different, versatile shapes
High quality silicone rubber
Leaves no residue or marks on surfaces
Enjoyment for a wide range of ages
Made of 100% silicone (BPA-free, latex-free)
Fun but not creative
I bought a starter kit of Squigz for my 3 year old grandson. Initially, he checked out what surfaces he could stick them onto. When he started building with them, he found it difficult, as there were not enough multi-cup connectors to make his usual tall edifice. After several attempts, he lost interest. Since the initial kit cost $25, i am not sure I want to spend more money on buying additional pieces. I think I will put them away for a while and try them again in a few months.
October 26, 2021
Purchased
1 month ago