We're Sorry!
Men's Mobile Warming Standard Heated Socks is currently out of stock.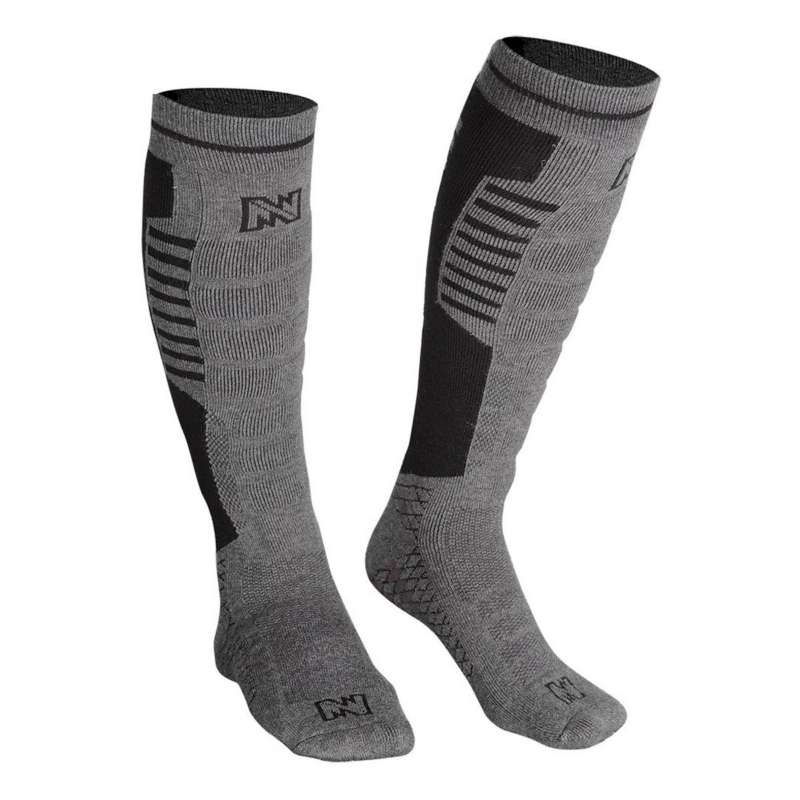 Men's Mobile Warming Standard Heated Socks
This product is not currently available, but don't go just yet.
Shop Similar Products
Product Description
The Mobile Warming Heated socks feature antibacterial tri-blend construction that resists odors, as well as moisture-wicking high-stretch fabric to pull sweat away from the skin. These Heated Socks use ultra slim Lithium-Ion batteries that power ultra-fine heating elements designed to provide instant heat on demand. The integrated battery compartment keeps a slim profile to remain comfortable under your outerwear. Need a change of heat? No problem, use the wireless controller to select up to 3 heat settings and enjoy up to 11+ hours of warmth per charge. Stay warm and comfortable in any kind of weather.

Features:
Tri-blend Construction
91% Cotton, 8% Nylon & 1% Elastic
Moisture Wicking
Anti-Microbial
Hidden Wires
Integrated Battery Compartment
Over-the-Calf Height
Heat Zone Under the Toes
Three Selectable Heat Settings
Wireless Controller Adjusts Heat Levels
Up to 11+ Hours of Heat Per Charge
Battery Rating: 3.7v, 2200mAh
Battery Size: 2.8in x 1.1in x 0.8in
Charge Time: 4.5hrs
Available in M4-10/W6-11 & M10-14
Includes:
Pair Standard Heated Socks
Wireless Controller
2, 3.7v 2200mAh Lithium-Ion Battery
AC Dual Charger
socks
Good quality and performs as claimed.
January 26, 2021
Originally posted at
They work decent enough, but don't last long at all
I really like these socks, but I have two fairly significant issues with them. Each issue drops a star on my rating.

The first issue is that they just don't last very long at all. They claim to last up to 11+ hours of warmth per charge. If I am running them on the lowest heat setting they last around 4 hours, sometimes closer to 5 hours if I'm lucky.

The second issue is that the button on the battery to switch between settings is too sensitive. When you first turn them on, they start at the highest setting and you can cycle down to the lowest setting, then to off, just by gently pressing the button. If you accidentally bump the button while on the lowest setting, the sock turns off completely. This is a very frustrating issue when you are wearing these under waders and can't easily get to the batteries again to turn them back on.

With all of that being said, I can solve the first issue by just buying some extra batteries, which I will definitely do. I may also try to figure out some sort of "cover" that I can tape over the button so that it can't be pressed again once they are in the socks to try to resolve the second issue, but it would be great if they would rethink that design a bit.
January 14, 2021
Purchased
1 year ago
Awesome Product
This product served its purpose. The heating pad is right in the perfect toe heating spot!
March 27, 2020
Originally posted at