We're Sorry!
Minn Kota Ultrex i-Pilot US2 112lb 54" Trolling Motor is currently out of stock.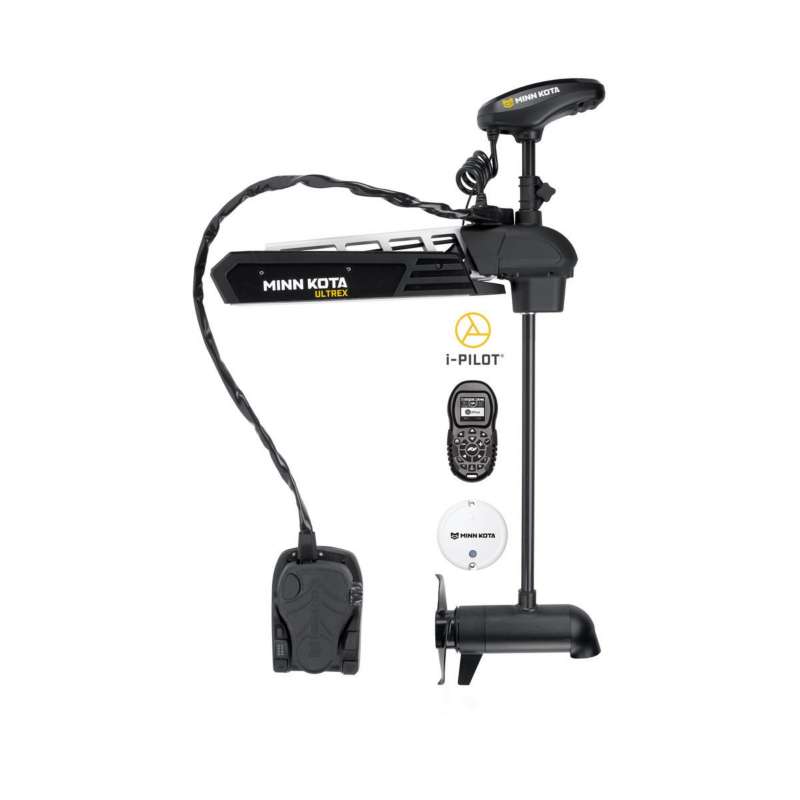 Minn Kota Ultrex i-Pilot US2 112lb 54" Trolling Motor
This product is not currently available, but don't go just yet.
Shop Similar Products
Product Description
The Minn Kota Ultrex 112 52" i-Pilot GPS Motor combines the most responsive, intuitive steering ever with GPS-powered automatic boat control. This Ultrex 112 motor features pre-installed i-Pilot GPS technology that allows you to easily set Spot-Locks, record paths, control speed and steering, and more with the included remote. AutoPilot™ technology allows you to automatically navigate your boat in any direction you choose—even in wind, waves, and currents. The Ultrex with i-Pilot also offers innovative power steering and a Heel-Toe/Cable Foot Pedal for comfortable, responsive control. Whether you're trolling the flats or locking on a spot, the Minn Kota Ultrex 112 52" i-Pilot GPS Motor gives you the control you need for more success on the water.

Features:
Power Steering: The most comfortable, responsive steering available. Ultrex's foot pedal is built for all-day ease, with precision control and instant responsiveness.
Steering Lock: When you take your foot off Ultrex's foot pedal, the motor head remains pointed in the direction you left it. No recoil or readjustment, just easier steering every day.
i-Pilot® GPS Trolling System: The most-trusted GPS system in fishing. i-Pilot® uses GPS to control your trolling motor with incredible features that keep you on the fish. Set Spot-Locks, record paths, control speed and steering, and more. i-Pilot makes boat positioning and control automatic, and you can take command from its easy-to-read large LCD screen.
Spot-Lock with Jog: Spot-Lock will hold you in place with unparalleled GPS accuracy. Available on i-Pilot GPS system that is pre-installed, Spot-Lock gives you the power to stay right on top of any productive fishing spot, without touching your trolling motor. With the included heading sensor, you can use Jog to move your Spot-Lock location five feet in any direction. Activate Spot-Lock from the i-Pilot remote or Humminbird fish finder.
Lift-Assist: Ultrex's patented Lift-Assist Design cuts the weight of stow and deploy in half. Features a stainless steel, nitrogen gas-charged spring.
AutoPilot™: Automatically navigate your boat in any direction you choose. Just point the head of your trolling motor in the direction you want to travel, activate AutoPilot™, and your trolling motor will keep you on that heading automatically, even correcting for wind, waves and current.
Universal Sonar 2: Keeps your transducer and wiring completely concealed and protected, running everything through the trolling motor's shaft, with shielded connectors.
Heel-Toe/CableFoot Pedal: It's the only foot pedal with Power Steering for all-day comfort and instant responsiveness — plus a button to activate Spot-Lock electronic anchor.
Integrated Battery Meter: The i-Pilot remote can tell you the exact charge left in your trolling batteries, so you know how much time you have left on the water.
Digital Maximizer™: Provides up to 5 times longer run time on a single battery charge. These variable speed trolling motors let you dial in your exact speed, and they deliver only as much power as you need, helping to conserve your battery for a full day of fishing.
Indestructible Composite Shaft — Guaranteed for Life: At the core of your Minn Kota trolling motor is an indestructible composite shaft. It's a Minn Kota exclusive, and we guarantee it for life.
Mobile App Compatibility: Control i-Pilot directly from your Apple® or Android™ device with our mobile app. You get quick command of speed, steering, Spot-Lock and Advanced AutoPilot — plus the ability to update i-Pilot software.
Specs:
What's included: Ultrex 112 lb. 52" trolling motor with Universal Sonar 2, Corded Foot Pedal, i-Pilot Remote, Lanyard, Heading Sensor, Stabilizer, Hold Down Strap, MKP-38 Prop and Mounting Hardware.
Model: 1368821
For Use In: Freshwater
Max Thrust: 112lb
Voltage: 36
Shaft Length: 52"