Nikon 4-12x40 ProStaff Series Rifle Scope
Additional Information
Product Description
Patented BDC reticle
The BDC reticle allows hunters to hold 'dead-on' at ranges exceeding those previously thought possible. The BDC's unique see-through ballistic circles offer an incredible advantage for long range shooting, yet allow a normal sight picture for shorter-range shots where the crosshair itself is the aiming point.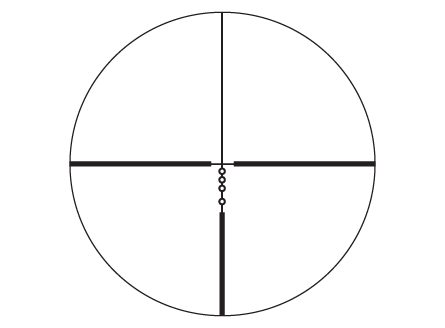 Extremely bright sight picture
Allows for high-resolution images even when hunting in the least desirable conditions.
Versatile magnification range
Offers the flexibility needed for any type of hunting situation, from heavy timber to the open prairies.
Waterproof, fogproof, shockproof
Nitrogen filled and O-ring sealed.
LIFETIME REPAIR/REPLACEMENT
Excludes lost or stolen products and intentionally caused damage, and also excludes Nikon Rangefinders, Reflex Sights, Red Dot Sights, StabilEyes Binoculars & Specialty Optics.
Multicoated optical system
Multicoated lenses boost light transmission up to 98%—unheard of in similarly priced scopes.
Generous, consistent eye relief
Keeps your brow safe—even with the heaviest recoiling cartridges, lightweight rifles, and severe shooting angles.
Precise hand-turn 1/4-MOA click adjustments
Positive-click reticle adjustments get you zeroed in quicker and maintain your setting even with heavy recoil.
Features:
Magnification: 4-12 x
Objective Diameter: 40 mm
Exit Pupil: 3.3-10 mm
Field of View: 7.3 -23.6 ft@ 100 yds
Tube Diameter - Other: 1 in
Eye Relief: 3.7 in
Objective Outside Diameter: 50 mm
Eyepiece Outside Diameter: 44 mm
Overall Length: 14.1 in
Adjustment Graduation - Other: 1/4 in
Max Internal Adjustment: 60 MOA
Parallax Setting - Other: 100 yds
Waterproof/Fogproof: Yes
Light Transmission - Other: Up To 98
Customer Reviews
Love this scope. I've bought 2 of them now.
I mounted it on my 270. It's dead on. Love it. Plus I really like nikons warranty.
December 16, 2018
Purchased
1 month ago
Amazing Value!
I originally bought 2 matte stainless Prostaff 3x9-40mm optics for my mini-14 & Mini-30 ranch rifles. They were on sale and the only ones offered at Bass Pro in stainless at the time. Not knowing much about the BDC reticle (this was 2014) I figured I would take a shot at it. Wow, was I impressed! The clarity was crystal clear and the sight picture was wide. Zeroing in was very easy and the drop compensation was shockingly accurate.

So, it came as no contest when I needed an optic for my long range AR, I chose the Prostaff 3x9-50mm. Again, amazing clarity and dead-on accurate BDC drop compensation for my long range shots. I just can't beleive the price of these optics!

I went ahead and replaced the optics on all of my deer rifles this year. I bought three 4x12-40mm Prostaff optics and have zero complaints. Way to go Nikon! I can't imagine how much better the Monarch line is considering how well the Prostaff product delivers. I guess I will never know...the Prostaff fits all of my needs. Thank you Nikon!
November 24, 2018
Originally posted at