Nikon Monarch 3 2.5-10x42 Matte BDC Scope
Additional Information
Product Description
Compact Versatility For Any Platform
This MONARCH 3's wide magnification range sets the standard of performance for a mid-sized scope. Enhanced ring spacing allows this scope to be mounted on virtually any rifle, including magnum length actions.
Patented BDC Reticle
The various aiming points built into the BDC reticle can be utilized with Nikon's Spot On Ballistic Match Technology to give you exact aiming points at various yardages. Take the guesswork out of figuring elevation and bullet drop compensation.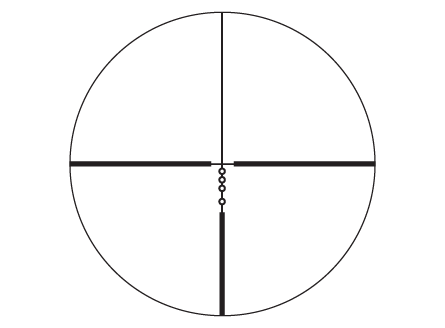 Spring Loaded Instant Zero-Reset Turrets
To simplify field adjustments, Nikon has integrated this feature into all MONARCH 3 Riflescopes. Just sight in at 100 yards as usual, then lift the adjustment knob, rotate to your "zero", and reengage.
Ultra ClearCoat Optical System
The difference is clear to see
Nikon has engineered the entire optical system to provide the shooter with a bright, sharp and incredibly flat sight picture and light transmission up to its theoretical maximum- 95% for clear sight picture form dawn to dusk.
Spot On Ballistic Match Technology
Custom precision at your fingertips
The MONARCH 3 line is optimized for use with Nikon Spot On Ballistic Match Technology. Spot On allows you to discover all of the exact aiming points on the BDC reticle for your exact ammunition and load.
Hand-turn 1/4 MOA Windage and Elevation Adjustments
Reticle adjustments are made in 1/4 MOA click-stop moves you can both feel and hear, and with no backlash to make your shot creep off target. Positive click reticle adjustments get you zeroed in quicker and maintain your setting—even with repeated recoil and under rugged conditions.
Rugged, One-Piece Body Tubes
Engineered for minimum weight and maximum strength and durability, Nikon builds these scopes from aircraft grade aluminum alloy and utilizes larger internal lenses for maximum resoloution. Larger tubes allow for the best resolution, wider windage and elevation travel, and superior low-light performance.
LIFETIME REPAIR/REPLACEMENT
Excludes lost or stolen products and intentionally caused damage, and also excludes Nikon Rangefinders, Reflex Sights, Red Dot Sights, StabilEyes Binoculars & Specialty Optics.
Specifications:
Magnification: 2.5-10 x
Objective Diameter: 42 mm
Exit Pupil: 4.2-16.8 mm
Field of View: 10.1-40.3 ft@ 100 yds
Tube Diameter - Other: 1 in
Eye Relief: 4 in
Objective Outside Diameter: 49.3 mm
Eyepiece Outside Diameter: 44 mm
Weight: 16.6 oz
Overall Length: 12.6 in
Adjustment Graduation - Other: 1/4 in
Max Internal Adjustment: 70 MOA
Parallax Setting - Other: 100 yds
Waterproof/Fogproof: Yes
Spot On Custom Turret: Yes
Matte Finish: Yes
Use: Centerfire Short/Mid Range
Centerfire Long Range
Reticle: BDC
Customer Reviews
What a nice unit!
I purchased this from Cabelas on sale a year ago and today mounted it on my firearm. Easy t do and easy to sight in. I wish I had bought 3 more. A graet product and I really like the BDC feature. This one is going with me on an Elk hunt next year.
December 16, 2018
Originally posted at