Nikon Prostaff 5 3.5-14x40 BDC Scope
Additional Information
Product Description
All The Features That Hunters Expect
The new PROSTAFF 5 3.5-14x40 features the lines mid-level magnification and several technology upgrades that will satisfy even the most demanding hunters. A bright new optical system, remarkable hand-turn reticle adjustments with Spring-Loaded Zero-Reset turrets, and a convenient quick-focus eyepiece with a 4x zoom ratio, making adjustments while in a shooting position a breeze. The PROSTAFF 5 3.5-14x40 outfitted with the BDC reticle is an ideal fit for a variety of hunting situations and can be used with Nikon Spot On Ballistic Match Technology to take the guesswork out of compensating for bullet drop. With enough power for the longest-range shots and a wide field of view to keep you on target even when shooting through thick brush and timber, this is one scope you can truly count on in any situation. In addition all PROSTAFF 5 riflescopes are built with fully multicoated optics for maximum light transmission, even in extreme low light environments.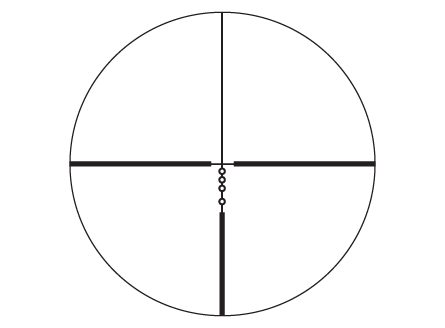 Specifications:
Magnification: 3.5-14 x
Objective Diameter: 40 mm
Exit Pupil: 2.9-11.4 mm
Field of View: 7.2-28.6 ft@ 100 yds
Tube Diameter - Other: 1 in
Eye Relief: 4 in
Eyepiece Outside Diameter: 44 mm
Weight: 17.2 oz
Overall Length: 13.6 in
Adjustment Graduation - Other: 1/4 in
Parallax Setting - Other: 50 yds - ∞
Side Focus: Yes
Waterproof/Fogproof: Yes
Spot On Custom Turret: Yes
Matte Finish: Yes
Use: Centerfire Short/Mid Range
Centerfire Long Range
Reticle: BDC
Customer Reviews
New to scopes...so wasn't sure what to expect
Recently turned 50 and admitted to myself I just couldn't see that well at distance anymore. Did a lot of research and for under 300, felt like this would be a good choice. Also, wanted to trying reaching out further than my usual 100-200 yrd so the BDC had some appeal. I mounted this on a cheap Howa 6.5 (only a few bucks more than the scope) Supposed to be a project gun that I would morph using the action only. Turns out that its such a sweet shooter I may leave it as is! Have only gone out twice this spring, both times I am putting groups into an inch or less with an occasional pull from a flinch now and then at 300 yrd. The BDC reticle takes a little getting used to, but the ease of changing powers, the side focus, and the easy to use turrets make me very glad I chose this scope. I haven't tried shooting at distance since my early Army days. With this scope I'm getting tight groups at 300! Great clarity and optics, good light capability, easy to adjust...what more could I ask for! I spent a lot of time at my LGD comparing to the Vortex, and despite the Vortex reputation I went with the Nikon for the clarity, ease of use and the BDC. Glad I did! Very happy so far. Next goal is taking it out to 500 and beyond!
March 21, 2018
Originally posted at