We're Sorry!
Scheels Outfitters Paw Print Keepsake is currently out of stock.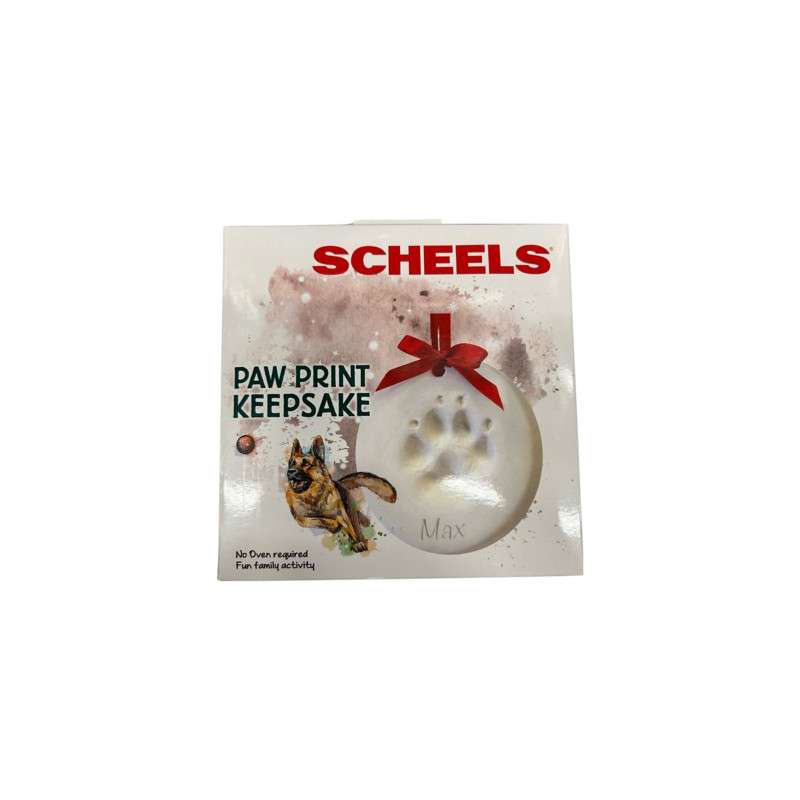 Scheels Outfitters Paw Print Keepsake
This product is not currently available, but don't go just yet.
Shop Similar Products
Product Description
Make this holiday special for both you and your pet with the Scheels Outfitters Paw Print Keepsake.

Instructions:
Step 1: Knead the clay material for 2-3 minutes until it is soft. Make sure to remove any air bubbles to ensure a smooth finish.
Step 2: Place aluminum foil, a rolling mat or a liner on a flat surface. Shape the clay into an appoximately 5" circle. Place the clay on the mat.
Step 3: Use the included rolling pin to smooth out the clay into approximately 6". Make sure that they clay is thick enough to allow for a good impression.
Step 4: Gently press your pet's paw into the clay. Once an impression has been made, carefully lift your pet's paw out of clay. Wash your pet's paws immediately. If you make a mistake simply restart the process.
Step 5: Push round cutter through the molded clay. While leaving the cutter in place, carefully trim away the unwanted edges.
Step 6: To make a hanging ornament, use the straw as a hole punch. Submerge straw in water, then push and slowly twist straw through clay. Remove excess clay. * Be creative by adding your pet's name or other decorations such as glitter, beads, or stones. (not included)
Step 7: Remove plastic cutter. Allow the clay to fully dry on the imprint side for 24 hours. Turn over and dry the other side for additional 24 hours. *dry time may vary. Keep away from heat, children, and pets.
Step 8: Thread ribbons through hole and tie a loop.
Step 9: Your unique pawprint keepsake is now ready to be displayed.
Included:
1 Air-Drying Clay
1 Rolling Pin
1 Round Cutter
1 Straw
2 Ribbons
Optional:
Rolling Mat, Liner, or Aluminum Foil