Springfree Jumbo 11ft Square Trampoline with FlexrHoop and Flexstep Ladder
https://www.scheels.com/p/springfree-jumbo-11ft-square-trampoline-with-flexrhoop-and-flexstep-ladder/182464000291211.html
Select your options for the 3 products in this package:
Products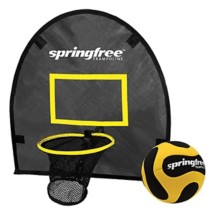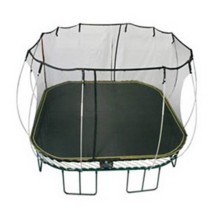 Free Returns
SCHEELS Guarantee
Earn 6900 Points with SCHEELS Visa Rewards
Product Description
182464000291211
The Springfree Square Trampoline offers a large, soft bouncing space that kids and adults will enjoy. With the square design, this Springfree square trampoline provides a large amount of jumping space while using up less yard space. Built to last, the Springfree square trampoline features a rust protected frame that sits below the jumping surface to reduce the risk of injuries. Safety features like the FlexiNet
TM
and SoftEdge
TM
mat reduce the risk of injury. Plus, with no springs jumpers will enjoy even more jumping space than comparable models. For backyard fun during warm weather, add the Springfree Square Trampoline to your backyard.
Trampoline Features:
Soft bouncing feel
Rust protection frame
FlexiNetTM prevents falls
No springs means more jumping space
Hidden frame below the jumping surface for safety
Square design offers more jumping space and less room
SoftEdgeTM mat is 30 times more shock absorbent than pads
Specs:
Total Height: 9.3 ft.
Model Number: S113
Size of Mat: 11 x 11 ft.
Jumper Weight: 220 lbs.
Surface Area of Mat: 113 ft.2
10-year manufacturer's warranty
Total Space Required: 19 x 19 ft.
Height of FlexiNet above Mat: 6 ft.
Height of Mat above Ground: 3.3 ft.
Flexr Hoop Features:
1 pump
4 plastic clamps
2 long support rods
2 short support rods
1 instruction manual
1 neoprene basketball
Cable, ties, bolt, and nuts
Hoop and backboard (partially assembled)
Specs:
Weight: 7.4 lbs.
Box Dimensions: 35.4" L x 37.4" W x 3.9" H
Flexrstep Ladder Features:
Allows for easier entry onto the trampoline
No permanent installation for easy removal
Compatible with Springfree trampolines only
Features a lock to restrict unsupervised jumping
Built with materials and design of Springfree trampolines
Includes:
2 Rods
1 Ladder
1 Ladder Base
1 Net Zipper Lock
1 Instruction Manual
Specs:
Weight: 9.5 Ibs.
Weight Limit: 154 Ibs.
Dimensions: 25.5 x 17.1 x 3.75in.